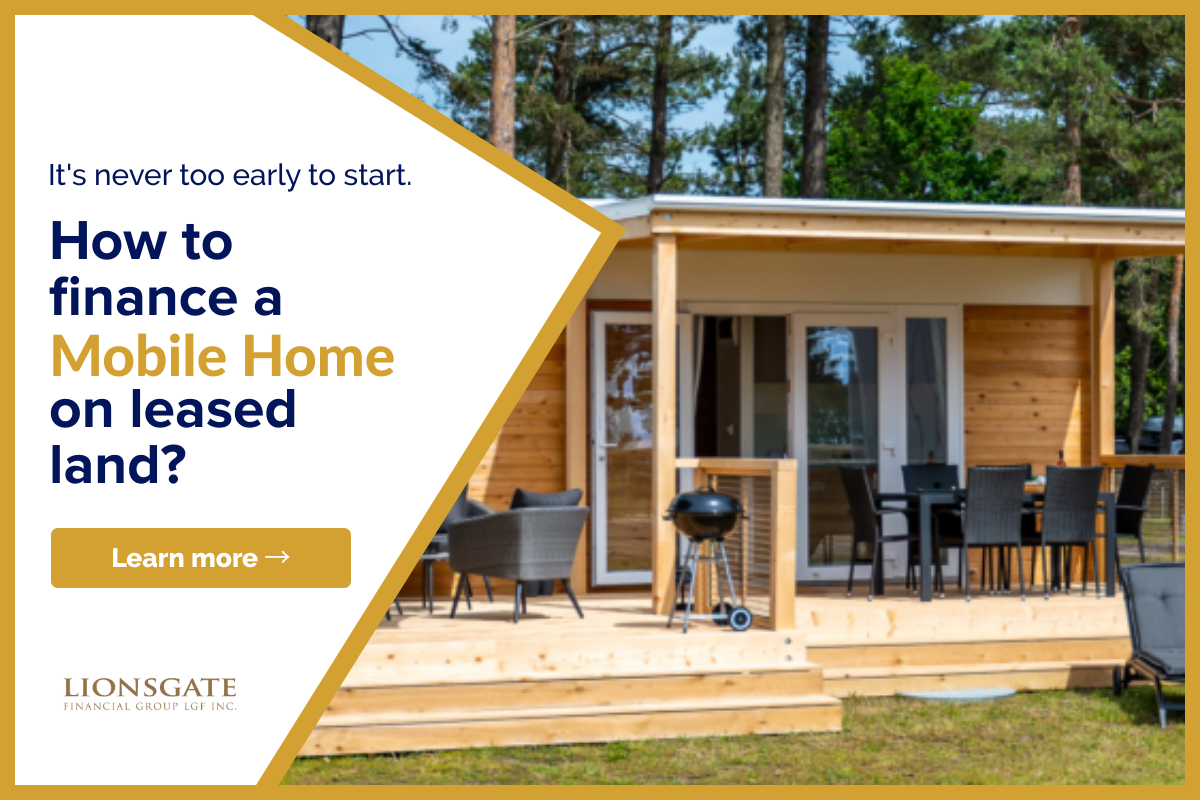 How to Finance a Mobile Home on Leased Land?
You can now listen to our blog 'How to Finance a Mobile Home on Leased Land?' while on the go.
Let's start with, what is a Mobile home? Often constructed in a factory and placed on a trailer chassis allowing it to be moved easily, this type of home is also known as a 'manufactured home'. The owner of the mobile home rents or leases lands to place the mobile home on it.
In Canada, for instance, the most common places to place your mobile home are Trailer Park on the Bay, Green Haven Trailer Sales & Park, and Twin Pines Mobile Park in Ontario. In Alberta, you can find the commonplaces of mobile homes in Cremona Mobile Park, Gaetz Mobile Home Park, and Mountview Mobile Home Park.
Advantages of Mobile Homes
One main advantage of buying mobile homes is that these are a lower-cost option as compared to buying a stick-built home. So, achieving homeownership is easier as you pay less cost per square foot on mobile homes.
Another advantage you might find valuable is the flexibility of mobile homes. Since mobile homes are usually more affordable and only semi-permanent, you can place and remove them whenever you want. This might be an option if you are uncertain about owning the land long-term and not wanting a long-term commitment.
However, know that not all mobile homes are the same. A few mobile homes have basement foundations and others do not. As in any type of building, the foundation is important, so it is in mobile homes. In fact, the quality and foundation of a house determine whether the financing will be approved or not. So, without further ado, let us explore mobile home foundation types and which foundation is up to code.
Mobile Home Foundation Types
Let's kick off by dividing mobile home foundations into two primary categories: permanent foundation and non-permanent foundation.
Permanent Foundation
The owner affixes his/her mobile home to the foundation permanently and sees the place as real property. With a permanent foundation, you make it much easier to apply for financing on your home.
However, permanent foundations involve many factors and considered more costly than non-permanent foundations. So, consider a permanent foundation when you own a piece of land and do not plan to move it.
Non-permanent Foundation
Non-permanent foundations have the advantage of being able to detach from one place to the other. The home's axles and wheels are not removed allowing the foundation to moveable. Although this is an easy setup for many, getting financing and loans can be more difficult than with permanent foundations.
Once you know the type of foundations, let us move to mobile homes on owned land and leased land.
Difference Between Owned Land and Leased Land
When you buy commercial property, you purchase it from a seller with cash or a loan. Now, when you paid off the loan, you own the land and it belongs to you. In contrast, leasing land means renting it from its owner. For instance, you take the land for a specified time period and in return for specified money.
In this case, you will be the tenant of the land rather than the owner. However, lease in some cases leads to ownership as well.
Setting up a mobile home on bought land with full ownership involves fewer complexities. However, setting a mobile home on leased land is an intricate process and needs further exploration. So, in the next section, we will see how we can finance a mobile home on leased land.
Term Contract for Leasing Land
Generally, a commercial office or retail lease for a larger tenant is for five to ten years with one or more option terms usually of one to five years each. Ground leases, however, tend to be longer such as 20 to 99 years.
In Canada, term leases longer than three years need to be registered on a public registry maintained by the relevant authority. Subject to certain statutory requirements. It is important to mention here that long-term leases greater than 30 years, will attract land transfer tax in the same manner as a transfer of freehold title.
Finance a Mobile Home on Leased Land
Canada Mortgage and Housing Corporation (CMHC) chattel loan insurance program are available for loans secured by eligible mobile or modular homes located on sites with short-term leased or owned land. Through CMHC, you can get financing up to 95 percent of the purchase price.
Also, it leverages to buy new or existing mobile homes that meet the current CSA standards. Payments options may be adjusted depending on your lifestyle and varied from monthly to weekly and more in between.
If you are considering financing your leased land mobile home, then keep in mind that you might face some difficulty. This is because lenders often like to lend on mobile homes on owned land and not on the leased land. The reason behind this is that leased land is often hard to repossess in case of default, hence not favorable for financing.
Read More: Mortgage Renewal Denied? Here is What to Do
If, in any case, the landlord agrees to finance the leased land mobile home, he/she will sublet the lease contract to the lender. With this, it will become easy for a landlord to put a lean on the property. Many lawyers also structure the mortgage lean as a promissory note to make repossess easier.

Secondary Options to Finance Your Mobile Home
Hesitant to go for CMHC loans? keep your worries down as there are plenty of other options available as well. A few more common option include:
Mortgage Investment Corporations
Private Lenders
A mortgage investment corporation is a provincially registered investment and lending firm that leverages you to invest in a secured pool of mortgages. Private lending, in contrast, is when one private lender funds a single mortgage with their capital.
However, both private lending and MIC are not the safest options as well. Private lending, for instance, is hard to find and requires a lot of time and knowledge to review. Also, the risk is higher as all money is on one borrower.
MICs', however, are considered less risky as money is spread in a pool of mortgage investors. But it has limited options when it comes to financing a mobile home. If you still need to pick one, go for the MIC as this will involve less risk and more security for your home.
So, where should one look when finding finance for a leased land mobile home?
The one-liner answer to this is Credit Unions. Since there are limited leased land lending options available to mortgage brokers, your only savior at this point is the credit unions. So, contact your local credit union directly as you might have some luck there.
Bottom Line
If you want to automate this process and handle it to a company that has been successful in sourcing the right lenders for this type of transaction, then do not hesitate to reach out to us. We, at Lionsgate, will not only provide you with the complete knowledge you need to know but also automate the whole process for you.
For an expert helping hand, contact us TODAY.