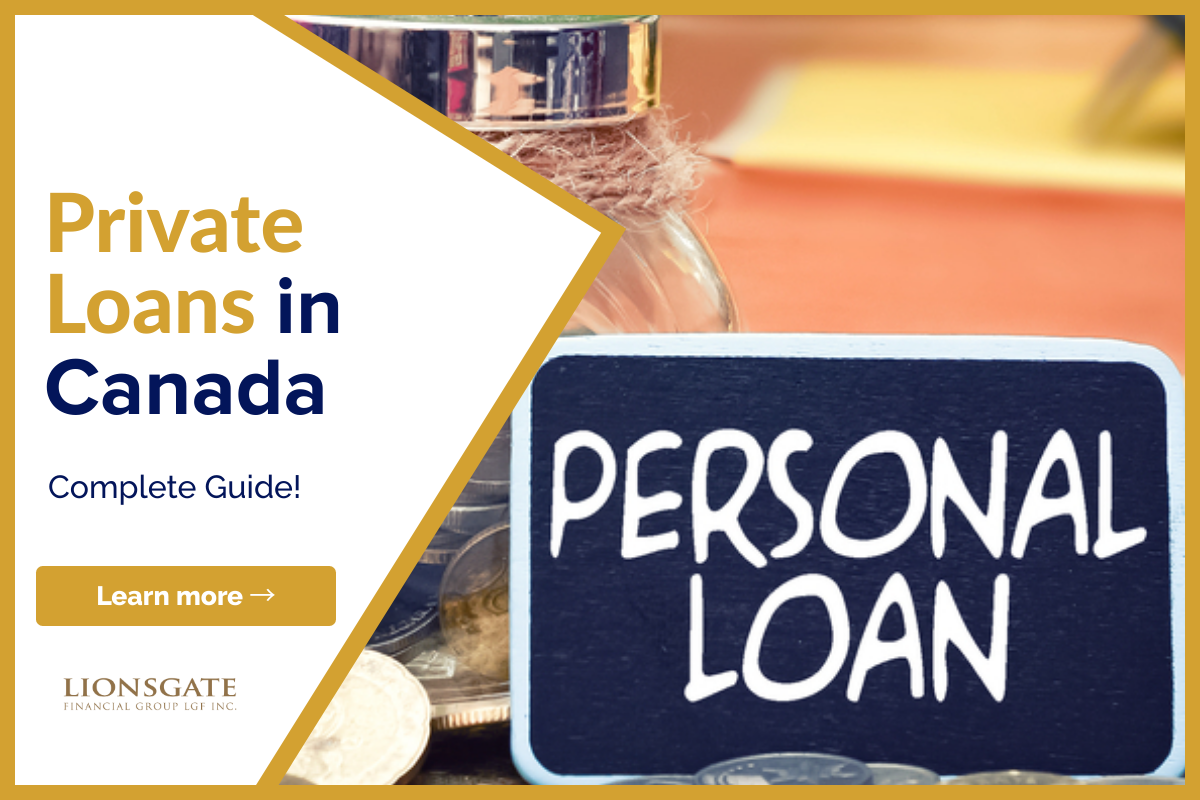 Now you can listen to our blog, "Private Loans in Canada", while on the go.
Even though COVID came two years ago, its aftershocks are still there. Especially, in personal finance, people have been hurt badly. Those who lost their job or faced cuts in their salaries suffered as well as the business persons due to supply deficiency. All in all, it is a difficult period for all of us who are trying to recover and resume the same quality of life we once had.
Today, due to the uncertainties, not everyone is strong financially and need a helping hand at one point or another to keep life moving. This is particularly true when unexpected expenses pop up. If you are looking for such help, whether in an emergency or for daily expenses, a loan from a private lender can help.
Who is a Private Lender?
You might already know a loan is private when you get it from a private lender. But what makes a lender private? For the sake of introduction, a private lender is any lender who is not affiliated with any traditional financial institution.
These private lenders are not as constrained by regulations and have much more flexibility than other affiliated institutions. If you are rejected by banks or other financial lenders due to poor credit, you will be accepted by private lenders.
Like a physical body, a private lender can be a company, a group or even an individual. The private loans that they offer are similar to the traditional loans offered by a bank or other traditional financial institutions.
It is important to note here that since private lenders accept poor credit borrowers and risk their funds, they charge high-interest rates too. It is to protect them from the additional risk they take. Certainly, the actual rate of the terms of each lender vary, and so does the interest rate.
Types of Loan By Private Lenders
With private lenders, you can get all the loans that are available at banks or with any traditional lender. A few of the popular private loans in Canada are listed below:
Private Mortgages
In Canada, there are plenty of private lenders that provide private mortgages. These mortgages are easier to qualify as they are not federally or provincially regulated like the banks. With private lenders, you don't have to go through any stress tests and other requirements. However, these private mortgage lenders typically charge higher interest rates. Also, repayment terms are short.
Private Auto Loans
Similar to private mortgages, there are numerous private auto lenders in Canada that offer auto loans. You can get a private auto loan straight from the lender or through car dealerships that have partnered up with private auto lenders. Many dealerships use this option to provide financing to individuals with good and bad credit. But, know that it often comes with high-interest rates and fees.
Personal Installment Loans
Private lenders offer personal instalment loans similar to banks and other traditional financial institutions. It works similar to the one you get from a bank. The only changed thing will be the high-interest rate and high fees charged. The terms may not be as flexible as they would in the traditional method. But if you are someone who is struggling to get a personal instalment loan from a bank and can't succeed, find a private lender and you will get approval right away.
Private Student Loans
The Government of Canada offers multiple student loan programs on a federal and provincial level. But not everyone can qualify for it. That is why some students have to rely on private student loans. Depending on your private lender, you may get a grace period after graduation. However, few may require payment right away, like a regular personal loan.
Can You Get Loan With Bad Credit Score?
Yes, you can get private loans even with a bad credit score. However, as mentioned earlier, different private lenders have different requirements and decide what loans to offer with terms and interest rates. So, it is always wise to ask private lenders before applying for a loan.
If you have some different borrowing needs, then do not be afraid to ask the lender if they will be willing to grant this. Know that if anyone can accept your different terms, then it would be a private lender and not a traditional lender.
Requirements To Apply for Private Loans
The requirements will vary depending on the lender you apply with. Most lenders, on the other hand, will expect you to:
Age – You must be at least 18 years old or have reached the age of majority in your province.
Money – To be able to rely on a steady source of income.
Debt — Maintaining a manageable debt-to-income ratio.
When to Choose A Private Loan & Lender?
As a Canadian consumer, you have a plethora of borrowing options, so deciding when to use a private lender can be tough. The good news is that private lenders provide borrowers with unique alternatives to obtain the finances they require. Here are a few scenarios in which a private lender may be the best option for you.
If You Have a Poor Credit Score
A private lender is frequently more prepared to work out a bargain that takes into account more than your credit score for folks with less-than-perfect credit.
You Need Quick Approval
Another excellent reason to hire a private lender is when you require funds immediately. Many traditional lenders take longer to approve and provide funds to applicants. Private lenders are an excellent choice if you need a loan quickly.
Fulfils Your Needs
During your investigation, you may discover that the benefits and features offered by private lenders are better suited to your needs than those offered by traditional lenders.
Are you looking for a personal loan? Apply now & get multiple competitive offers from all the leading banks, financial institutions, and lenders. We work with Canadians who have excellent credit as well as those who have struggled with bad credit in the past.
The Bottom Line
At Lionsgate, we specialize in helping people get the extra cash they need, obtain funding for private mortgages, as well as for other real estate transactions. If you are looking to buy land in Canada, get a mortgage or apply for a loan, fill out the form below. Or, You can leave us a message and we will try to connect you with local lenders and sources that best meet your needs.
If you found this article helpful, please share it on your timeline and with someone you care about. Also, visit our blog to read similar helpful articles on finance, real estate, and getting mortgages.