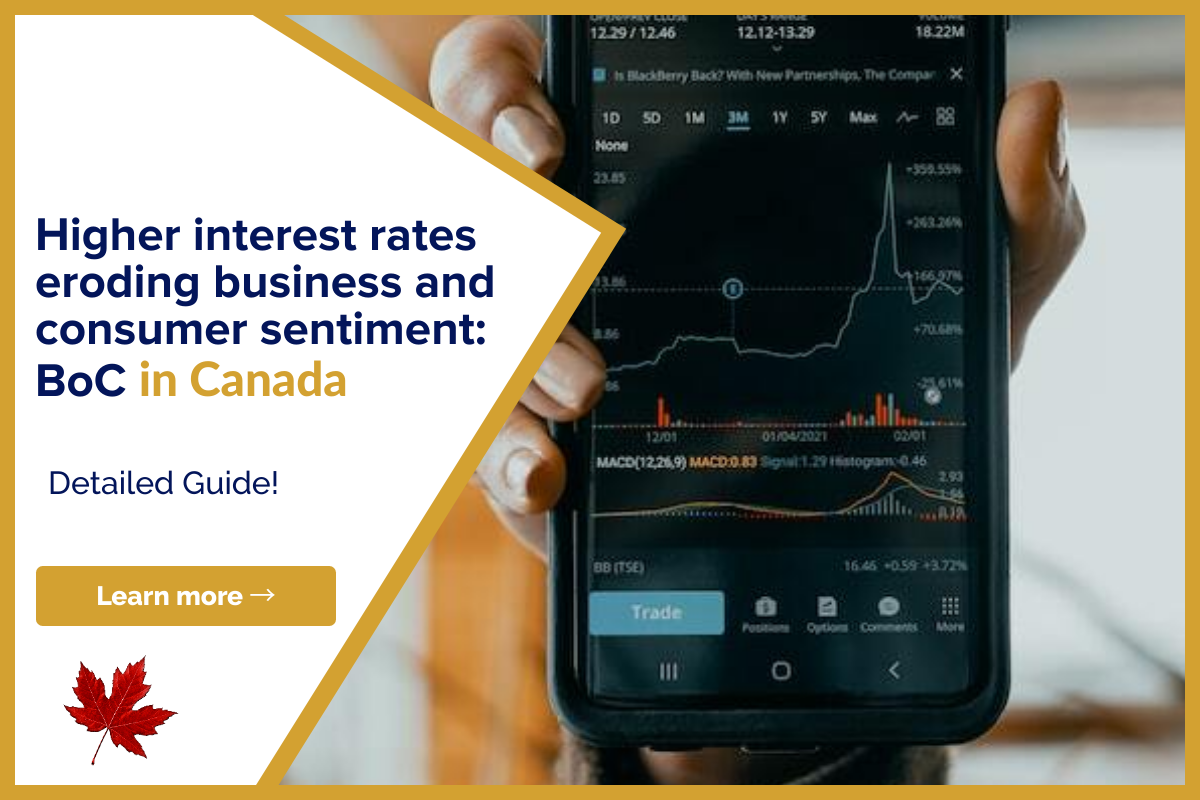 Higher interest rates eroding business and consumer sentiment: BoC
Canadian businesses and consumers are feeling the effects of interest rate increases exceeding 450 basis points (4.5%) since April 20, 2022 and expected high inflation.
According to the Bank of Canada's latest quarterly Consumer Survey of Consumer Expectations, current economic conditions are bringing cost of living concerns to the forefront for Canadians–especially when it comes to mortgages.
The report says that "most homeowners' mortgage payments exceed the maximum amount that they can afford without significant spending cuts."
One homeowner interviewed by the BoC found that despite their preparation for stress, they still struggled with a rate increase. "We renewed our loan at a higher interest rate. "We were prepared because we knew it was coming. But the monthly payments have increased so it is eating into our discretionary expenditure," they said.
Although consumers feel more financial pressure, most borrowers think they can make these higher payments at renewal without having "significant spending reductions."
Businesses expect a greater impact of tightened monetary policies
The BoC's latest Business Outlook Survey shows that businesses have experienced additional negative effects from the overnight rate of 5.00%.
Almost three quarters of respondents (73%) reported that their services had been negatively affected, an increase of 20% compared to the last quarter.
The survey results also show that "over half the firms surveyed think that the effects of previous monetary tightening…are still far from being over."
According to TD Economics, "elevated prices pressures continue to be a major concern for both businesses and consumers."
TD anticipates that consumers will see these increases as businesses continue to plan for "larger, more frequent price increases".
Expectations of inflation declining but recession expected
Both surveys indicate that inflation expectations are gradually declining. However, the BoC survey warns: Consumers' expectations remain "stubbornly" high. As of Q2, the actual CPI year-over-year, including all items, was 3.47%. Consumers expect inflation to be higher than this. They estimate inflation at 6.6%. They also expect a drop in prices of only 1% over the next year.
Business expectations of inflation are decreasing. Some businesses believe that the BoC can meet its inflation goal "within one to two year's time." They expect an annual rate of inflation to be 3.4% in one year and 2.5% in five years.
Despite being lower than the results of last quarter, business expectations about inflation remain above levels before the pandemic. The survey states that businesses attribute their expectations for the short term to "labour cost, commodity prices and house prices".
Consumer Expectations Survey states that high interest rates "are weighing on consumer sentiment in general" as can be seen by consumers' increased pessimism regarding the economy. More than half (55%) now expect a downturn, an increase of five points since Q2.
The survey also indicates that "Consumers usually associate high interest rate and inflation with an increased likelihood of a downturn in the economy over the next 12 months."
The business sentiment continues to deteriorate
The current market sentiment is dropping, despite the fact that businesses tend to lean towards cooling inflation. Business Outlook Survey (BOS), the indicator for Q2, fell even further, dropping from -2.31 down to -3.51. The survey states that this is the lowest level of the indicator in over a decade. "Except for a short period during the COVID-19 Pandemic," it reports.
The decline reflects the continued negative sentiment of businesses regarding past sales growth and weaker hiring and investment conditions, as well as expectations for slower growth in cost and selling prices.
According to the BoC study, despite fewer companies expressing their concerns about cost pressures (or labour shortages) or supply chains, they still ranked cost pressures as their top concern. The BoC survey also found that concerns about tightening credit and slowing demand continued to rise.
In a recent research report, RBC economist Claire Fan stated that "Contrast was evident between the slowing of economic activity in Canada and more persistent pressures on prices."
She wrote that the combination of "exaggerated expectations of inflation on the part consumers" and abnormal pricing behaviour by businesses will be a source of concern for BoC.
She added that despite the fact that the BoC "is well aware" of the fact that inflation follows the economic cycle and that the interest rate increases, despite their repercussions, are working to slow down economic activity.
Inflation data are still being closely monitored. RBC's base-case assumption is that there will be no further interest rate increases in the near future.