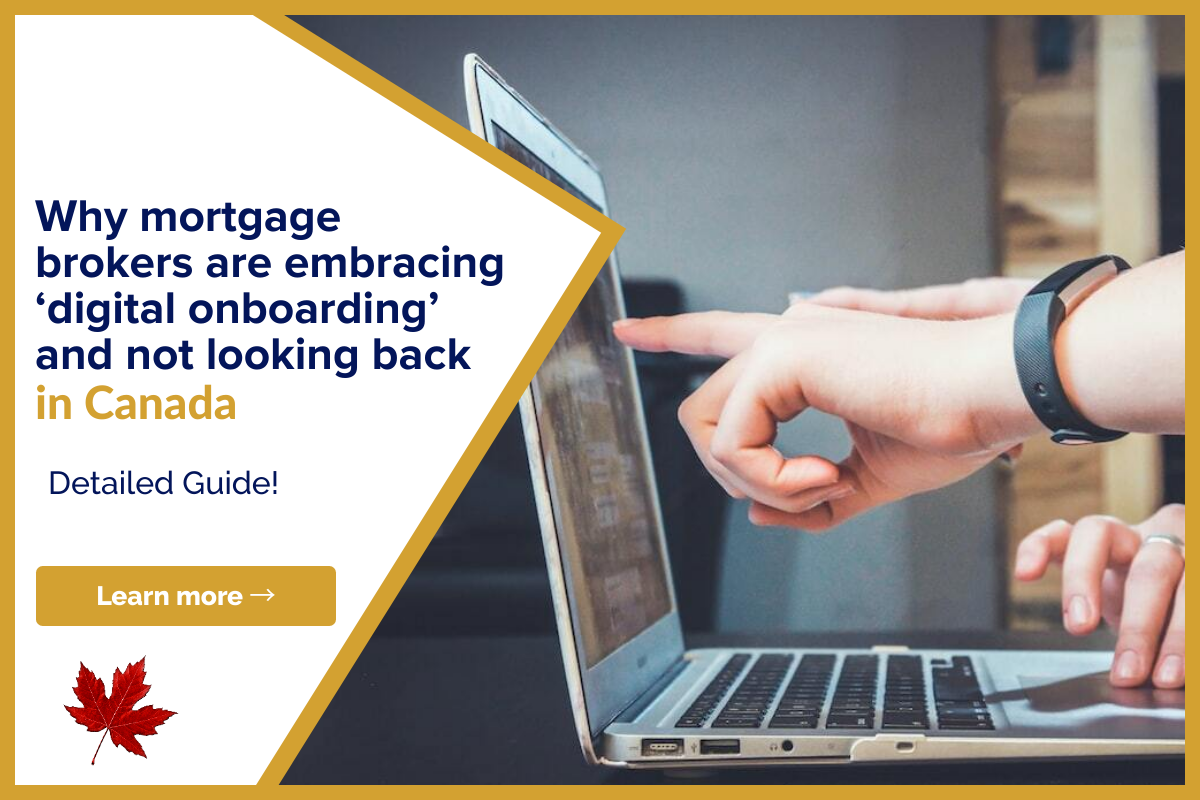 Why mortgage brokers are embracing 'digital onboarding' and not looking back
During the early days of the mortgage business, brokers would require a lot of paperwork to be submitted by prospective clients in order to get them approved by a lender.
No more. Brokers are now increasingly using digital onboarding to do what used to be done by fax or mail. Fintech companies like Lendesk or Pinch allow brokers to assess the financial status of their customers in just 10 to 15 minutes without having to meet them in person. They can also avoid missing important paperwork.
Andrew Wells is the founder and CEO of Pinch Financial. The Toronto-based firm provides digital onboarding to banks, brokers, and lenders.
Digital onboarding has many benefits
Pinch's platform collects all information about a borrower automatically, rather than collecting it manually. The information collected includes identification documents, income and assets, creditworthiness, and property appraisals.
This allows brokers to calculate the ratios of total debt service and gross debt service, which is a vital calculation used to determine if an applicant is eligible for the mortgage.
For clients, it's the time spent preparing and waiting on their application. Wells says that the brokers benefit from the completeness of information received by clients.
He says that by the time they get a file, it's already 100% complete. Pinch also allows brokers to import the information they have collected into their existing deal management systems, whether it is BOSS, Finmo or Filogix.
He adds, "The idea was to take the messy and decentralized nature and qualify them in an efficient way."
Digital onboarding providers claim that there are other benefits to brokers, besides an improved workflow.
Carter Zimmerman is the president of Lendesk. He says that customers want a service which can provide them with a mortgage in a similar way to an Uber order.
He says that if all your clients can open their phones and get Chipotle within 20 minutes of opening them, then the experience for the client is going to be much more immediate.
Brokers can set themselves apart by using this method
Zimmerman claims that a digital onboarding process not only adds value to clients but also gives them a reason for choosing a broker who is more technologically savvy.
This could be an attractive feature at a moment when the competition to attract clients is more intense than ever due to the decline in mortgage volume and record-high interest rates.
Wells says, "You cannot rely on customers to find you." "You need to go where the customer is."
Zimmerman adds that Lendesk is able to integrate with a wide range of Finmo programs, allowing mortgage brokers to use different software for different tasks. Finmo, the analytics and reporting tool operated by Lendesk is also connected to tools that can automate emails, manipulate data, and even create forecasts.
Zimmerman: "We're an all-in-one solution." You can get the best tools on the market.
Pinch was founded in 2017 and will be acquired by M3 Group in 2021. Its focus has always been to automate the verification of borrower information. This became a priority during the COVID-19 epidemic and lockdowns that followed. Many businesses were forced to go digital after their offices closed.
Mortgage industry has not looked back since the pandemic, and its pivot towards remote work and digital programmes.
Wells, the CEO of Pinch, says that sales have increased 200% in the last year. He says, "I believe there has been a significant change in the market. I think that it is a market-wide shift." "It is not just us."