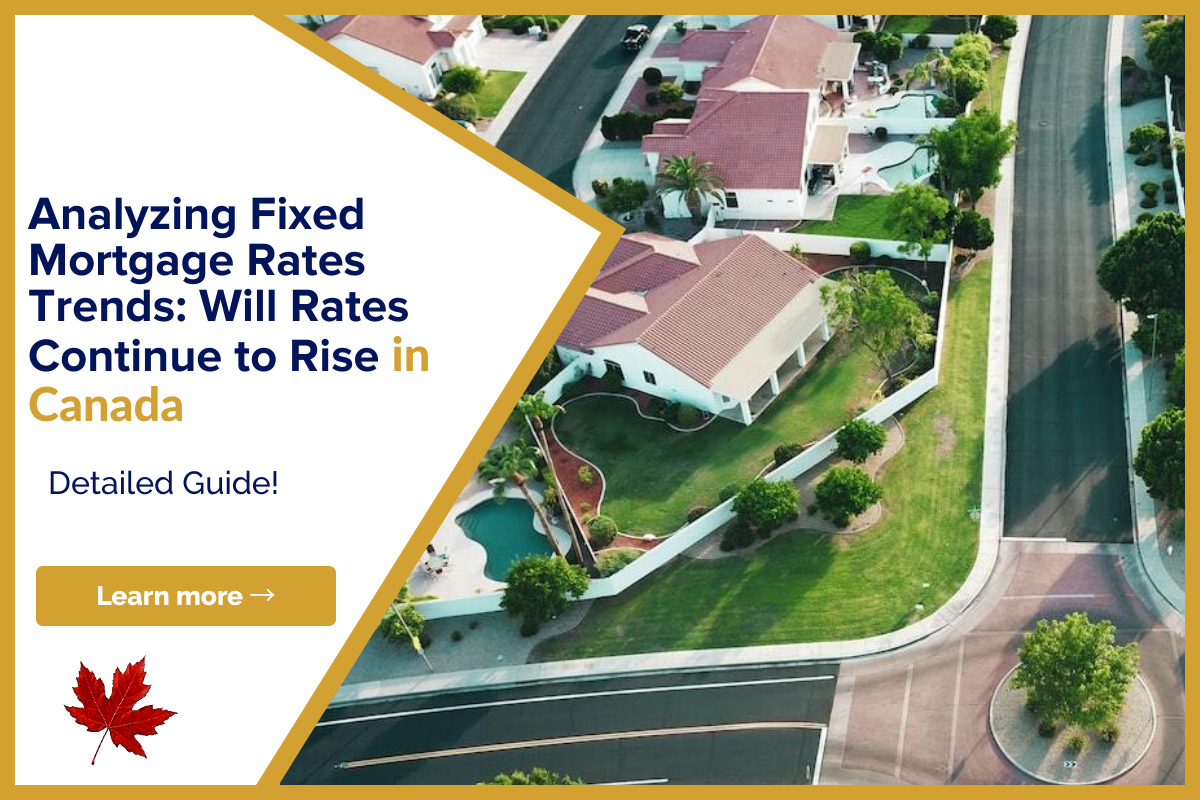 Analyzing Fixed Mortgage Rates Trends: Will Rates Continue to Rise?
Stay updated with the latest developments in the mortgage market through our informative blog post. We're exploring the speculation surrounding fixed mortgage rates, their recent upward trend, and the potential for further increases. Let's dive into the details.
Government Bond Yields and Mortgage Rates
There's been a buzz surrounding fixed mortgage rates as they've been steadily climbing over the past few weeks. The driving force behind these speculations lies in the Government of Canada 5-year bond yield, which often leads to the pricing of 5-year fixed mortgage rates. Interestingly, this bond yield has surpassed a significant threshold of 4% recently.
Historically, the 4% mark has acted as a notable resistance level for several months. Experts suggest that if the yield sustains levels above 4%, it could pave the way for continued upward pressure on mortgage rates.
Ryan Sims, a seasoned broker at TMG The Mortgage Group and former investment banker, shared his insights on his blog. He emphasized that if the 5-year Canadian bond yield manages to break 4.00% and remains above it for a session or two, this might signify the potential for even higher yields. He further commented that if this threshold is breached, a rise to 4.40% could be on the horizon.
However, if the yield struggles to stay above 4%, Sims noted that this could hint at lower yields in the future. He observed a possible formation of a "triple top" pattern, indicating a potential downward trend if 4.00% isn't sustained.
Market Impact and Rate Increases
Several prominent banks, including CIBC, RBC, Scotiabank, and TD, along with various other mortgage providers, have already raised their fixed mortgage rates over the past week. The lowest deep-discount insured 5-year fixed mortgage rate has seen an increase of 15 basis points (bps) in just a week, according to data aggregated by MortgageLogic.news.
Insights into Homebuyer Sentiments
In a recent Ipsos survey, it was revealed that a substantial majority of young Canadians between the ages of 18 and 44 believe that purchasing a home is even more out of reach compared to their parents' generation. This sentiment is echoed by 68% of respondents in this age group.
Due to this perceived affordability challenge, 68% of prospective homebuyers who don't currently own a home plan to wait for interest rates to drop before making their purchase. Similarly, 69% of those intending to refinance their mortgage are postponing their plans until rates become more favorable.
The survey findings also highlight that economic conditions (51%) and uncertainties have contributed to these delays. Additionally, housing costs remain a significant source of financial anxiety for 71% of Canadians.
Regulatory Actions and Economic Projections
In regulatory news, a mortgage broker in British Columbia has been fined $50,000 for forging income documents for multiple clients. This action was deemed prejudicial to the public interest by the province's financial sector regulator.
On a broader economic scale, Fitch, a leading credit ratings agency, downgraded the U.S. debt from an AAA rating to AA+. This decision reflects anticipated fiscal challenges, a growing government debt burden, and governance concerns. Fitch also predicts a "mild" recession in the U.S. economy during the fourth quarter of this year and the first quarter of 2024.
Former Bank of Canada Governor David Dodge has weighed in on the trajectory of interest rates. He suggests that elevated interest rates will be necessary to achieve the central bank's 2% inflation target. Dodge anticipates the need for high rates to continue through 2025 for economic objectives to be met.
Conclusion
Stay informed about the ever-evolving landscape of fixed mortgage rates and their impacts on homebuyers and the economy. As speculation on rate trends and economic projections continue to unfold, keeping a close eye on market trends and expert insights will guide you in making informed financial decisions.
Need Some Extra Cash to Help Your Finances? Try Lionsgate!
Are you struggling with your financial needs and need some extra cash? Lionsgate can help. Just fill out the form below, letting us know all your money or mortgage requirements, and we will find the best lender for you. Amazing thing? The process is free, and you can quit it at any time.
We have a team of experts that analyze your requirements and pick the best lender for you with prudent advice.
Note: Please give your authentic information while completing the form below.
Please share this article on your social media profiles if you found it helpful. Also, visit our blog to read similar helpful articles on finance, real estate, and getting mortgages.