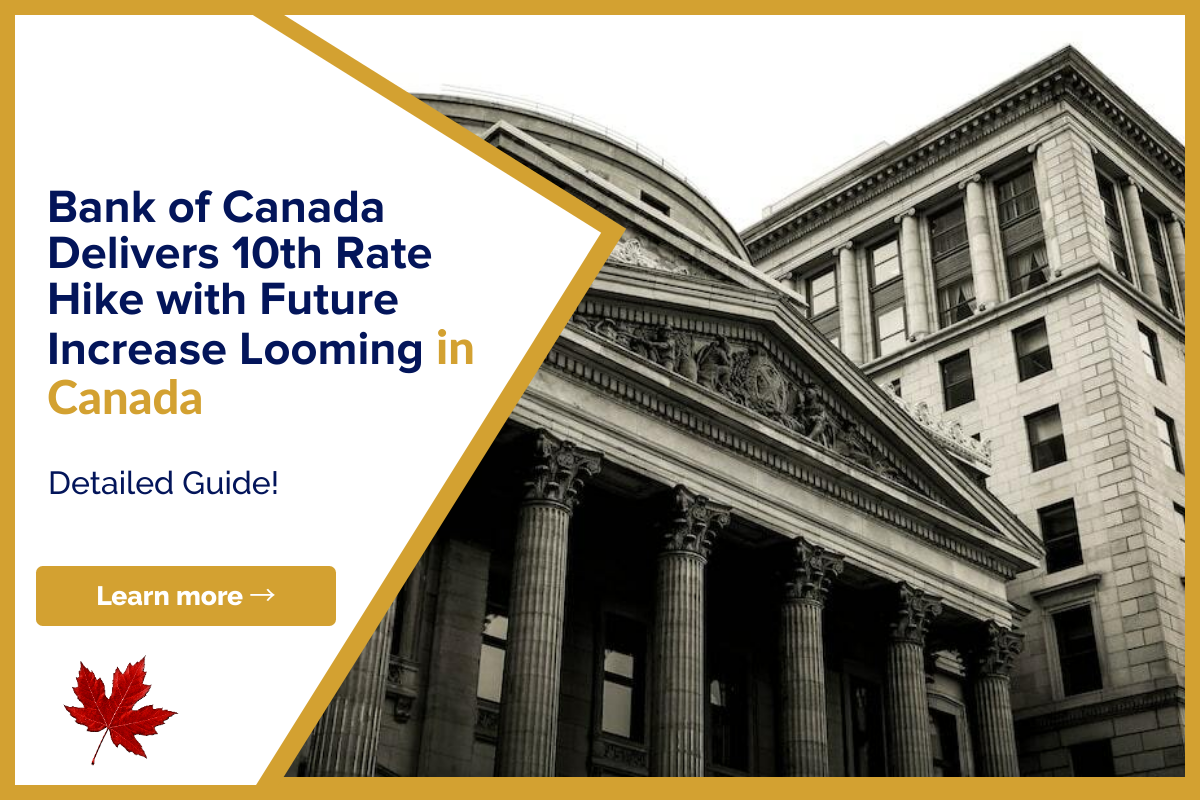 Bank of Canada Delivers 10th Rate Hike with Future Increases Looming
The Bank of Canada has implemented its 10th quarter-point rate hike, raising the benchmark rate to a 22-year high of 5%. While the move was widely anticipated, the market remains uncertain about whether this will be the last rate increase, with expectations of further hikes in September.
I. Reasons Behind the Rate Hike
The Bank of Canada's decision to raise rates was based on evidence of persistent excess demand and elevated core inflation. The Canadian economy has exhibited strength, with ongoing momentum in demand, particularly evident in consumption growth, which reached 5.8% in the first quarter.
II. Future Rate Hike Speculations
During a press conference, Bank of Canada Governor Tiff Macklem emphasized the importance of balancing the risks of over- and under-tightening. He acknowledged the possibility of further rate increases if new information warrants it. Economists from ING suggest that the Bank remains uncertain about having done enough, indicating a potential for another rate hike in September. Market projections currently place the odds of another rate increase at around 75% for the September meeting.
III. Challenges for Variable-Rate Borrowers
The continuous rate hikes are causing growing pain for borrowers with variable-rate mortgages and personal and home equity lines of credit (HELOCs). With the expected rise in prime rate to 7.2%, variable-rate borrowers are facing increased interest costs.
The monthly interest cost for every $100,000 of mortgage debt has skyrocketed by $265. For borrowers with an average mortgage size of approximately $312,000, this translates to an additional $827 in interest per month. Mortgage Professionals Canada has expressed concern about the potential strain on variable-rate holders and fixed-rate borrowers at the time of mortgage renewal.
IV. Updated Monetary Policy Report
The Bank's updated Monetary Policy Report highlighted the persistence of underlying price pressures, with core inflation running between 3.5% and 4%. Additionally, a faster-than-expected pickup in house prices, combined with a supply shortage, has pushed prices beyond previous projections.
The Bank forecasts headline inflation to hover around 3% for the next year before gradually declining to 2% by mid-2025. Economic growth forecasts have been adjusted upward, projecting annual growth of 1.8% in 2023, 1.2% in 2024, and 2.4% in 2025.
V. Financial Health of Mortgage Borrowers
Despite the rise in debt-servicing costs, the Bank noted that many households remain in a healthy financial position due to strong labour markets and increased savings since the beginning of the COVID-19 pandemic. However, the Bank also highlighted a rise in the share of borrowers experiencing delinquency, indicating financial stress in certain segments of the population.
Conclusion
The Bank of Canada's 10th rate hike has raised the benchmark rate to a 22-year high of 5%, but the market remains uncertain about future rate increases. Variable-rate borrowers face mounting challenges, and the rising interest costs could strain Canadian homeowners.
As the economic landscape evolves, further rate adjustments may be required to manage inflation and maintain stability. The Bank's next rate decision is scheduled for September 6, 2023.
Need Some Extra Cash to Help Your Finances? Try Lionsgate!
Are you struggling with your financial needs and need some extra cash? Lionsgate can help. Just fill out the form below, letting us know all your money or mortgage requirements, and we will find the best lender for you. Amazing thing? The process is free, and you can quit it at any time.
We have a team of experts that analyze your requirements and pick the best lender for you with prudent advice.
Note: Please give your authentic information while completing the form below.
Please share this article on your social media profiles if you found it helpful. Also, visit our blog to read similar helpful articles on finance, real estate, and getting mortgages.