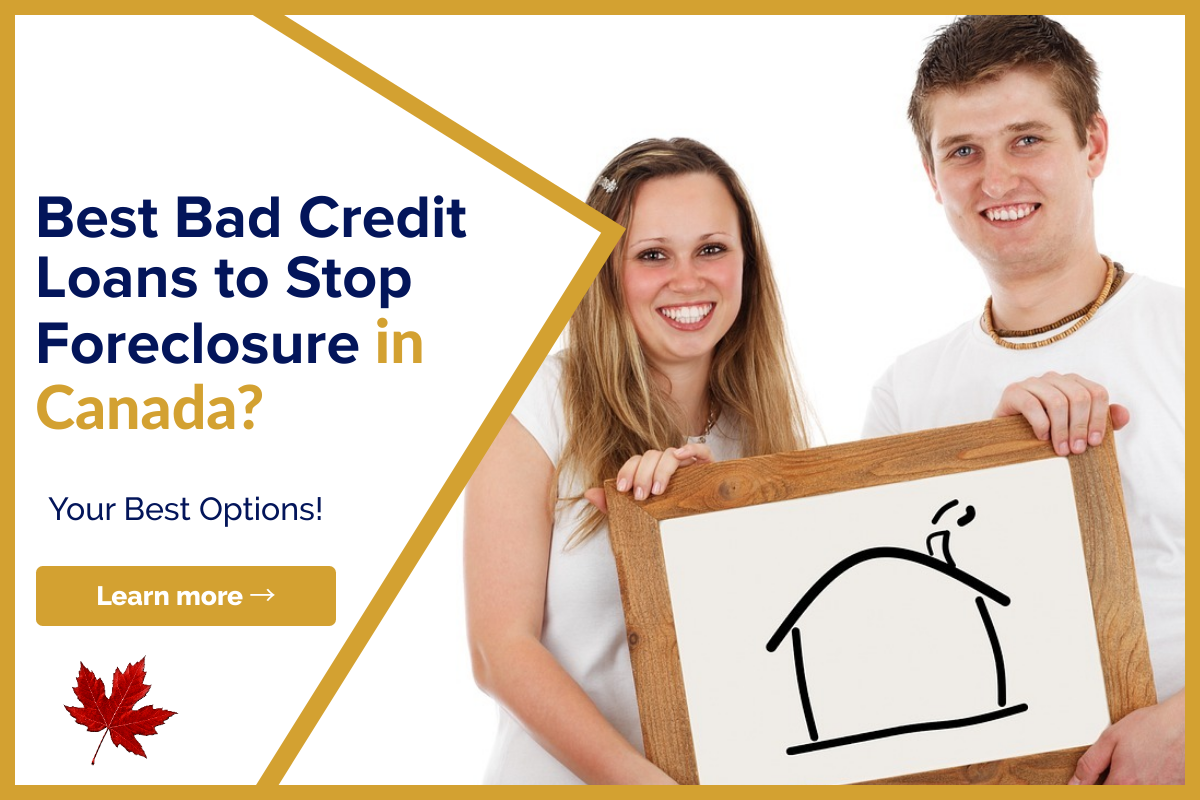 Best Bad Credit Loans to Stop Foreclosure
Now you can listen to our blog post, "Best Bad Credit Loans to Stop Foreclosure", while on the go.
A universe of opportunities can open up for you after you start using credit, including the capacity to obtain a mortgage for a home. That being said, if you don't take precautions, it's simple to develop bad credit, making it difficult for you to be approved for any credit products, including loans.
Can Someone With Bad Credit Obtain A Loan?
If you want to apply for a loan and accept it, you still have options, even with low credit. There are now more possibilities than ever for borrowers with bad credit. We offer all the information you need to locate the best bad credit loan, whether you need a quick loan or an instalment loan to pay a hefty bill.
How Can I Get A Loan With Bad Credit?
You may do a few things to be approved for the best bad credit loan in 2022, in addition to thoroughly researching your lender, like:
Have a job for at least a few months that is full-time.
Boost your salary and put aside as much money as you can
Reduce your debt-to-income ratio by consolidating your existing obligations.
Offer a valuable (a vehicle, piece of property, etc.) as security for a secured loan.
Find a more capable cosigner to support your application.
You'll have an easier time getting approved for a bigger bad credit loan with a more affordable interest rate and payback plan, even though requirements may differ from lender to lender. The outcome will be better the less risky you are to your lender.
How Do I Apply For A Loan With Bad Credit?
1. Examine the score and finances
Regardless of whether you have good or terrible credit, you should assess your financial condition and even check your credit score before applying for any loan. This will make it clearer to you what kind of offer you should anticipate.
2. Assess lenders
Certain lenders may be a better option for you depending on the loan you desire and your financial status. This is why comparing lenders is crucial. Check out customer reviews, compare interest rates, loan amounts, fees, and the overall cost of the loan once it has been repaid.
3. Compile documents
Although each lender may have different application criteria, be sure to have the following materials on hand to make the process go more smoothly.
Three months' worth of bank statements, a government-issued ID
Proof of residence and Income/Employment Verification
4. Apply
Once you've chosen the lender with whom you wish to apply, it's time to fill out an application. The majority of lenders for those with terrible credit will offer an online application process, so you won't need to leave your home to do so.
5. Watch for an answer
Applications are typically responded to in a few days or even sooner by the majority of alternative lenders. In case the lender needs more information or has questions for you, be sure to check your email or return calls.
6. Obtain Funds
You can anticipate receiving your loan within 24 hours of it being accepted. Most lenders offer direct deposit or Interac e-Transfer to send money.
How Much Does A Loan With Bad Credit Cost?
It's crucial to consider your budget and the loan's associated charges before applying for a bad credit loan.
Interest: It is the fee your lender charges you for borrowing money. Your loan will be less expensive the lower your interest rate is. However, bad credit lenders frequently charge higher rates because they are taking on riskier borrowers.
Costs – Far too frequently, borrowers fail to consider the possible fees their lender may impose, whether they apply to individual payments or a single expense. These costs may cover loan origination, paperwork preparation, and other administrative tasks.
Penalties – If you make on-time loan payments, you shouldn't have to be concerned about penalties. Unfortunately, there will be a penalty cost for each incomplete, late, or missed payment.
Term – The size, regularity, and duration of your payments and the term of your loan are all crucial factors. While a more protracted period entails more manageable payments, a shorter term and higher monthly payments result in a cheaper overall loan cost.
What Happens When You Have Good Credit?
Generally, you're a trustworthy borrower if your score is in the "good" range of 660 to 900. Lenders will therefore presume that you are more likely to make on-time payments on your loans, making it simpler for you to be granted a large line of credit with a low-interest rate and a convenient payment schedule.
What Takes Place If You Have Poor Credit?
Your credit score might easily drop into the "poor" range of 300–659 if you haven't been making on-time payments on your previous loans. Lenders can discover every payment you've missed over the last few years by looking at your credit history. As a result, they will view you as more of a risk, and as a result, you might only be eligible for a modest amount of credit, a high interest rate, and a limited payment schedule.
Although missed or late payments hurt your credit score the most quickly, there are a few other things that can happen that damage your credit, including:
Unfixed mistakes on your credit report (wrong name, address, etc.)
Identity theft, credit card fraud, and banking information theft
Don't change addresses without telling your lenders first
Having an excessive amount of revolving debt on your line of credit or credit cards
Making excessive credit applications (every time a lender checks your credit, a hard inquiry will appear on your report and decrease your score slightly)
Conclusion
You can avoid foreclosure, but you must take action immediately to avoid permanently losing your property. You can avoid foreclosure by using the financing options we reviewed.
The goal is to take proactive measures to prevent foreclosures from occurring in the first place. Any resources we've provided can assist you, but be on the lookout for con artists attempting to profit from your misfortune.
Need Some Extra Cash to Help Your Finances? Try Lionsgate!
Are you struggling with your financial needs and need some extra cash? Lionsgate can help. Just fill out the form below, letting us know all your money or mortgage requirements, and we will find the best lender for you. Amazing thing? The process is free, and you can quit it at any time.
We have a team of experts that analyze your requirements and pick the best lender for you with prudent advice.
Note: Please give your authentic information while completing the form below.
Please share this article on your social media profiles if you found it helpful. Also, visit our blog to read similar helpful articles on finance, real estate, and getting mortgages.