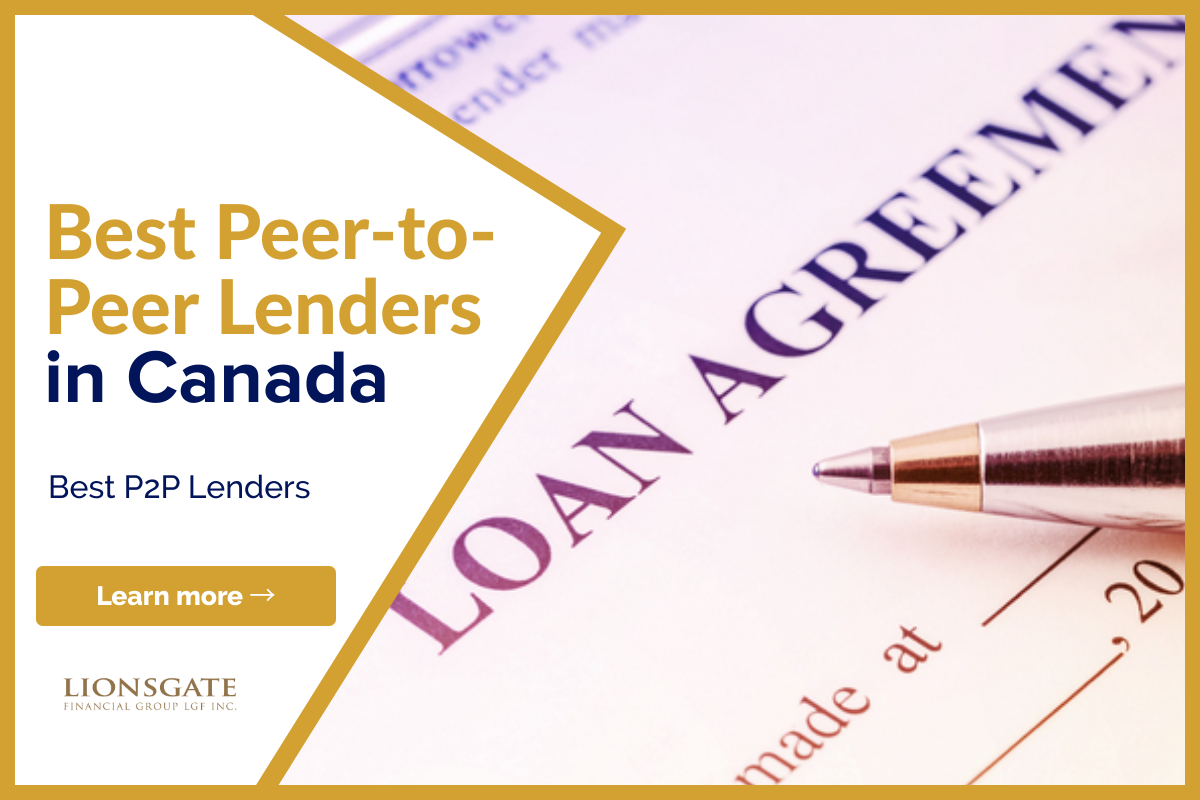 Best Peer-to-Peer Lenders in Canada
Now you can listen to our blog post, "Best Peer-to-Peer Lenders in Canada" while on the go.
A peer-to-peer (P2P) is a leading company that provides a marketplace for lenders and borrowers to come together and conduct business. The P2P lenders do not act as an intermediary rather help borrowers find lenders through an online platform.
Want to know more about peer-to-peer lending? Then continue reading as we are about to delve in deep. Let's first start with the types of loans a borrower can get through peer-to-peer lending.
Types of Loans You Can Get Through Peer-to-Peer Lending
There is a lot of variety when it comes to p2p lending. However, we will enlist only the best ones here.
Personal Loans: Personal loans are the most popular loan type in P2P lending. In personal loans, you can go for secured as well as an unsecured loan. A secured loan is when you put up collateral in case you can't repay the money. While in an unsecured loan, you don't put anything as collateral. The loan range is usually between $1,000 and $40,000. However, large sums are also offered and can only be given to the most qualified applicants.
Loans for Debt Consolidation: P2P lenders are the best resource for loans for debt consolidation. With it, you can consolidate your personal loans, credit cards, and other unsecured debt into a single loan with a low-interest rate.
Business Loans: Now P2P lenders also offer business loans. So, if you are looking to start a business or even grow the existing one, Peer-to-Peer lenders can help you get the cash.
Auto Loans: If you are looking to buy a new vehicle, but your poor credit score is getting in the way, you can go for auto loans. Auto loans from P2P lenders can help you buy a new vehicle. But the problem is, where should you find the lenders who give auto loans? If this is your concern, then know that there are different lenders available on P2P platforms that can help you with this. The auto loan can be found on P2P platforms with reasonable terms and manageable interest rates.
How Does Peer-to-Peer Lending Works?
For a new user who hasn't experienced P2P lending before, the process may seem tricky. So, here is a step-by-step process of how P2P lending works.
On the P2P platform, the borrower fills out an online application.
The platform assesses the borrower's risk profile and credit rating after reviewing their application. The platform then allocates an interest rate to the borrower.
When a borrower is accepted, they have access to all of the platform's lenders. They can compare loan alternatives and select the one that is best for them.
The borrower is responsible for making periodic interest payments and repaying the loan in full at maturity once they have chosen their preferred loan.
Advantages and Disadvantages of P2P Lending in Canada
Although P2P lending is a great option if you need credit access. However, it may not be right in every situation. So, it is wise to first know whether you actually need it or not and then decide to go for it. Below are a few of the advantages and disadvantages of P2P lending, that might help you make your decision.
Advantages
Easy application procedure: When compared to a bank or credit union, the application process on a P2P network is quick and easy. You might receive a loan in minutes because the entire process is done online and there is no need to meet with loan underwriters in person.
Lower interest rates: compared to traditional financial institutions, P2P loans typically have a lower annual percentage rate (APR). The cheap rates are attributable to the P2P platform's low overhead costs and the lenders' competition.
Lower origination fees and no prepayment penalties: P2P platforms often offer minimal origination fees (fees charged for providing a loan) and do not penalize you if you pay off a loan early.
More accessible than traditional financing sources: Unlike traditional lenders, P2P platforms assess your creditworthiness based on variables other than your credit score. Even if you have bad credit, you may be qualified for a loan. P2P platforms are also a good option if you need a unique loan that a bank, for example, might be afraid to provide.
Less influence on your credit scores: When you request a loan, most P2P platforms only run a soft credit check, so your credit score will be unaffected. Your age, income, financial history, and employment status are normally assessed by the platform.
Disadvantages
Fees: Set-up or administrative fees are commonly charged by P2P platforms.
Lack of Regulation: Because peer-to-peer lending is a young and rapidly growing business, it is not subject to the same governmental monitoring as traditional lenders. Because the platforms operate under a patchwork of regulations that are always changing, there are risks. Let's say you're worried about your privacy and security. In such a scenario, before joining up to utilise a P2P platform, conduct your study and seek legal guidance.
Slow Funding: You may have to wait up to a week for your loan to be funded, which is inconvenient if you have an emergency and need cash now.
Not Best If in Heavy Debt: If you're in a lot of debt, this isn't the best option. While P2P platforms can assist you in arranging a consolidated loan, they won't be much help if your debt load is already preventing you from making payments. In this scenario, a non-profit financial counsellor or mentor may be a preferable option.
Best Peer-to-Peer Lenders in Canada
There are mainly three Peer-to-Peer lenders in Canada. These include Lending Loop, GoPeer, and Reddit. Let's discuss each in detail to give you a better understanding.
1. Lending Loop
Lending Loop is best if you are looking for business loans. With it, you can get business loans from $1k to $500k with an interest rate ranging from 4.96% to 24.93%. Lending Loop is based in Toronto and provides its loan services in all Canadian provinces and territories.
2. GoPeer
GoPeer is a platform that allows borrowers and investors to meet. If you are a borrower and looking for a personal loan, GoPeer may help you best. It is also based in Toronto and provides its services all over Canada. With it, the maximum loan amount you can get is $25000, with terms ranging from three to five years. The interest rate ranges from 7.5% to 31.5% as these are unsecured loans.
3. Reddit
You might already know Reddit due to its news and discussion website, but know that Reddit also facilitates borrowing and lending through its subreddit called r/borrow. Reddit is mostly used by individuals who need small short-term loans but are struggling financially and have limited means. The loan limit with Reddit is $1000, with a dependable interest rate and term.
The Bottom Line
At Lionsgate, we specialize in helping people get the extra cash they need, obtain funding for private mortgages, as well as for other real estate transactions. If you are looking to buy land in Canada, get a mortgage or apply for a loan, fill out the form below. Or, You can leave us a message and we will try to connect you with local lenders and sources that best meet your needs.
If you found this article helpful, please share it on your timeline and with someone you care about. Also, visit our blog to read similar helpful articles on finance, real estate, and getting mortgages.