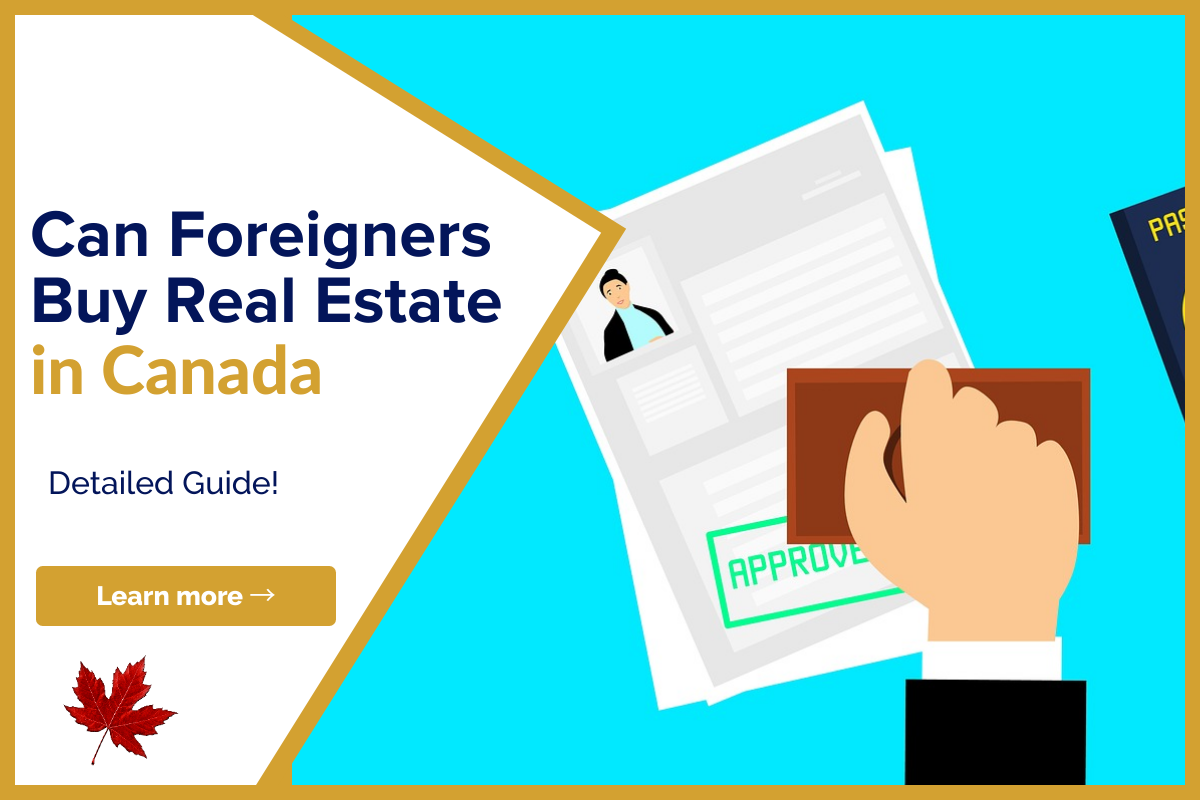 Can Foreigners Buy Real Estate in Canada
Now you can listen to our blog post, "Can Foreigners Buy Real Estate in Canada" while on the go.
In Canada, can foreigners buy real estate? Definitely, yes! The real estate market in Canada is accessible to both residents and non-citizens alike who reside outside of the nation. That covers ex-pats, investors, and anyone from abroad who intends to reside in the nation for an extended period of time.
Additionally, there are no limitations on the kind and quantity of real estate you can purchase in Canada. There are several chances to buy real estate as an investment if you are a non-resident purchasing property in Canada.
You might have a lot of questions about buying real estate as a foreigner, but you've come to the perfect spot. So, let's first define who is a non-resident or foreigner according to Canadian law.
According to Canadian law, the following describes people who don't reside in Canada:
Anyone who regularly, typically, or generally resides outside of Canada and isn't regarded as a resident of that country.

A person who has no major residence ties to Canada and who either spent the whole tax year abroad or entered the country for fewer than 183 days.
If you fall under any of the above conditions and want to buy real estate in Canada, this guide is for you.
How Foreigners Can Buy Real Estate in Canada?
Foreigners are welcome to purchase real estate in Canada, but they must follow a few important steps first. A guide on how foreigners can buy real estate in Canada is provided below:
Find out if you qualify
You must determine whether you are eligible to purchase real estate in Canada as a foreign national. To be able to purchase real estate in Canada, you will need to have a valid passport and a social insurance number (SIN).
Get pre-supported for a home loan
A Canadian financial institution must pre-approve you before you can use a mortgage to finance your purchase. Before approving your mortgage application, Canadian banks and lenders will take into account your credit score, employment status, and financial history.
Employ a realtor
A licensed real estate agent can assist you in purchasing a property in Canada, negotiating its price, and navigating the legal process. Find a real estate agent who has worked with foreign buyers before.
Select the appropriate property
Canada is a huge nation with numerous cities and regions to choose from. Find the city or region that best meets your requirements and your financial constraints by conducting research.
Conduct due diligence
Prior to making a proposal on a property, lead your reasonable level of effort. This may entail conducting research on the neighbourhood, hiring a home inspector to assess the property's condition, and examining the title and ownership history of the property.
Make an offer
Whenever you have found the right property, your realtor will assist you with making a proposition. The purchase price, the closing date, and any sale conditions will be included in this offer.
Complete the transaction
You will need to make a deposit and close the deal if your offer is accepted. Signing legal documents, paying any costs associated with the closing, and transferring ownership of the property are all parts of this process.
Hire a property manager
You might want to hire a property manager to take care of your home if you don't intend to live there. You can get help finding tenants, collecting rent, and maintaining the property from a property manager.
In summary, outsiders can purchase land in Canada with legitimate identification and Wrongdoing. Working with a licensed real estate agent, doing your homework, and picking the right location is crucial. Buying real estate in Canada can be a great investment opportunity if done properly and with care.
Need Some Extra Cash to Help Your Finances? Try Lionsgate!
Are you struggling with your financial needs and need some extra cash? Lionsgate can help. Just fill out the form below, letting us know all your money or mortgage requirements, and we will find the best lender for you. Amazing thing? The process is free, and you can quit it at any time.
We have a team of experts that analyze your requirements and pick the best lender for you with prudent advice.
Note: Please give your authentic information while completing the form below.
Please share this article on your social media profiles if you found it helpful. Also, visit our blog to read similar helpful articles on finance, real estate, and getting mortgages.