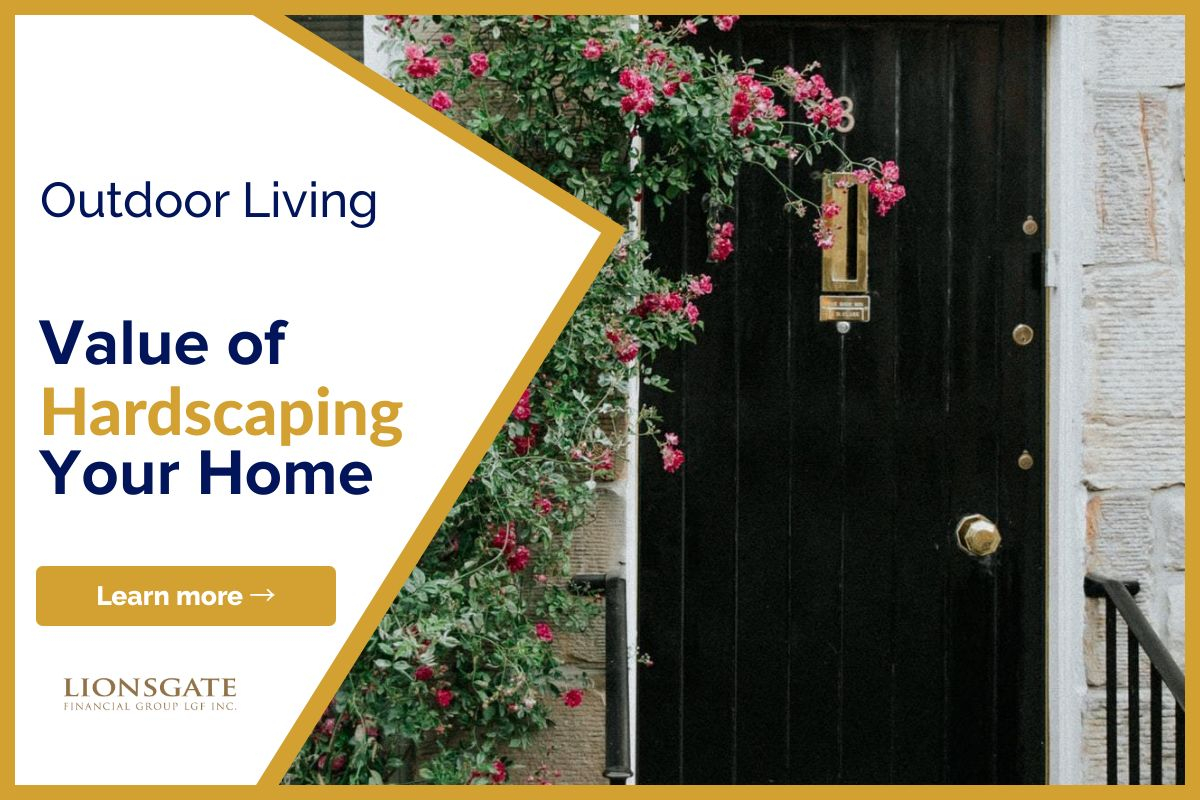 The Value of Hardscaping at Your Home
I do not know about you but as a homeowner, I want a home and a yard that is appealing to the eye, functional for the family, and valuable financially. One way to achieve all three with your outdoor living space is by hardscaping at your home.
But, what exactly is the hardscaping of a home? Hardscaping encompasses everything that is not a living part of your landscape. It includes but not limited to pavers, patios, pergolas, fire pit, water features, outdoor kitchens, and play spaces. A designated space for relaxing among nature, complete with a secluded divider and comfortable seating, can also be called hardscaping.
However, one main concern that withstands when going for landscaping is the return on investment. That is, how much it will cost and if the investment is worth it or not?
Does Hardscaping Add Value to Your Home?
Whenever a homeowner decides to make changes or additions to expand their outdoor living spaces, it always involves costs and hardscape is no exception. However, keep in mind that installing hardscapes will have a positive effect on the value of the home in the future. As a homeowner, if you invest in hardscaping today, it will pay off in the longer run by increasing the resale value of the home.
For the sake of value, it is important to mention here that 79 percent of Americans rank a lawn as the most important feature when renting or buying a home, says the National Association of Landscape Professionals (NALP). Outdoor space is most popular among millennials. A whopping 82 percent of millennials want outdoor space as compared to the 81 percent people in Generation X and 77 percent of baby boomers.
Similarly, the American Society of Landscape Architects (ASLA) suggests 74 percent of consumers want sustainable design elements such as permeable paving. Whereas, 80 percent of the consumers demand landscapes that are low maintenance.
Why It is Important to Hardscaping at Your Home?
You might have heard interior designers advocating bringing the outdoors in. However, the surveys say the opposite is true: taking indoor features outside is more popular. Outdoor kitchens, for instance, tops the list of popular kitchen features at 48 percent craving for them.
Curb appeal is one of the biggest factors when selling a home. Keeping the exterior of your home tidy and aesthetically pleasing can keep your neighborhood beautiful, encourage other homeowners to take pride in their homes, and attract more buyers if you are trying to sell.
While something as simple as a neatly cut lawn and spruced-up mulch can go a long way, it can be beneficial to invest in some longer-lasting upgrades to your home's exterior. Hardscaping, or hard surface landscaping elements, is durable, attractive, and often adds to the value of your property.
Now, once you know what hardscaping is and why it is important to increase the value of a house, it is time to explore how we can hardscape a house.
How to Hardscape a Home?
When hardscaping, here are a few questions you need to ask yourself first. Where will the hardscape feature be installed? What is the quality of the ground there? Which type of material will be used? What will be the design of the structure entail? The answers to these questions will decide the overall cost of the hardscaping. Here is how:
The location and how it is prepped before installation impacts the cost of hardscaping heavily. If the soil is not flat, then having a patio installed will require more work and effort. Similarly, the type of material you use affects the overall cost as well. Most people pick wood, concrete, and stone to hardscape, whose prices vary widely.
The design also plays a vital role in deciding the hardscaping of a house. The complex and intricate design of your project can affect the cost to install the hardscape. For instance, if the design is complicated and contains curvy patterns, it may cost more as the installation will be more work. However, it is important to remember that it is an investment and will give greater ROI when selling.
Read More: Can I get a Mortgage on Disability Income?
Should You DIY or Hire a Professional?
Many hardscaping projects can be tackled by an amateur do-it-yourselfer in a weekend. Others require specialized tools or skills and are best left to the pros. Consider your skills and experience, as well as your budget and time, when you decide if you want to DIY your hardscaping project or get help from a professional.
Keep in mind that hardscaping projects are often more expensive than other landscaping due to the materials needed. If budget is an issue, you may be able to find a class at your local hardware or garden store to learn skills that can save you money. Talk to an experienced hardscape about what materials you can use to keep your vision but save on cost.
Which Hardscapes Increase a Home's Value the Most?
They are some of the hardscapes that add more value to your home than the rest. So, in this guide, we will see the ones which boost the value of your house more than others. According to the 2018 Remodeling Impact Report, below hardscapes increase the home value and are the features that buyers are looking for:
Patio: The most popular type of hardscape, the patio is very much a desired element in every house. A patio is a great place for friends and family to gather and spend some time together, especially when you add seating, flower bed, and water into it.
Water Feature: Who does not like fountains and ponds in the outdoor area? Almost everyone does. Hardscape water features include fountains or pounds that will add tranquility to any outdoor area. It can be designed both as a simple and intricate design.
Outdoor Kitchen: Outdoor kitchens which include built-in grills, seating, and dining areas are truly able to your living area to the outdoors. An outdoor kitchen makes it easy for the host to stay engaged with the guests when the meals are being prepared.
Fire Feature: A fire feature can be as simple as a stone fire pit or an opulent which is designed intricately. These are highly desirable amenities for many homebuyers. If a house has a well-constructed fire feature, it can last for years and provide value to the owner.
So, What to Include?
There are a variety of hardscaping projects to take on and they can all be fun. Browse some home interests or gardening magazines for ideas. You can even take a walk or drive around your neighborhood to get in-person inspiration from others. Below are some of the popular ideas to consider for hardscaping.
Popular hardscaping projects include:
Patios and decks
Retaining walls
Walkways and paths
Fences
Arbors and pergolas
Gazebos and other structures
Fountains and ponds
The Bottom Line
If you are looking to Hardscaping at Your Home and that too dramatically, hardscaping is what you must consider. You can pick any idea of hardscape according to your budget and implement it either by yourself or by a professional.
We at Lionsgate financial are available for any kind of house repair and house buying loans. If you are considering taking a loan for your particular project, do leave us a message and we will be in touch with you soon.