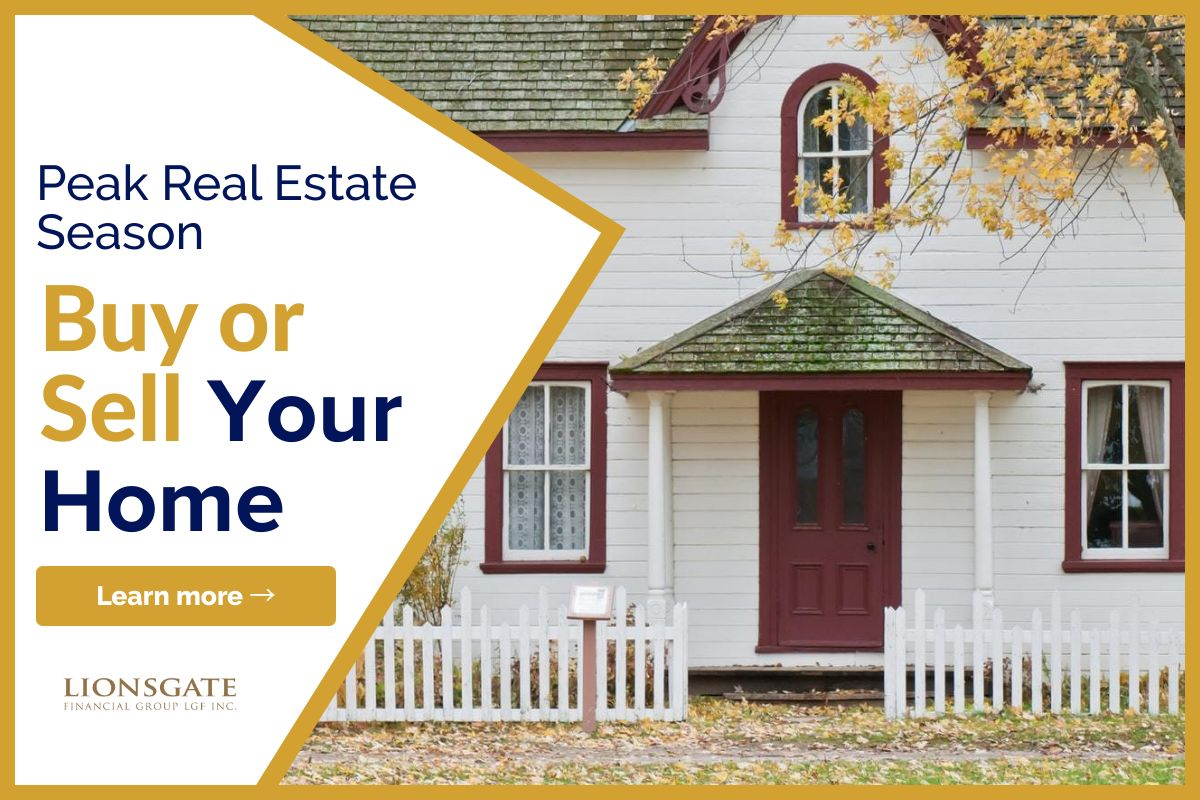 Peak Real Estate Season to Buy or Sell Home
Produce has a season. So do sports. But did you know that real estate has a peak season as well? People buy and sell homes all year long but there are certain times of the year when more transactions are likely to take place. The peak real estate season refers to the busiest time and when there are the most potential buyers out searching for a new home.
As life changes, your way to live and shelter changes too. So, spending your savings on your home or other property is not always the best choice as you might have to consider moving for any number of reasons. If you have already this thing in mind, you might also wonder: is it really possible to find the best time to sell your home on the market?
Depending on your province, city and even neighbourhood, there can be a pattern of fluctuations in the market. This pattern can be either seasonal or repetitive every year. It can also depend on some other variables. If you are interested to know, then continue reading as we are about to explore all the factors which determine when you should sell your home.
Moving and Selling Time Periods
Canadians like to move during the spring, summer and fall. This is due to three factors:
Weather
Travelling Conditions
Daylight
The most real estate transaction can be closed in 30 to 90 days, so the most popular times to actually buy a home in Canada is traditionally in the fall and spring. Additionally, the holidays, extreme weather, interest rate and anticipated taxes affect the buying behaviour as well.
Fewer Listings Means Less Competition
From December to February and from June to August, the number of listing are fewer. So, the competition for your home is very little in the market. Although home sales peak in the spring and fall, they are happening all the year. So, if you want to sell your home sooner without waiting for the fall, you can still sell and achieve your desired goal. However, know that it can take a little longer so be patient.
Almost every house looks better in the late spring and summer, so if you are not in a hurry, consider selling it when your house is at its strongest.
Factors Affecting the Sale Timing
If you are moving within the same city, buying your next home will have the same change in the prices as your previous home. So, there is nothing that will offset your timing-related gain or loss. So, if you want to sell a home and buy a new one, do not sit and wait for the perfect time. Below are some things which help you decide if it is a good time for you to sell your home in the open market.
Current interest rates
A low interest rate paves way for you to buy your next home at or near your current mortgage rates. If the interest rate is high, the number of qualified buyers will be less so the house prices will be less.
Shifting demographics
The demographics of an area such as age, income, migration patterns and population growth are often ignored, but they play a significant role in affecting real estate prices. For instance, the retirement of baby boomer is bound to be noticed in the market. So, when moving, always consider questions like, how ageing population affect the demand for a larger home? what demographic does my location and property suit best? Etc.
Economic indicators
If there is a recession or a recession is about to happen, the overall health of the economy will be negative and so does of real estate. Thus, if the economy is struggling and performs poorly, the real estate does the same too.
Government policies
Government policies such as interest rates, tax credits, deductions and subsidies are some of the ways the government can temporarily boost demand for real estate. So, be aware of current government incentives and determine there is an opportunity for you in the market or not.
Best Time to Buy Home in Canada: Peak Real Estate Season
Generally, winter is a favourable time to buy down the house. This is because, in winter, most of the buyers lists their houses in the market as it is a safe bet. Sellers are also eager to sell their houses in this season as there is a lot of hassle in other things as well. So, sellers are more open to the negotiations as well.
If you buy in any other season another than the winter, the sellers will negotiate less as they are not eager to sell and they can wait for the spring as well.
You May Also Like: Can I Get Mortgage During Consumer Proposal?
Also, the sellers are more motivated to sell the house in January as the credit card bills from the holidays start to roll in. The holidays are also a great opportunity to sell the house. Another factor is Christmas, as people are more generous in the Christmas season they are likely to sell their house and accept less money.
Best Time to Sell Home in Canada
Although there tends to be more inventory in the spring for buyers to chose from, there is usually more competition as well. More competition, however, bodes well for the sellers. For the sake of an exact answer, know that May has the highest number of sales compared to any other month of the years. So, the prices tend to be higher as well.
Aside from nice weather, a home tends to show better in spring and summer. Add to this the fact that the buyer also ready to buy as they might be using their tax refunds for the down payment. Plus, if the buyer has kids, moving in summer means schooling is not interrupted. So, there is more chance of you securing the deal quickly.
It may come as a surprise but selling in May can get you $60,000 more than if you were to sell in January.
Want to Sell a Home During the Fall and Winter Months?
There is still a market but you should prepare for a long wait for the right buyer. People tend to spend their holidays celebrating with family and friends instead of searching for a new house. If you are a buyer during this downtime, you may be able to get a great deal on a home that hasn't seen a lot of interest. The downside for buyers is that the selection might not be as robust as during the peak season.
Keep in mind that each market is unique, so what is common in one area may not be expected in another. It helps to work with a realtor who knows the trends in your local area.
The Bottom Line
Warmer weather encourages potential buyers to get out and explore open house events or just check out new neighborhoods. For families with school-aged children, moving during the summer months is much easier than trying to uproot everyone during the school year.
Selling your home during the peak real estate season often takes less time or allows you to price it slightly higher. Buyers have a great selection to choose from but may find themselves in a bidding war with other interested buyers.
If you are a seller, avoid putting your home up for sale in the winter. If you are a buyer who can be flexible and who do not have a specific time frame, then consider house-hunting outside of the spring frenzy and get your mortgage preapproval during the late summer. Take the advantage of both the fall and winter markets, you can save a lot of stress and money during the process.
If you are on a set of times and do not want to wait for peak real estate season, then do not despair. You can always use the experience and professionalism of real estate professionals. So, if you want to take fair market value, reach out to us and we will get the best offers for you.