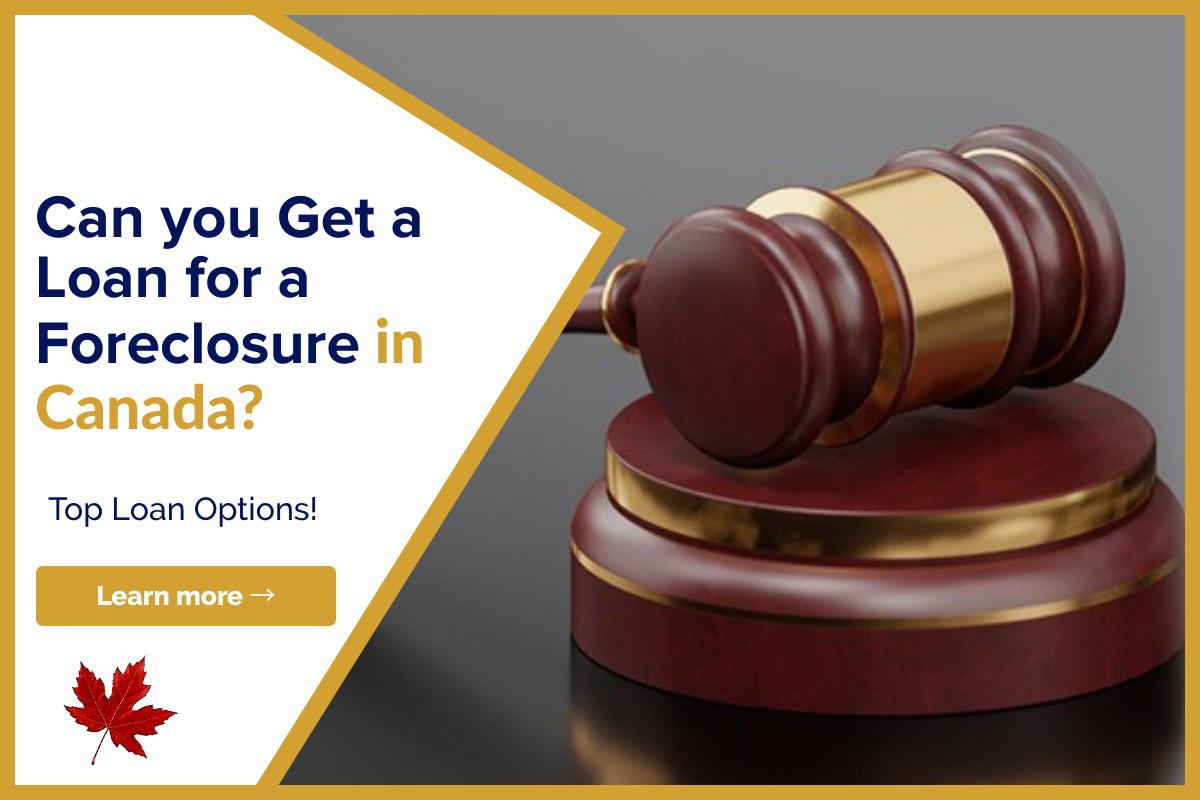 Can you Get a Loan for a Foreclosure?
Now you can listen to our blog post, "Can you Get a Loan for a Foreclosure?" while on the go.
Canadian real estate can be expensive, particularly in crowded urban areas. As a result, a lot of homeowners are unable to make their mortgage payments, which leads to the final foreclosure of their homes.
A foreclosure may also occur as a result of criminal conduct, poor living conditions, or other circumstances that force a person to leave their home. Whatever the reason for the foreclosure, the lenders who still own liens on those homes must take action to at least partially recoup their losses. As a result, the same foreclosed homes can be listed for sale once more.
Foreclosures in Canada
Contrary to popular belief, foreclosures are not all that common in Canada. Some lenders, like banks, could mention foreclosure as a deterrent to prompt payments from borrowers. Lenders often prefer not to go through the foreclosure procedure.
They frequently have to go through legal proceedings, sell the house at auction, or list it for sale at a lesser price than it was originally listed at, which results in a loss of profit. As a result, it is very expensive and time-consuming.Having said that, it's essential to avoid being overconfident in that assumption because foreclosures can occur in rare instances.
Once four mortgage payments (or 120 days) are past due, lenders will often remove the home's title, however the procedure may differ from province to province and lender to lender. Borrowers often get 30-35 days to leave the property after the foreclosure is finalised.
The majority of lenders are still willing to negotiate during the foreclosure process. The issue might be remedied if a borrower demonstrates that they can resume making payments. However, if the lender determines that the borrower is completely unable to make payments, they may attempt to sell the house by either:
Legal Sales
This is when the lender needs to apply the judicial court for approval to sell the residence; it is frequently seen in British Columbia, Quebec, Alberta, Saskatchewan, and Nova Scotia. Due to the drawn-out court action and associated legal costs, this method requires significantly more time and money.
Lenders in these jurisdictions have the option to start the foreclosure procedure as soon as the initial mortgage payment is missed (however unlikely that may be). The borrower will then be served with a "Statement of Claim for Debt and Possession" and have 20 days to respond with a "Statement of Defence" before a judicial procedure gets underway.
Power of Sale
A power of sale, which is common in Newfoundland, Ontario, Prince Edward Island, and New Brunswick, is when the lender has the authority to sell the property without going through the formal court process thanks to a provision in a homebuyer's mortgage contract. Typically, the procedure will start after 4 missing payments. A 35-day redemption period is provided to the borrower, giving them a chance to make up missed payments as well as any unpaid tax arrears, late fees, and fees related to the Power of Sale itself.
But if the borrower does not make these payments, they will once more receive an eviction notice and must leave the property within 30 days.
Do You Need Cash to Pay for Foreclosure?
Yes, but not always. Depending on the foreclosure stage the property is in—preforeclosure, auction, or bank-owned—the answer will vary. A short sale is a method of selling a house that is in the preforeclosure stage. When a property is in the bank-owned stage, the lender has taken possession of it and is making efforts to sell it.
You can use a mortgage to pay for short sales or bank-owned homes (also known as real-estate-owned or REO) properties. In fact, doing so is typical. According to Wells Fargo, 60 percent of the homes it sells in foreclosure were bought with loans.
With foreclosures, it can occasionally be more difficult to obtain a mortgage. Short sales, which occur when a home is sold for less than is outstanding on the mortgage, can be laborious to accomplish. They necessitate that the mortgage lender consent to accept less than the amount payable on the mortgage. For a bank to accept a short sale, you might have to wait months. Your interest rate lock could lapse in the interim. The transaction can also fail if the owner manages to collect the debt and halt the foreclosure procedure.
Loan Options for Foreclosure
Fortunately, with foreclosure auctions, you just need to be concerned about these strict regulations for cash transactions. Here are six options for financing a foreclosure for purchasers who are considering bank-owned properties or short sales but don't have a tonne of cash on hand.
1. Buying a bank-owned home with a conventional mortgage
Obtaining a mortgage preapproval early in the process is crucial when financing the purchase of a foreclosure. By doing this, you'll be better equipped to submit a genuine offer as soon as you come across a desirable home, before cash-strapped investors buy it up.
2. Buying a foreclosure with a renovation loan
You can finance a foreclosed house with a rehabilitation mortgage, which combines the purchase price and building costs into a single loan, if it requires extensive rehab.
3. Home equity lines of credit for short-term financing
You can create a home equity line of credit, which functions somewhat like a credit card but is secured by the home you own, if there is equity in the property. Typically, lenders may grant credit lines for up to 85% of home equity (defined as the market value of the home minus the amount owed on the mortgage). You only take out as much as you actually need, and you only pay interest on the funds you actually use.
4. Using hard money loans for real estate investments
"Last resort loans" are another name for hard money loans. These alternatives to bank loans are often employed by borrowers who cannot obtain a conventional mortgage or who require immediate cash to purchase and swiftly resell real estate.
Hard money loans are best suited for affluent borrowers who don't mind taking on risk and are willing to pay higher fees and interest rates.
Looking For Some Extra Cash to Help Your Finances? Try Lionsgate!
Are you struggling with your financial needs and need some extra cash? Lionsgate can help. Just fill out the form below, letting us know all your money or mortgage requirements, and we will find the best lender for you.
Amazing thing? The process is free, and you can quit it at any time.
We have a team of experts that analyze your requirements and pick the best lender for you with prudent advice.
Note: Please give your authentic information while completing the form below.
Please share this article on your social media profiles if you found it helpful. Also, visit our blog to read similar helpful articles on finance, real estate, and getting mortgages.