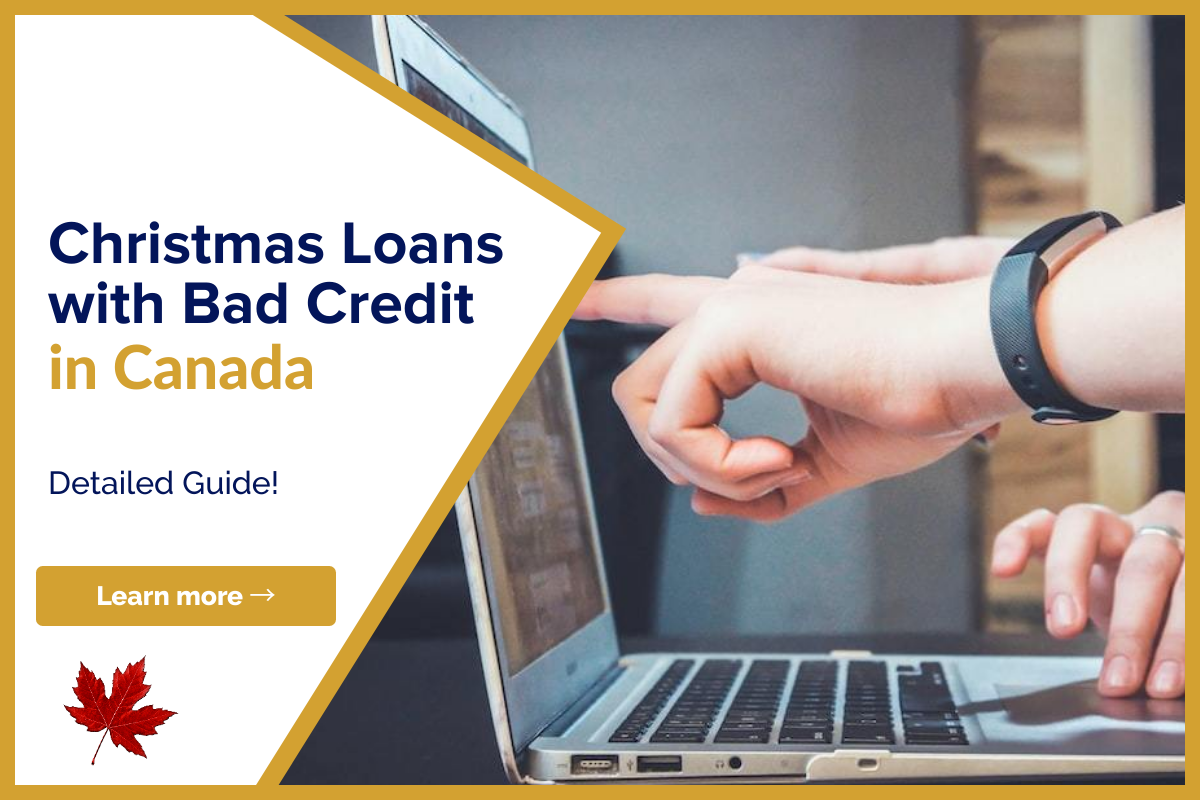 Christmas Loans with Bad Credit in Canada
Now you can listen to our blog post, "Christmas Loans with Bad Credit in Canada" while on the go.
The average Canadian spends about $1,700 during the holiday season. Many people are directing their vacation expenses to the most convenient credit card, the credit card. But is this the best option?
Starting the new year with a maxed-out credit card isn't ideal. You don't want to carry too much credit card debt from one month to the next. Since the card loan is a revolving payment, there is no obligation to repay the full amount. That sounds nice, but it means paying interest every day on the balance carried forward each month.
Have you considered applying for a personal loan to help with your vacation bills? Applying for a personal loan is for those struggling with credit card debt and those who don't want to get caught up in the vicious circle of payday loan debt. maybe the best option.
If you want to borrow money for Christmas, a personal loan to finance the holiday season is a good solution, but there are other options. In this article, we'll look at what Christmas loans are, their pros and cons, and alternatives that can help you get through the holiday season without hurting your personal finances.
How to get a loan for Christmas?
Christmas loans come in many forms, but that's exactly what they sound like. A personal cash loan to cover vacation expenses.
A quick search online reveals that most Christmas loans are payday loans masquerading as a celebration. However, please note the following:
Payday loans are known to do more harm than good. Interest rates are very high and loan repayment terms are very short. If you're not careful with your payday loan, you could end up with more debt than you started with.
Christmas loans are also available in the form of personal installment loans. Interest rates on personal loans are much lower than payday loans. Apply for an installment loan online, get approved online, and have the money in your bank account within 48 hours. Unlike traditional bank loans, bad credit is not that big of an obstacle. These online lenders use advanced analytics beyond your credit score. Less paperwork and no personal appointments.
Can I get a Christmas loan if I have a bad credit bureau?
Whether you choose a payday lender or a personal installment lender, you can get a Christmas loan that isn't of perfect credit. However, there are some key differences between these two lenders. Payday loans are attractive to many borrowers because they offer Christmas loans without a credit check. However, short-term loans are riskier due to shorter repayment terms and interest rates above 400%. Additionally, positive repayments are not reported to credit bureaus, so no credit rating can be built on payday loans.
With a personal installment lender, not only do you benefit from customizable repayment schedules and much lower interest rates, but your positive monthly payments are also reported to credit bureaus to help rebuild your credit score.
It is also important to note that the higher the credit rating, the higher the interest rate. So if you have time, research how to improve your credit score before applying for a Christmas loan.
Advantages and disadvantages of Christmas loans
All forms of financing, including Christmas loans, have their pros and cons. Before proceeding, it is important to understand the ins and outs of fundraising.
Advantage
Relieve financial stress: The stress of vacation spending is never fun. An instant Christmas loan provides temporary relief from financial stress and the respite space you need to meet throughout the holiday season.
Fast and convenient: Christmas credits are quick, easy, and convenient to get whenever you need them. The internet has made it very easy to apply online and you can deposit the money within 48 hours if you want.
An opportunity to build credit: Christmas loans are available not only if you have a bad credit history, but if you choose the right kind of loan (payday loans, for example, don't offer this benefit.
Cons
Interest expense: Interest rates on Christmas loans can be high and can exacerbate the financial stress you are already experiencing. Choosing the wrong lender (e.g. payday lender) can result in interest rates as high as 400%.
You have to pay it back. This drawback goes without saying, but you should only borrow what you can pay back in a reasonable amount of time so you don't have too much financial stress after your vacation.
Christmas Loan Alternatives
Christmas loans are available when you need them, but they're not the only option. If you want to avoid using a holiday loan, consider the following options.
Create another source of income: If you're looking for a side job, you'll get some extra money for Christmas.
Learn to budget and save. By working on your budgeting skills, you can create a vacation fund to cover all your vacation expenses. It's never too late to budget and saves.
Plan ahead: For those who splurge on Christmas shopping at the last minute, demand the hassle. Learn to become an experienced planner. By planning ahead, you can spend more time getting everything you need for Christmas and take advantage of early shopping events such as Black Friday sales.
Get creative and make the cuts you want: There's a lot of glitz and glamour surrounding Christmas these days, but that doesn't mean you need to stretch your finances! Instead of giving big and expensive gifts to friends and family, consider cheap and meaningful gifts. please. If you can't afford Christmas this year, there are plenty of cuts you can make to make the holidays more affordable. You have to be creative and figure out what's really important to you.
The Conclusion
October to December is the peak season for consumption and shopping. If you are determined to take out a loan for your celebration, apply to a reputable lender who offers reasonable interest rates. And avoid payday lenders!
Need Some Extra Cash to Help Your Finances? Try Lionsgate!
Are you struggling with your financial needs and need some extra cash? Lionsgate can help. Just fill out the form below, letting us know all your money or mortgage requirements, and we will find the best lender for you. Amazing thing? The process is free, and you can quit it at any time.
We have a team of experts that analyze your requirements and pick the best lender for you with prudent advice.
Note: Please give your authentic information while completing the form below.
Please share this article on your social media profiles if you found it helpful. Also, visit our blog to read similar helpful articles on finance, real estate, and getting mortgages.