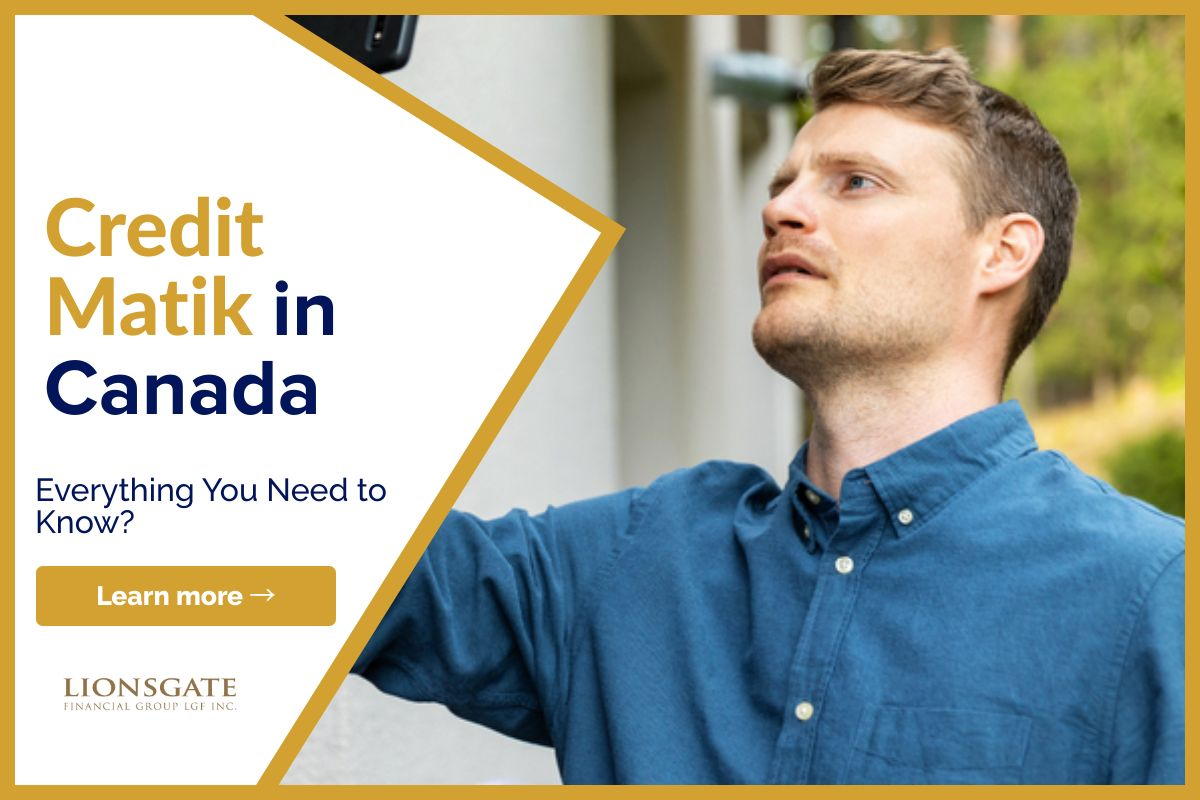 Credit Matik: Everything You Need to Know
Now you can listen to our blog, "Credit Matik: Everything You Need to Know" while on the go.
My previous lender sucked! It was not worth the deal, and I realized it immediately after signing it. My credit score is bad too and I don't have any documents to provide. But, unfortunately, I am still short on funds. I need an alternative lender who is reliable and walks the talk. Someone who can pull me up from this quagmire. Do you know any lender who has this ability? Yes, Credit Matik is your answer.
What is Credit Matik?
Based in Quebec, Credit Matik is a non-traditional lender that offers loans ranging from $250 to $1,250. These personal loans feature a 22 per cent annual interest rate and have limited repayment periods.
The good news is, you don't have to offer your credit score or any documentation to Credit Matik. It can help you receive the money you need immediately, whether you need to cover an unexpected bill or make a purchase. Moreover, they have a fast bank verification technology that can verify and approve you for a loan in minutes.
Credit Matik offers a loan with changeable credit terms. This means that your personal loan has no defined term and that you can pay it off whenever you want, whether it's in one year or three. Just keep in mind that each of your paydays must have a minimum payment (which includes a $20 weekly subscription charge).
Read More: Loans on Disability Income: Payday, Instalment & Vehicle Title Loans
Applying For Credit Matik
When you have low credit, applying for a loan might be intimidating, but at Credit Matik, you can acquire the loan you need without having to do so. Simply fill out the following information on an online application form:
Personal Information: Name, address, date of birth, and contact information
Employer Information: This includes the name of the company you work for, the phone number of your boss, and the date you started working there.
Following the submission of your application, you will receive an email prompting you to complete the immediate bank verification. The email will ask you for:
Instant bank verification: In most cases, a lender will verify your details through a third-party provider such as Plaid. These services allow you to log into your online banking account via a secure gateway, giving your lender access to your transactional data and bank statements. Of course, this technology is designed to secure you by not storing your personal information and encrypting your bank credentials.
You'll receive a confirmation email once you've finished this step. The information you supplied will be verified by a Credit Matik agent, who will then assess how much they can lend you. After you've been approved, all you have to do now is e-sign the contract to complete the transaction. Customers will typically receive the funds they requested via direct deposit the same day they apply.
Requirements to Qualify for Credit Matik
With Credit Matik, getting a loan is simple. There is no credit check because they welcome people with all types of credit. To qualify for Credit Matik, you only need to meet the following criteria:
You must be at least 18 years old to participate.
You must be a Quebec resident.
Prior to applying for the loan, you must have been employed for at least three months.
Your earnings must be put straight into your own account.
You must have a bank account in Canada.
You can't be in the middle of a bankruptcy case right now.
A monthly salary of at least $1,200 is required.
They can contact you since you have a working phone number.
If you qualify, Credit Matik can approve your loan within an hour of your application.
Costs Involved in Credit Matik
It can be difficult to figure out how much a loan will cost. Before taking out a loan with Credit Matik, there are a few costs to consider.
NSF Fee: Any bounced cheques or pre-authorized payments will result in a $25 NSF fee. You will very certainly be charged an NSF fee by your bank.
Payment Delay Fees: If you need a payment deferral due to a financial emergency, you will be charged a $35 administrative fee.
Membership Fee: Credit Matik charges a $20 weekly membership fee, which is deducted from your loan instalments. This equates to $80 each month.
Interest: Credit Matik's annual percentage rate (APR) for a loan can be as high as 22%.
Cash Advance Fee: A $75 fee will be levied if you need a cash advance.
In regard to your loan,
Credit Matik may levy administrative costs, carry-forward fees, re-borrowing fees, maintenance fees, or any other fees. Unfortunately, the figures are not available and are subject to change.
Is Credit Matik Safe?
Yes, Credit Matik is a 100% Safe, reliable and reputable lender. With its instant approval, you can borrow money online and too without any stress over your past credit history. Credit Matik gives instant approval and money gets transferred to your account immediately.
Advantages of Credit Matik
Creditmatik loans come with a number of benefits that you can make use of as soon as you sign up:
Simple Application: With Creditmatik, you can quickly apply for that loan in just a few minutes.
Quick Approval: You will be authorised for the loan and your hard-earned money will be deposited on the same day as your employment.
Interest rates are low: When opposed to conventional payday advances, which offer APRs as high as 300 per cent, Creditmatik loans have interest rates as low as 22 per cent.
Flexibility in Terms: You won't have to pay back your loan on a specific date in order for your repayments to fit into your budget.
No need for security: If you are unable to repay your loan on time, there is no need to pay off all of your assets (such as your car or home).
No difference with bad credit: Even though your credit score is low, you'll be able to get that loan.
How Does Borrowing from Creditmatik Work?
Filling out a simple online application will allow you to submit an application for between $250 and $1,250. Your funds would then be delivered directly to your bank account.
As already mentioned, Creditmatik offers short-term loans ranging from $250 to $1,250. These loans have no set duration, which means you are not compelled to repay your loan by a specific date, as is the case with many payday loans. You simply need to put up a schedule of repayments that you believe you can afford and stick to it.
One of the best things about a Creditmatik loan is that you won't have to perform a credit check or put up any kind of collateral to obtain your loan. These loans also have low interest rates of around 22%, which is comparable to what you'd pay on a credit card.
The Way Forward
If you believe you fulfil all of the qualifying requirements and are ready to begin your loan application, simply follow the steps below:
1. Fill out the online application with personal information such as your name, current email address, proof ID, and required documents.
2. Go over the application and submit it.
3. If you meet the eligibility conditions, get confirmed and negotiate the terms of your loan.
You May Also Like: Buy A House With No Down Payment Canada
At Lionsgate, we specialize in helping people obtain funding private mortgages for land purchases as well as for other real estate transactions. If you are looking to buy land in Canada, get a mortgage or apply for a loan, leave us a message and we will try to connect you with local realtors and sourcing for financing.
If you found this article helpful, please share it with someone you care about. Also, visit our blog to read similar articles on mortgages.