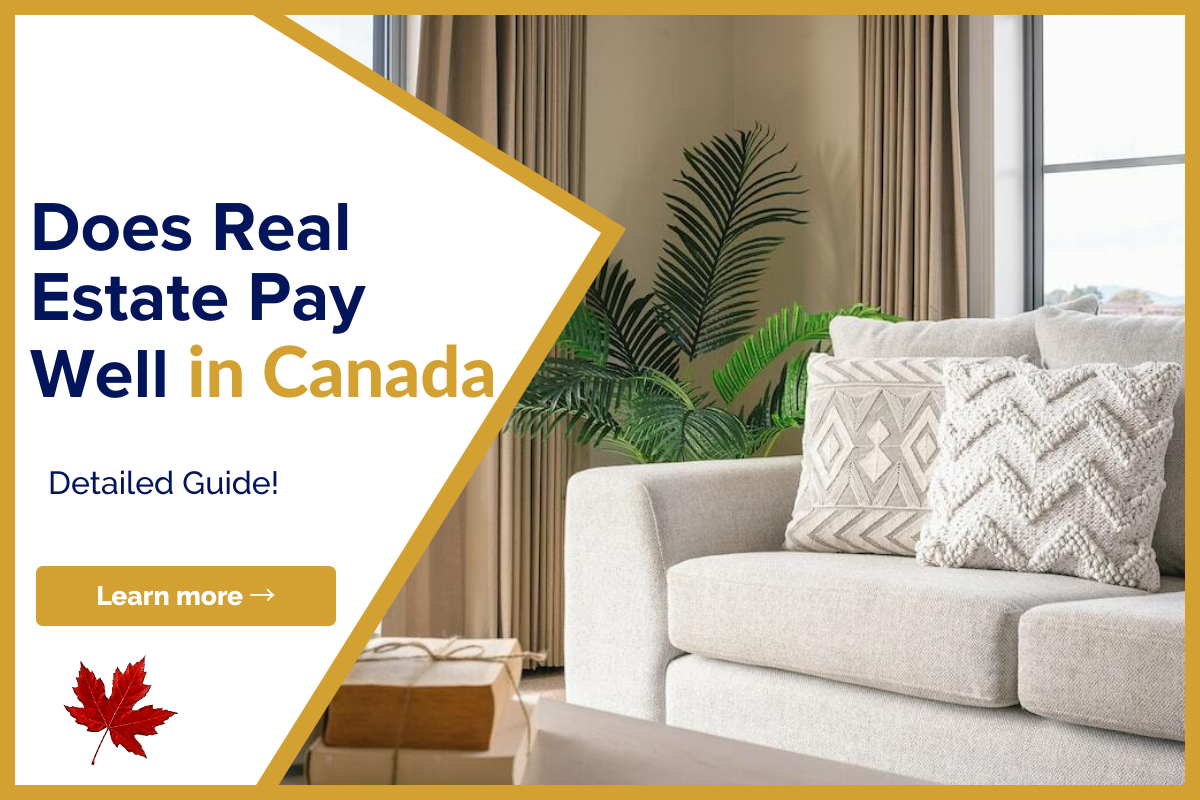 Does Real Estate Pay Well in Canada?
Now you can listen to our blog post, "Does Real Estate Pay Well in Canada?" while on the go.
Real estate is a lucrative industry in Canada, with many people considering it as a career option due to its potential for high earnings. However, is it really true that real estate pays well in Canada? In this article, we will explore the earning potential of real estate in Canada and what factors affect it.
What is Real Estate?
It refers to property that includes land, buildings, and other natural resources. It is an industry that deals with the buying, selling, and renting of properties. The industry in Canada is one of the largest contributors to the country's economy, generating billions of dollars in revenue each year.
How Much Can You Earn in Real Estate in Canada?
The earnings potential in real estate varies depending on many factors, such as location, type of property, and level of experience. According to the Canadian Real Estate Association (CREA), the average annual income of a real estate agent in Canada is around $100,000. However, this figure can range from $20,000 to $1 million or more, depending on the individual's success.
Factors that Affect Earnings in Real Estate
Location
Location is a crucial factor in the earning potential of a real estate agent. Real estate markets in some cities, such as Toronto and Vancouver, are highly competitive and offer more significant earning potential due to higher property prices. However, the competition is also higher in these areas, making it more challenging to establish oneself as a successful agent.
Type of Property
The type of property being sold or rented can also affect earnings potential. Commercial real estates, such as office buildings or retail spaces, can generate higher commissions than residential properties. However, commercial real estate transactions often take longer to close, requiring more effort and patience.
Experience
Experience is another critical factor in the earnings potential of a real estate agent. New agents may have to work harder to establish themselves and build their client base, resulting in lower earnings initially. However, experienced agents with a proven track record can earn higher commissions and attract more clients through word-of-mouth referrals.
Marketing and Networking
Effective marketing and networking strategies can also impact earnings potential in real estate. Successful agents leverage social media platforms, websites, and other marketing channels to promote their services and reach a broader audience. Building relationships with clients and maintaining a positive reputation can lead to more referrals and repeat business, resulting in higher earnings potential.
Conclusion
In summary, the earning potential in real estate in Canada varies depending on various factors. While the average annual income of an agent in Canada is around $100,000, this figure can range significantly based on location, type of property, experience, and marketing strategies. To succeed in the industry and earn well, real estate agents must work hard, stay up-to-date with the latest industry trends, and build strong relationships with clients. With dedication and perseverance, it can indeed pay well in Canada.
To increase earnings potential in the real estate industry, agents must continually learn and adapt to changes in the market. Staying informed on trends, laws, and regulations that affect the industry is crucial. Also, networking with other professionals in the industry, such as lenders, appraisers, and home inspectors, can provide agents with valuable insights and resources to help clients make informed decisions.
Another critical factor in earning potential is the commission structure. Real estate agents typically receive a percentage of the sale price of the property they help sell. The standard commission rate is around 5%, but this can vary depending on the type of property and market conditions. Some agents may also work on a flat fee or hourly basis, depending on the services they provide.
Real estate agents can also increase their earnings potential by specializing in a particular niche. For example, focusing on luxury properties, investment properties, or working with first-time homebuyers can help agents develop expertise in specific areas, leading to more significant earning potential.
Moreover, the real estate industry is not without its challenges. The unpredictable nature of the market can make it challenging for agents to maintain a steady income. Economic downturns or changes in regulations can also affect the industry, leading to fluctuations in earnings potential. It's crucial for agents to develop resilience, stay positive, and remain adaptable to changes in the industry.
The earning potential in real estate in Canada can be high, but it varies depending on several factors. To succeed and earn well in this industry, real estate agents must work hard, stay informed, build strong relationships, and specialize in specific niches. Despite the challenges, real estate can be a fulfilling and lucrative career choice for those with the passion and dedication to succeed.
Need Some Extra Cash to Help Your Finances? Try Lionsgate!
Are you struggling with your financial needs and need some extra cash? Lionsgate can help. Just fill out the form below, letting us know all your money or mortgage requirements, and we will find the best lender for you. Amazing thing? The process is free, and you can quit it at any time.
We have a team of experts that analyze your requirements and pick the best lender for you with prudent advice.
Note: Please give your authentic information while completing the form below.
Please share this article on your social media profiles if you found it helpful. Also, visit our blog to read similar helpful articles on finance, real estate, and getting mortgages.