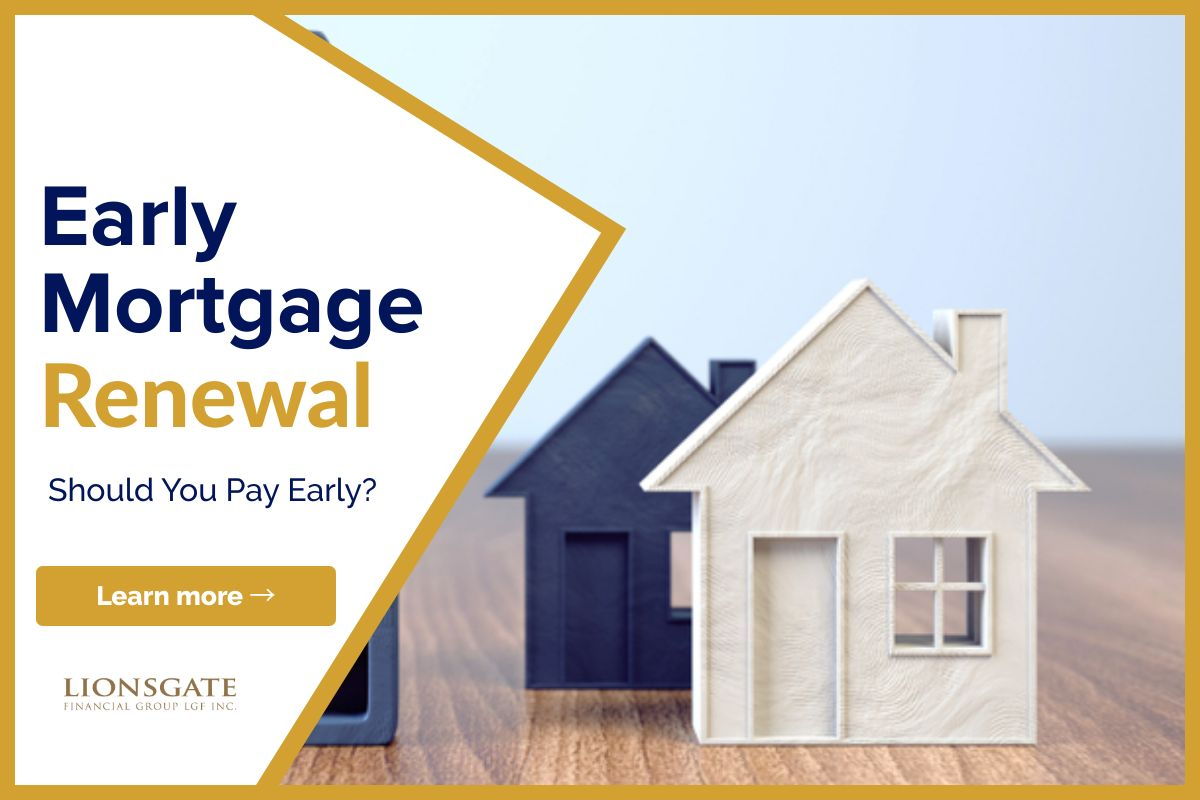 Early Mortgage Renewal: How Does it Work?
Now you can listen to our blog, "Early Mortgage Renewal: How Does it Work?" while on the go.
Since the interest rates are coming down, many Canadians are considering the possibility of renewing their mortgages early. If you are one of them and want to learn about this more, this article is for you. You will learn whether it is possible to renew early, how you can renew your mortgage, what are the pros and cons and how you can take advantage of it. But, let's first see what renewing a mortgage means.
What is Mortgage Renewal?
When you get a mortgage from a bank or private lender, your contract becomes effective for a specific time period. This time period is called the mortgage term and can range from a few months to five years and longer.
At the end of the term, you need to renew your mortgage unless the balance is paid out fully. A typical borrower requires multiple terms to repay your mortgage in full.
Read More: Buying Land in Canada? All You Need to Know
Mortgage Renewal Statement
If your mortgage contract is with a federally regulated financial institution, such as a bank, the lender is bound to provide you renewal statement at least 21 days before the end of the existing term. Your lender is also required to inform you 21 days before if it won't renew your mortgage.
A typical mortgage renewal statement includes the balance at the renewal date, interest rate, payment frequency, the term, and any fees that applies. The renewal statement also specifies that the interest rate offered won't increase until the renewal date.
Once you know what mortgage renewal is, let's discuss early mortgage renewal and whether one should do it or not.
Should You Renew Your Mortgage Early?
It is important to mention here that not all lenders will allow you to pay your mortgage early. However, the majority of lenders allow early mortgages early. So, if you want to do it early than the specified time, you are allowed to do it. For an exact time period, you can renew your mortgage within 121 to 180 days prior to your renewal date, without any penalty.
If your lender does offer early renewal, you still need to be mindful as early mortgage renewal is not always the best option for most borrowers.
Lenders typically offer early renewal in certain cases. because most lenders only reserve rates for 120 days prior to the disbursement date. This means that if you want to look at other options and you are 180 days prior to your mortgage renewal date, it will cost you a penalty to switch to a different lender. Therefore, the existing lender tries to simply sign the early renewal and move on, without having any competition on their end.
Early mortgage renewal is beneficial only when you are in a rate-increasing environment. This is the time when your lender says, we will renew your mortgage right now at a current rate before rates go up. If you want to get a current rate with any other lender, you will have to pay a penalty to break the contract with the existing lender.
But, note that, unless the rate is increasing drastically, it is in the best interest of the borrower to see what other lenders can offer. In other words, you should review renewal options within 120 days before the renewal date. By doing this, you give a fair chance to the existing lender and all other lenders in competition.
Major Problem with Early Mortgage Renewal
The biggest problem with early mortgage renewal is the attached penalties. This is one thing all the borrowers should consider before deciding about early renewal. The penalties, or fees, can range from less than $2,000 to $20,000 or more depending on your mortgage's type, balance, and remaining term.
If such a huge penalty is incurred, it will be a foolish choice to pay your mortgage early.
Unless and until the interest rate you are taking is lower than that of your current mortgage, you will end up essentially losing your money.
You might ask here, why do these penalities even exist? Here is the answer.
When you take a mortgage, the lender expects substantial interest for the specified period. If you pay early, the expectation of that lender is affected badly. That is why a lender won't accept this to happen and incur an additional cost even if you pay early.
You might not know this, like several other borrowers, as these stipulations are not too obvious to be noticed when signing the contract. However, if the interest rate is low and offers you a financial advantage, then paying your mortgage early is the best option for you.
Important Things to Consider Before Early Mortgage Renewal
Here are a few things you must keep in mind before deciding to renew your mortgage.
1. Don't force early mortgage renewal
If early mortgage renewal costs you a penalty, don't force it. There are likely better options such as debt consolidation home equity loan that can keep your original mortgage intact. The associated costs are low in these loans as well.
2. Wait for your lender to send an early renewal offer
You are likely to receive a good offer from your lender when the interest rates drop. These types of offers are often good and in an attempt to minimize your loss and give you financial benefit. So, don't haste and wait for the right opportunity.
3. Unless dropped substantially, interest rates don't provide an advantage
The interest rates do not drop as they used to in the past. So, unless the interest rate is dropped significantly, there is less chance of providing you any financial benefit. It means, if you see a drop of anything under 2%, rethink your decision of paying early.
4. Don't put off the idea of renewing early just to avoid minor penalties
Although penalties can damage your finances, it is still a better option to accept and pay early when the interest rate is low. For instance, if the interest rate drops around 2%, you should go for an early mortgage renewal.
5. Consider keeping with variable rate loans
Variable-rate mortgages feature lower premature renewal penalties. Thus, consider variable rate loans, which offer more flexibility and can even typically be converted into fixed-rate mortgages at any time.
You May Also Like: Mortgage renewal denied by RBC, CIBC, BMO, SCOTIA, TD? Here is what to do now
The Bottom Line
At Lionsgate, we specialize in helping people obtain funding private mortgages for land purchases as well as for other real estate transactions. If you are looking to pay mortgage early or buy land in Canada, leave us a message and we will try to connect you with local realtors and sourcing for financing.