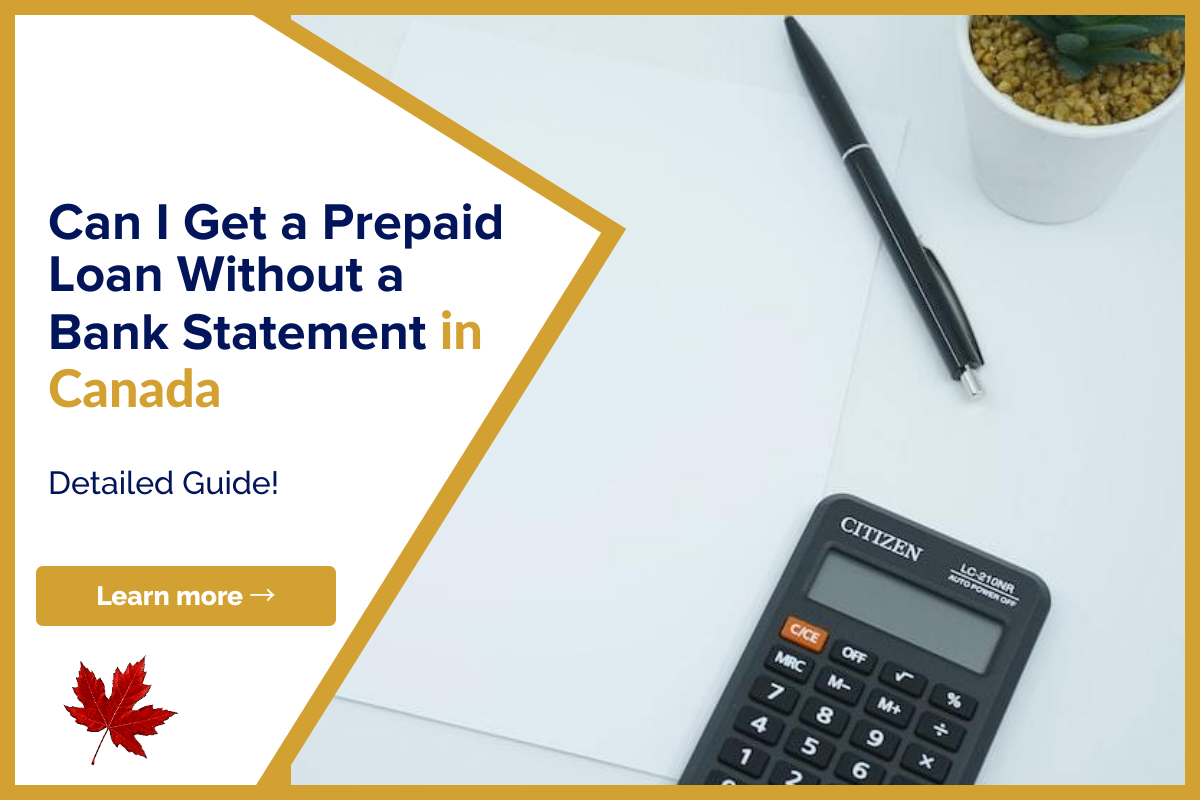 Get Prepaid Loan Without Bank Statement
Now you can listen to our blog post, "Can I Get a Prepaid Loan Without a Bank Statement?" while on the go.
It's not impossible to try to apply for a personal loan without a bank account. But be aware that your alternatives will likely be rather constrained to high-cost loans with hefty interest rates. Before using this kind of funding, you should proceed cautiously and weigh your options.
When you apply for a personal loan, having a bank account is frequently necessary, frequently a checking account.
You may still be able to receive a loan even if you don't have a bank account or believe you won't be able to open one. But because some of the loans you might have to pick from, like title loans or payday loans, can be so expensive, you won't want to take one out until you have no other option.
Let's examine the reasons why it's challenging to obtain a prepaid loan without a bank account, the kind of loans that may be available, and alternative options to think about.
The difficulties of obtaining a prepaid loan without a bank account
A bank account is essential for borrowing since it provides lenders with information about your financial condition. Bank account information is frequently used by lenders to help them determine if a borrower will be able to pay back the loan.
Because of this, many lenders demand that borrowers who apply for personal loans have a bank account.
Those without bank accounts may be taken into consideration by some lenders, such as those that offer payday or title loans. However, these lenders may require you for collateral—an asset, like a car—that they can seize if you don't repay your loan—and they often impose high fees and interest rates to make up for the risk of lending to an applicant they know less about.
Options for prepaid loans if you lack a bank account
Your alternatives will change depending on your credit history, income, and a variety of other factors, as they do with most loan products.
But before we go there, it makes sense to first think about whether opening a bank account can help you improve your circumstances. It might be simple for you to open a checking account. Consider a second chance checking account if you've previously abused or made mistakes with your checking account. They are made to make it easier for persons with a troubled financial background to reenter the market.
What are your options after that?
Family and friends
A loan from a family member or friend typically has fewer conditions and costs than a traditional loan. Getting financial assistance from friends or family can strain relationships, which is a drawback. If it's an option, it can save you a tonne of money and provide you with a much-needed financial boost. Just carefully balance the risks and opportunities.
Prepaid loans for title or payday
A car title loan or payday loan might be your last resort if you're in a real financial emergency, are unable to change your banking situation, and are unable to borrow money from family or friends.
These loan types typically come with costs and financial risks, so we don't recommend them. But if you feel you must take such action, be aware of what is involved so you may best protect yourself by being aware of the costs and requirements for debt repayment.
Payday loans and title loans both have risks.
Your car is used as collateral for a title loan since you own it outright. When you take out a payday loan, the debt is often due on the payday that follows. Both have several major red flags.
Below are some drawbacks for title loans.
High APRs: The FTC advises that the majority of auto title loans have triple-digit APRs, which is much higher than the APR of a typical personal loan.
Equity is important: The amount of the loan you qualify for mostly depends on the amount of equity you have in the vehicle. The FTC states that these loans range in amount from $100 to $5,500.
Repossession: Your car may be taken into custody if you don't pay back your title loan as arranged.
The usual drawbacks of payday loans include…
Little loans: The loans you could be eligible for are typically small—often $500 or less.
High costs: The APR for a typical two-week payday loan can be as high as 400%, according to the Consumer Financial Protection Bureau. That is significantly greater than the APR you would probably pay on a personal loan.
A possible debt spiral: If you are unable to repay your payday loan on time, the fees can mount up quickly and exacerbate your already dire financial situation.
Alternative Payday Loans
Due to the hazards we just described, we always advise looking into alternative forms of finance before choosing payday or title loans. Payday loan alternatives may be one of those choices.
A government credit union will provide a short-term, small-amount loan as a substitute for payday loans. Here are a few advantages of PALs.
The maximum interest rate is 28%.
The application fee cannot be higher than what is required to pay for the application's processing ($20 or less).
Applying for a loan up to $2,000 is possible.
One month to twelve months are possible for the repayment period.
For more specifications and criteria, consult your local branch.
Need Some Extra Cash to Help Your Finances? Try Lionsgate!
Are you struggling with your financial needs and need some extra cash? Lionsgate can help. Just fill out the form below, letting us know all your money or mortgage requirements, and we will find the best lender for you. Amazing thing? The process is free, and you can quit it at any time.
We have a team of experts that analyze your requirements and pick the best lender for you with prudent advice.
Note: Please give your authentic information while completing the form below.
Please share this article on your social media profiles if you found it helpful. Also, visit our blog to read similar helpful articles on finance, real estate, and getting mortgages.