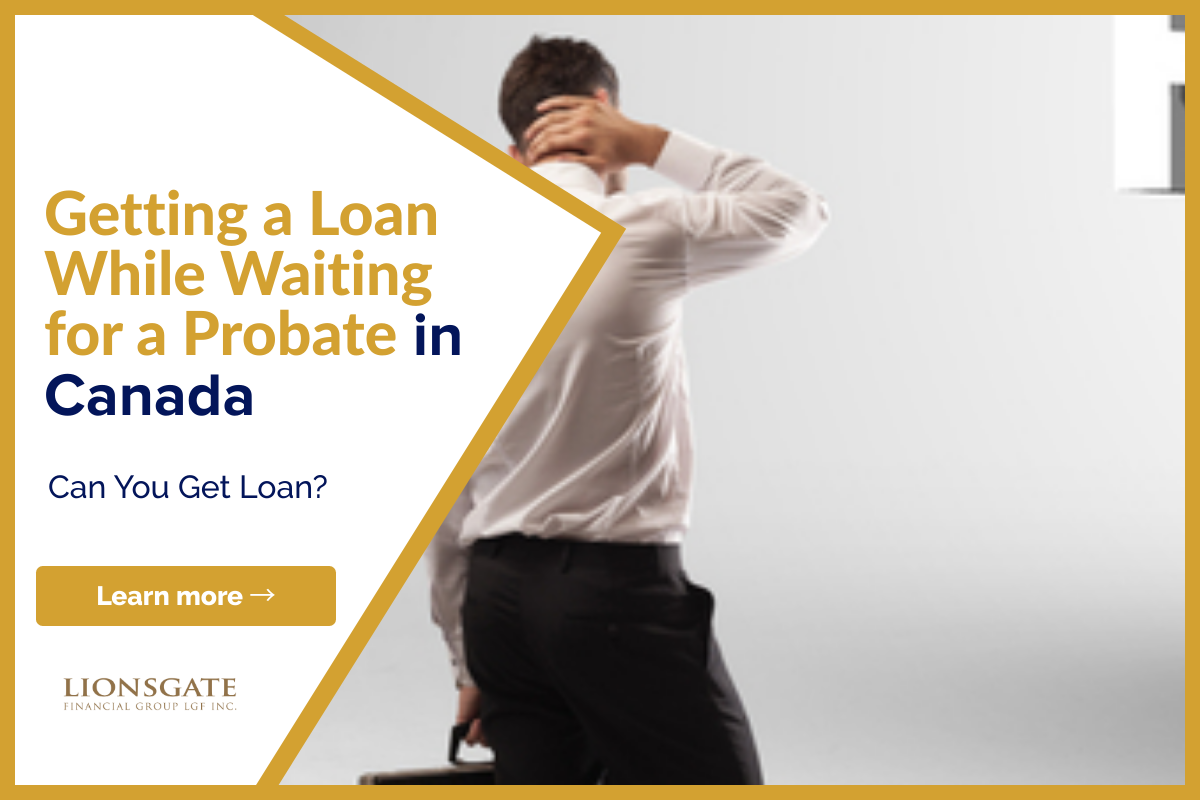 Getting a Loan While Waiting for a Probate
Now you can listen to our blog, "Getting a Loan While Waiting for a Probate", while on the go.
You are probably in the line waiting for the inheritance that your loved one has left for you. If so, you might already be thinking that the process will be fast and you will be the new owner in a few days. However, to your utmost shock, this is not the case.
Becoming the new owner of inheritance through probate is a lengthy and complex process. You can have setbacks and delays that can lead you to a point where you might think of deserting the whole process. You don't get the money when you need it the most and your hassle continues to grow until it reaches its end.
Read Federal Government Debt Relief Canada
But what exactly is probate?
What is Probate?
A probate is a court-supervised process of transferring an individual's assets after death. Probate is a tedious, complex and time-consuming process that is full of delays and setbacks. Most heirs get the wrong idea that the assets will be transferred to them really fast but it is usually not the case. Not only delays but also the whole probate process is vague and lengthy.
If you are an heir and want the assets transferred to your name quickly, understand some facts regarding your role in the probate and in the inheritance process. First, know that the attorney is only a personal representative or administrator of the estate. The estate attorney does not represent all other heirs to the estate. Thus, the attorney is not liable to take or return any phone calls or provide any information to the heirs.
Second, before distributing a penny to the proper heirs, the probate process often goes through several lengthy processes. The amount of the estate, the number of heirs, the absence of a will, ongoing debts, and other circumstances can all influence and extend the probate procedure.
Depending on the state regulations and the estate itself, the probate process varies per state and can take anything from a few months to years. Furthermore, if the decedent did not leave a will, the probate process takes an inordinate amount of time. These situations complicate the probate procedure and can result in large delays, making it even more difficult for heirs to collect their inheritance.
Fortunately, there is a solution available to get your inheritance faster. If you are waiting for your inheritance and this wait has been very long, you can get cash by seeking a probate loan or cash advance. Both probate loans and cash advances provide an efficient way to access your inheritance without any risks or limitations.
Probate Loan or Cash Advance
Many people use both these terms interchangeable, but they are not the same. Both the terms are different and have distinct processes and stipulations.
A probate loan is a money that a lender allows you to borrow while your estate goes through a probate period. Similar to traditional loans, you pay interest and make monthly payments until you settle the estate. Meanwhile, a cash advance on probate is getting a portion of your inheritance before the estate settles through probate.
Unlike a probate loan, a cash advance does not require you to pay monthly instalments, pay interest or provide collateral. Probate cash advances are non-recourse and come with no risk of non-payment. This means even if there is not enough money in the estate to pay the probate funding provider, the borrower is not responsible.
Can I Get a Loan on My Inheritance?
Yes, getting a loan on inheritance is simple, fast and hassle-free. There are many lenders that can provide cash advances on your inheritance without any risk.
As a matter of fact, know that some estates take nearly 18 months to administer and others take 3 years to close. In these cases, the estate heirs may not get any inheritance money for up to three years after probate begins.
If you like to access your inheritance money right away, there are many companies that can get it to you today. Many lenders provide cash advances to heirs who have an inheritance stuck in probate. If you go for a loan on your inheritance, your cash advance process will be fast, simple and stress-free.
One of these lenders, whom you can trust in getting a loan is Lionsgatefinancial Group. With Lionsgate, the loan process will begin with you filling out a Typeform telling us how much for the inheritance you would like to access upfront. Then, we will go through an easy simple process and send you a portion of your share immediately.
Fill Out The Form By Clicking Here
Once the loan is transferred, you can use the money wherever you want. While we will wait for the probation period to be over, you will be enjoying the money. Once the probation period is over, the estate will pay us our due share and you will receive the remainder of the money.
Get Loans While Waiting for Probation at Lionsgate Financial Group
If you want to access your inheritance money without any delays and risks, Lionsgate Financial can help. We will take the burden off your shoulders and take full responsibility for your probation. Working since 2015, we are a BBB A+ Accredited Business, helping people reach their financial goals quickly and without any risk. We deliver unbeatable customer service and get your application before you even know it. So, if you want to get a loan while waiting for probate, reach out to us.
The Bottom Line
At Lionsgate, we specialize in helping people get the extra cash they need, obtain funding for private mortgages, as well as for other real estate transactions. If you are looking to buy land in Canada, get a mortgage or apply for a loan, fill out the form below. Or, You can leave us a message and we will try to connect you with local lenders and sources that best meet your needs.
If you found this article helpful, please share it on your timeline and with someone you care about. Also, visit our blog to read similar helpful articles on finance, real estate, and getting mortgages.