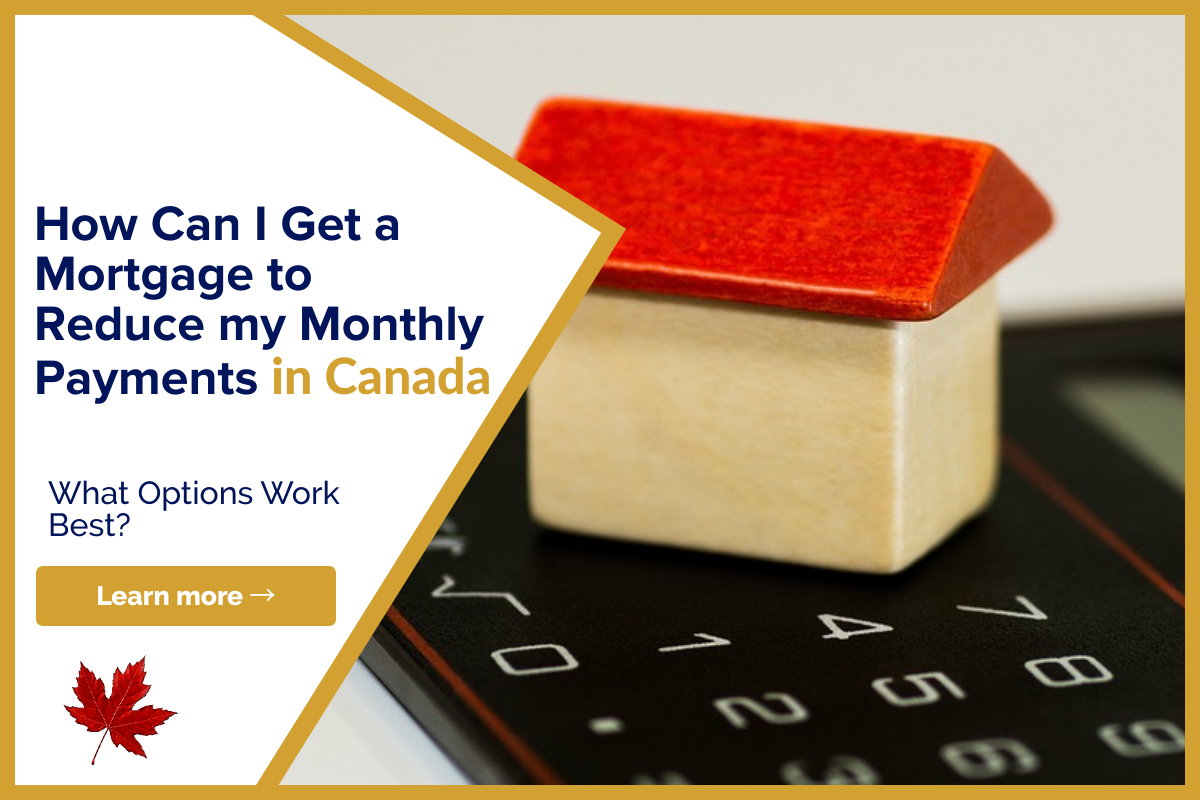 How Can I Get a Mortgage to Reduce my Monthly Payments?
Now you can listen to our blog post, "How Can I Get a Mortgage to Reduce my Monthly Payments?" while on the go.
A high mortgage payment can be a burden, especially if your monthly budget is already tight. Add to this, the pandemic has made things more challenging for many homeowners. But luckily, there are ways to help you lower your monthly mortgage payment.
If you are also looking to reduce your monthly mortgage payments for any reason, then continue reading. In this guide, we will discuss several ways that you can explore to bring down your monthly payments.
The first and easiest way is to refinance. With mortgage rates still low and home equity rising nationwide, you can be among the homeowners who are lowering their mortgage payments substantially. So, let's first start with this easy method.
Refinance Your Mortgage at Lower Interest Rate
It is the easiest method to lower monthly mortgage payments and is undoubtedly the most impactful in a low-interest rate mortgage market. Especially in the presence of switching costs like prepayment penalty of earlier mortgage and other fees are not so high. While going for a mortgage refinance, you must ensure that the refinancing costs' payback period is short. With this, you can soon start reaping the benefits of the lowered monthly payments. Take professional help when exercising this option as it is a good idea. Many complex cost elements can be involved, so be careful of that.
Extend Your Repayment Term
This is also one method to reduce your monthly mortgage payments. It allows you to extend the duration of your mortgage term. In this way, the overall cost of the mortgage over the entire tenure increases, but your monthly financial pressure will be eased, and you will feel more comfortable about your financial situation.
Consolidate Your Debt
If your total liabilities include debts from several sources like credit cards and other loans along with your mortgage, you can consider consolidating your debts by taking a first or second debt consolidation mortgage loan. This helps you lower overall monthly repayments as credit card interest rates are generally very high than regular loans and mortgages. You can explore this option with the help of a debt consolidation consultant and see if it is viable and brings down your monthly payments.
Look For Low Home Insurance Rates
Your monthly mortgage payment consists of more than the interest liability and principal. It also includes the tax and insurance payments. You can not do much about its other components unless you refinance your mortgage or extend your loan term. You can look for lower home insurance rates to decrease your monthly commitment.
Downsize Your Home or Rebuilt It
If any of the above measures are not sufficient or feasible for you, you can consider moving to a smaller, more affordable house. It will reduce your affordability and cost. This is undoubtedly the last resort, but it is an important option, especially when the fear of foreclosure is upon you due to your financial situation.
You can also look for the option of subletting a part of your house for some period until you can afford to meet your mortgage commitments. This way, you can get temporary relief and will not let go of the house. If you are considering this option, then professional mortgage brokerage firms can be of great value in evaluating these options to lower your monthly payments on your mortgage. They can also provide expert advice for choosing the right course of action. If you need such advice, reach out to us, and we will provide you with the best resource in Canada.
Benefits of Lowering Your Monthly Mortgage Payment
The most significant advantage of lowering your monthly mortgage payment is that it gives you additional household cash flow that can be used for several things. Saving your mortgage can allow you to pay off the other high-interest rate loans and credit cards faster. It can also help you to build a nest egg of savings for emergency expenses and home repairs. You can also increase savings for retirement or your children's education. Additionally, it provides a chance better to manage increasing property taxes and homeowners insurance costs.
Refinancing your mortgage is the best option to help you if you need extra cash flow each month.
Can I lower my mortgage payment without refinancing?
Although refinance is the primary way to lower your monthly mortgage payments, it is not the only option. Some homeowners may not qualify for a refinance, while others may not want to pursue a refinance because of the closing costs. Whatever the reason, a few additional options are worth exploring.
1. Recast Your Mortgage
It involves applying a large lump sum payment to your loan principal and maintaining the same maturity payoff date. This is an option if you have recently had a significant cash windfall. For example, you want to pay your mortgage from an inheritance or a significant bonus work.
2. Pause Your Loan with Forbearance
If you've suffered a brief hardship and income loss, you could also be eligible to put your loan on hold through forbearance. In fact, when the forbearance period expires, you will need to make up any missed lower payments or, if your financial situation permits, engage with your lender to find the best option for repayment.
3. Ask About A Loan Modification
An alternative is to look into loan modifications, which, if you qualify, might lengthen the loan's term and/or reduce the interest rate. You'll probably need to present supporting documentation, such as proof of hardship, proof of income, bank statements, and more, to be eligible.
Need Some Quick Cash? Let Us Help!
Are you struggling with your financial needs and need some extra cash? Lionsgate can help. Just fill out the form below, letting us know all your cash or mortgage requirements, and we will find the best lender for you. Amazing thing? The process is free, and you can quit it at any time.
We have a team of experts that analyze your requirements and pick the best lender for you with prudent advice.
Note: Please give your authentic information while completing the form below.
If you found this article helpful, please share it with someone you care about. Also, visit our blog to read similar helpful articles on finance, real estate, and getting mortgages.