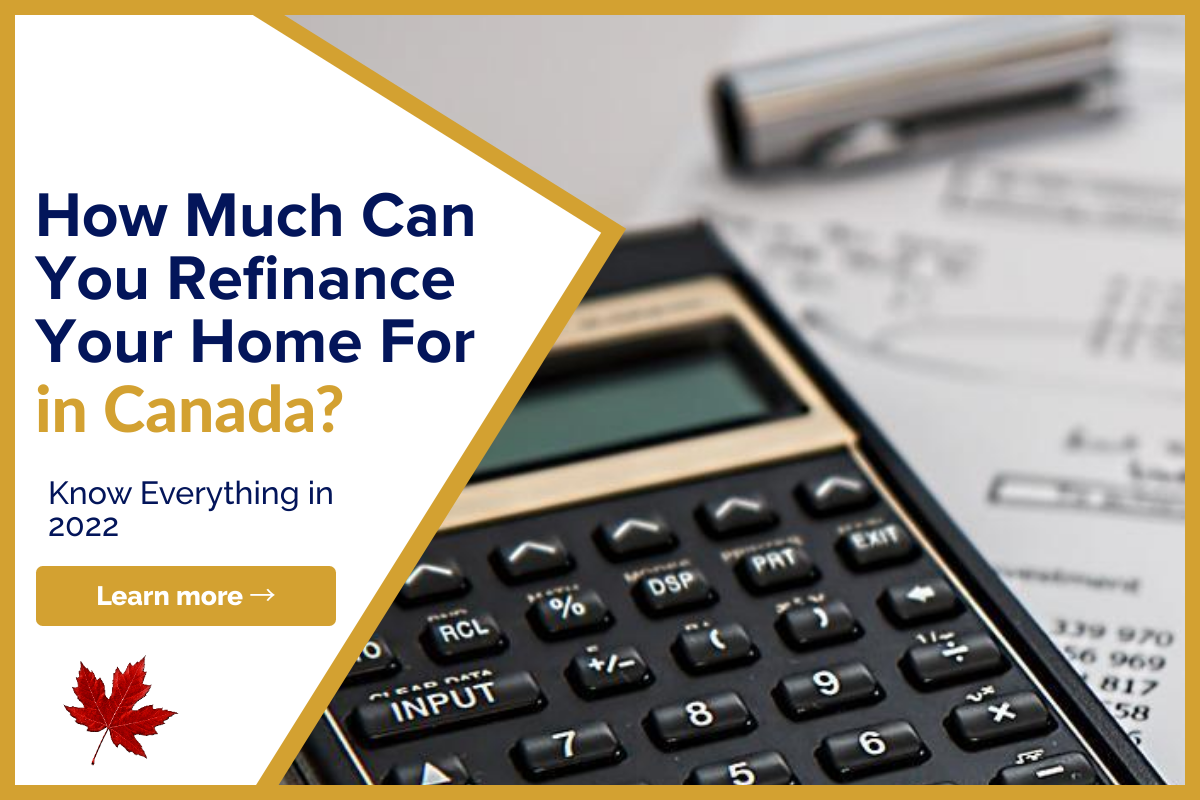 How Much Can You Refinance Your Home For in Canada
Now you can listen to our blog post, "How Much Can You Refinance Your Home For in Canada", while on the go.
Mortgage refinance can be an excellent way to consolidate debt and save money on interest payments, but it's not right for everyone. The process of refinancing is complicated and requires careful consideration of the pros and cons before making a decision.
If you are looking for a way to pay off debt with your mortgage, then there is a solution for you. It is called mortgage refinance. This article will tell you how it works, and the benefits of a mortgage refinance. We will also see how much it costs to refinance your home in Canada.
But first, let's understand when there is a need for mortgage refinance.
When Should I Go For Mortgage Refinance in Canada?
Refinance your mortgage if you want to make changes to your mortgage agreement. It is because a mortgage is a type of contract that has a specific time for it can be in effect. So, if you don't want to continue with your current contract, you need to pay off your current mortgage by financing it with another new mortgage. This new mortgage is called mortgage refinancing.
You should go for mortgage refinance whenever there is a need to make major changes to your mortgage contract, no matter the date of renewal. These changes that require a mortgage refinance include:
Increasing mortgage amount to borrow more money
Changing mortgage rate before the end of your term
Changing mortgage amortization period or mortgage term length
How Much Can I Borrow with a Mortgage Refinance?
Once you understand what mortgage refinance is and how it works, the next thing you will be eyeing is that how much should you borrow with your new mortgage refinance. If yes, then know that refinance mortgage can be up to 80 percent of the value of your home.
There are different online calculators available by which you can find out how much you can borrow with a mortgage refinance.
Top Reasons to Refinance Your Mortgage
1. Borrow More Money
Refinancing is an ideal way to borrow more money. It involves using your home equity. If your current mortgage is less than 80 percent of the value of your home, you are eligible to refinance your mortgage up to 80 percent of your home's value. The amount that you borrow is the difference between the refinanced mortgage balance and your current mortgage.
If there is no need of large money yet but you would like to have the option available to you, a home equity line of credit can be more suitable choice to refinance. Know that HELOC rates are more than refinance mortgage rates, but you only need to pay interest for what you actual borrow with HELOC.
You can also use this to consolidate debt or use it it for any purpose. It can also be used to make home improvements or spend vacations.
2. Get a Low Interest Rate
With a fixed-rate mortgage, your interest rate is fixed for the duration of the loan. You won't be able to take advantage of a fixed mortgage rate until you either renew your mortgage at the end of your term or refinance during your term, even if interest rates reduce during that time.
Your mortgage lender may impose steep penalties because you will be breaching your mortgage if you refinance before it is due for renewal. You can use any mortgage refinance calculator to determine whether you will be able to save money through a lower interest rate once mortgage prepayment penalties are applied.
3. Change your Mortgage Product
It is possible to modify all facets of your mortgage by refinancing it. You might wish to transfer to a different mortgage product that includes characteristics you specifically want, like prepayment rights, or you might want to extend the amortisation of your mortgage in order to have lower monthly mortgage payments. You might wish to switch to a fixed-rate mortgage to lock in a lower rate today if you currently have a variable-rate mortgage and anticipate that interest rates will rise dramatically soon. When you refinance your mortgage, you can go from a variable to a fixed mortgage rate.
Some mortgage lenders provide mortgages that let you swap mortgage rate types completely without refinancing or the associated fees. For instance, the Variable Flex Mortgage from CIBC is a variable-rate mortgage that can be changed into a fixed-rate mortgage with a minimum three-year term at any time.
How Can I Refinance my Mortgage?
First step of refinancing is to see if mortgage refinance is right option for you or not. If it is not, there are other better alternatives available. When you are refinancing to get a lower interest rate, see if your interest savings can be more than any mortgage penalties that you must have to pay. If you are looking to borrow more money, your refinancd mortgage cannot be greater than 80 percent of your home value.
Once you know mortgage refinance is best option for you, the next step is to shop around with different mortgage lenders and mortgage brokers. You do not have to refinance and stay with your current mortgage lender. Other lenders can also offer lower mortgage refinance rates. So, switch lenders even when it involves discharge fees.
After you have found a better lender, the final step is to have your pay stubs, tax returns and statements to provide to your lender. For this, you will need to pass the mortgage stress test at your new refinanced mortgage balance. After this, you will need a home appraisal conducted.
Looking To Refinance or Need Some Quick Cash? Let Us Help!
Are you struggling with your financial needs and need some extra cash? Or you want to refinance your current mortgage? Lionsgate can help. Just fill out the form below, letting us know all your cash or mortgage requirements and we will find the best lender for you. Amazing thing? The process is free and you can quit it at any time.
We have a team of experts that analyze your requirements and pick the best lender for you, with prudent advice.
Note: Please give your authentic information while completing the form below.
If you found this article helpful, please share it with someone you care about. Also, visit our blog to read similar helpful articles on finance, real estate, and getting mortgages.