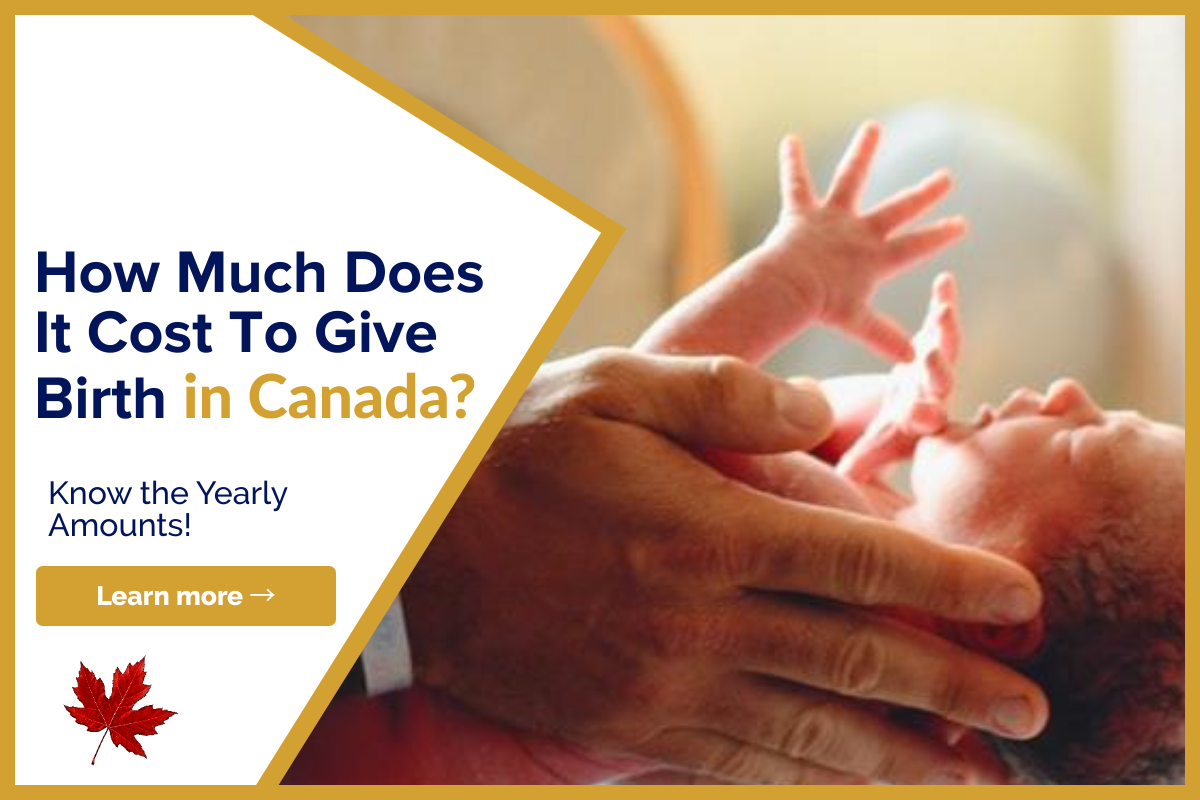 How Much Does It Cost To Give Birth In Canada?
Now you can listen to our blog post, "How Much Does It Cost To Give Birth In Canada?" while on the go.
Perhaps the most thrilling time in a person's life is when they become a parent. The cost of having and raising a child comes with a big price tag, too, along with all that excitement. The costs include not only the purchase of a stroller, crib, and a few packs of diapers, but also potential future costs like schooling. You need to plan for the future and ensure that you have the resources necessary to take this exciting step by being aware of all these expenditures.
The Cost of Childbirth in Canada
Compared to other nations, child birth is comparatively inexpensive in Canada. If they choose a private room, Canadians and permanent residents can often expect fees to range from nothing to a few hundred dollars. Because of Canada's universal health insurance scheme, Medicare, many services are reasonably priced.
In Canada, giving birth can be highly expensive if you're a visitor or non-resident because you won't be eligible for the Medicare programme. However, you might be able to cover the charges if you have your own personal international health insurance. The following costs associated with childbirth can vary depending on the manner of delivery:
The Cost of Raising a Child in Canada
The CPA estimates that until the child becomes 18 years old, raising a child will cost Canadian parents between $10,000 and $15,000 annually. For each child, that amounts to $180,000 to $270,000. So why does raising a child in Canada cost so much money? What factors specifically affect the total cost of raising a child?
Costs Of Raising A Baby In First Year
In general, the first three years of a baby's life are when new parents spend the most money on them. The average annual cost for the first year is little around $25,000, while the costs for years two and three are typically in the neighbourhood of $20,000. After then, costs average about $13,684 per year, remaining comparatively steady. Some of the more typical costs related to having and caring for a newborn during the first year are listed in the following table.
The First Year's Budget for Baby Items is following:
These expenses only cover the bare minimum. You may also want to get a nursing bra, breast pump, playthings, diaper bag, teething rings, and other necessities for both you and your child. Depending on how much and how high-end you opt to spend, you can anticipate spending anywhere from $1,000 to $5,000+ on these things.
And if you need daycare, don't forget to remember that. While many Canadian parents would stay at home for a full year to care for their child after giving birth, some may feel compelled to return to work before the first year has passed. Even if they don't, RBC Economic Research predicts that they will still see a sizable decline in income during the first year after giving birth while taking parental leave to stay at home and look after their child.
The Price Of Full-Time Daycare In Canada
The estimated $10,000 annual cost of child care was the national average in 2018. That is comparable to the annual tuition costs that many university students in Canada pay. The most costly cities at the moment are Mississauga and Toronto, where monthly expenditures average 1,404 and 1,334, respectively. Quebec has all of the most affordable cities, including Longueuil ($190), Quebec City ($190), and Montreal ($175). The next most cheap locations outside of Quebec were Charlottetown ($647) and Winnipeg, Manitoba ($524).
Monthly Full-Time Child Care Costs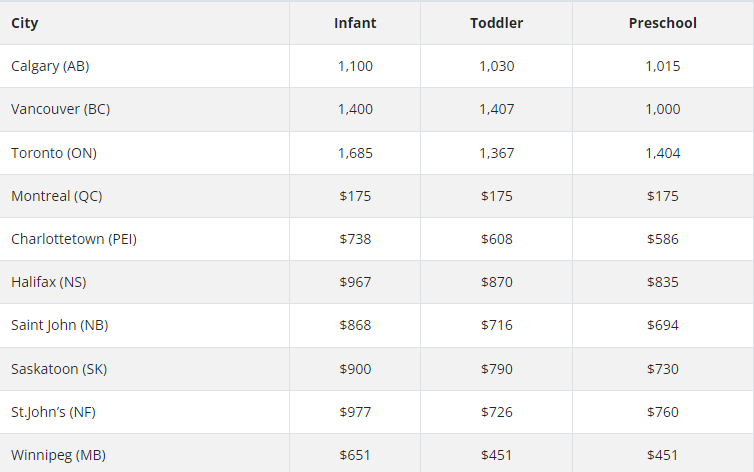 Types of Childcare Arrangement
In Canada, there are numerous possibilities for childcare. There are certain possibilities that are uncontrolled, even though the majority of childcare facilities require licences.
Regulated: Daycares, school daycares, after-school programmes, camps, and other similar services often fall under the category of regulated childcare options. In Canada, all of these types of daycare are authorised and governed.
Unregulated: Private babysitters, friends, and family members who look after your children are unrestricted childcare options. With these alternatives, it is up to you to make sure the person watching after your child is a responsible and reliable individual.
Putting Money Toward Post-Secondary Education
The aforementioned items are concerned with giving your child the requirements of existence and improving your quality of life as a parent. But after the first year, there will be a lot more expenses. Have you given any thought to the chance that your child could wish to attend college or a university in the future? If so, you can increase the total by a few thousand dollars.
These days, postsecondary education is very expensive. When they eventually start school, children born in 2021 can expect to pay $64,659 for a 4-year programme without housing. And even then, it's only an approximation using current criteria.
You might want to provide your child with financial support even though they can always apply for a student loan to cover their college expenses. And creating a Registered Education Savings Plan is a terrific method to accomplish that (RESP).
Maternity Leave In Canada For Parents
Benefits of Maternity
Only the person giving birth may apply for maternity leave in Canada. You can apply for maternity leave if you're pregnant and unable to work or if you just gave birth. If you are unable to work due to taking care of your newborn or recently adopted kid, you can also apply for maternity benefits. You can receive up to $595 per week for 15 weeks through it, or up to 55 percent of your wages.
Benefits to Parents
Both parents are eligible for parental benefits. Parents have the option of applying jointly or separately for this benefit. Parental benefits come in two varieties:
STANDARD
You can continue to get financial assistance at the same rate as the maternity benefits if you apply for the normal parental benefits. 55 percent of your weekly earnings up to $595, in other words. As long as one parent doesn't take the benefit for more than 35 weeks, you can collect these benefits for up to 40 weeks, unlike the maternity benefits.
EXTENDED
You can still get financial support, albeit at a much lesser amount than the regular parental benefits. You are eligible to receive up to 33 percent of your salary, or $357 per week, through the Extended Parental Benefit. As long as one parent doesn't receive the benefit for more than 61 weeks, you can take advantage of these benefits for up to 69 weeks.
The birth of a kid alters a person's life in several ways. Having a kid is a costly endeavour, so although you undoubtedly want to cherish every second with your child, you also want to be sure you've budgeted appropriately. Additionally, you might want to start saving for your child's future while you're at it. Fortunately, there are various ways to accomplish it. Consult a financial counsellor to discuss your alternatives in more detail.
Need Some Quick Cash in Canada? Let Us Help!
Are you struggling with your financial needs and need some extra cash? Lionsgate can help. Just fill out the form below, letting us know all your cash or mortgage requirements and we will find the best lender for you. Amazing thing? The process is free and you can quit it at any time.
We have a team of experts that analyze your requirements and pick the best lender for you, with prudent advice.
Note: Please give your authentic information while completing the form below.
If you found this article helpful, please share it with someone you care about. Also, visit our blog to read similar helpful articles on finance, real estate, and getting mortgages.