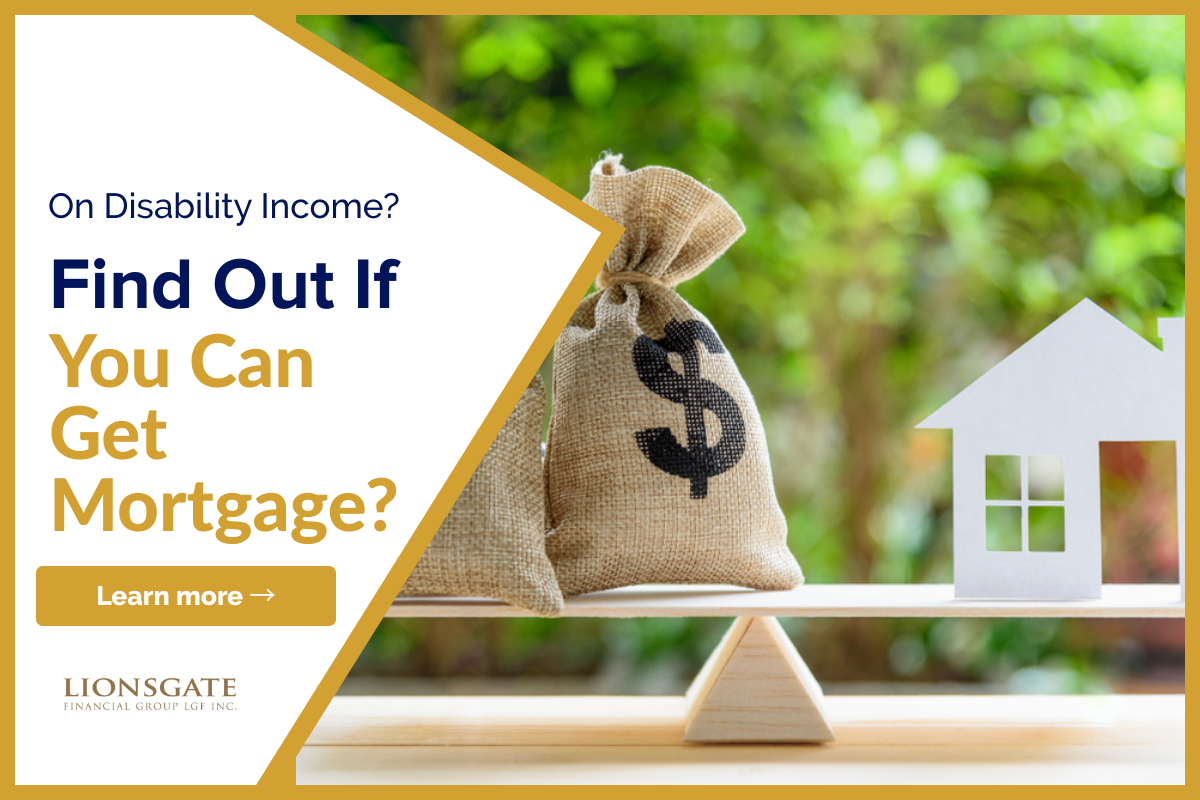 Can I Get a Mortgage on Disability Income?
Now, you can listen to our blog 'I Am on Disability Income, Can I Get a Mortgage?' while on the go.
It is not easy to buy a home no matter who you are. But, what about disabled persons? Can they buy a house in any condition? The straightforward answer to this is 'Yes. A person with a disability income can qualify for special home buying programs as well as standard mortgage loans.
If you are naïve about the idea and want to explore the avenues by which a home can be bought by disability income, then continue reading. As we are about to discuss how can one qualify for mortgage loans with disability income. We will also see what are special programs initiated only for disabled persons.

Let's talk about the first thing first.
Can I Get A Mortgage On Disability Income?
Yes! Certain programs assist disabled persons get through the process. These programs help you find the right lender, give down payment assistance, and give you an interest rate that is below the market rate. However, it is still not an easy road to travel.
According to Statistics Canada, there are more than 5.3 million Canadians living with some form of disability. This affects their daily life freedom, independence, or quality of life. This number is almost 16% of the total population of this country.
More worrisome thing is that in this 5.3 million number, over 200,000 are children and youth. The median income of all these disabled persons aged 21 to 64 years is also less. It will not be easy to qualify for a mortgage without any special program with a salary that low.
Needless to mention that if your source of income is social security disability, it is very hard to save money. Especially, you cannot save for a down payment. So, if you are going to buy a house on disability income, you need to undergo any special program.
Housing Program for Disability Income
Before moving to the housing programs, it is mandatory to discuss what are the types of disability income. Also, what can you accept when you have one. Below are the two main types of disability assistance payments.
Disability assistance payments (DAPs)
A DAP is a payment from a registered disability savings plan (RDSP) to the beneficiary or their estate. It is a singular payment that can be requested at any time. It can contain contributions, bonds, proceeds from rollovers, grants, and income earned in the account.
If the RDSP is a specified disability savings plan (SDSP), withdrawals can be made from the plan in the year of certification. Moreover, you can withdraw without triggering the repayment of the assistance holdback amount.
Lifetime disability assistance payments (LDAPs)
Disability assistance payments are the ones which once started, must be paid at least annually. They are paid until either the plan is terminated or the beneficiary has died. It is important to mention here that lifetime disability assistance payments must begin by the end of the year in which the beneficiary turns 60. It is also subject to an annual withdrawal limit that is determined.
Once you know the types of disability income, let's move on to the most important part of the discussion of disability income. So, what are the programs to get a mortgage on disability income?
Canada Pension Plan
Canada Pension Plan(CPP) provides many financial benefits and programs to individuals and families. However, it depends on the circumstances and other factors including the long-term disability benefits.
The long-term disability benefit is nothing but a taxable, monthly payment for people who contributed to the plan while they were employed. But, then became unable to work regularly at any job. This program is meant to replace employment earnings for people who recently paid into the Canadian Pension Plan.
People qualify for CPP based on how the disability and resulting treatment will affect a person's ability to return to work regularly.
A person who wishes to apply must fill out an application form, which he can receive through Service Canada. It includes application forms for the applicant and their dependents. This contains a questionnaire, a consent form, a child-rearing provision farm, and a medical report to be filled out by a doctor. It is important to mention here that all forms must either be mailed to a local office or hand-delivered.
You May Also Like: Debt Settlement in Canada
Ontario Disability Support Program (ODSP)
ODSP is social assistance that is provided by the government of Ontario to eligible people with disabilities and their families. The benefit unit in this is are you and your spouse, dependent children, and dependent adult children who are living with you.
Under new reforms from the Ontario government, qualifications for disability support will change. Making it both more difficult to benefit from and more transparent. The measures are taken to save taxpayers money, by qualifying fewer people and making it more attractive to earn income.
But to be eligible for this, you must be 18 years old and live in Ontario. Additionally, you must be a Canadian citizen or permanent resident, a refugee claimant, or a convention refugee. You must also have a substantial physical or mental disability that will:
Last 1 year or more
Makes it hard for you to care for yourself
B.C Disability Assistance
British Columbia has a financial aid program reserved for people with physical and mental disabilities. Once qualified, applicants receive a monthly payment from the B.C Government. It allows them a regular income and other benefits if they can only work part-time, or cannot work at all due to their disability.
To qualify, an applicant must meet the following requirement.
Show that they meet financial eligibility to receive assistance.
The applicant must be 18 years old
One must have a physical or mental impairment that is likely going to continue for more than two years.
The applicant is unable to perform daily living activities
The applicant needs daily aid from an assistance device e.g. wheelchair, crutches
British Columbia's real estate market is expensive, and it can be very hard for any person to afford a mortgage or housing costs. So, getting a loan to cover housing costs will be a huge help.
Getting a mortgage on disability income is possible. However, for this, you need to do some hassle. This includes but is not limited to researching several lenders in advance before applying for any program. Then compare all of these to find the best option for yourself.
In a disability income mortgage, a friend, family member, or caretaker will be required to complete the necessary paperwork. Along with disability income assistance, you can also apply for a loan – if needed. We are here for you if you are looking for a helping hand to get approve your mortgage on disability income. Just leave us a message and we will reach out to you before you even expect it.
Need Some Quick Cash? Let Us Help!
Are you struggling with your financial needs and need some extra cash? Lionsgate can help. Just fill out the form below, letting us know all your cash or mortgage requirements and we will find the best lender for you. Amazing thing? The process is free and you can quit it at any time.
We have a team of experts that analyze your requirements and pick the best lender for you, with prudent advice.
Note: Please give your authentic information while completing the form below.
If you found this article helpful, please share it with someone you care about. Also, visit our blog to read similar articles.