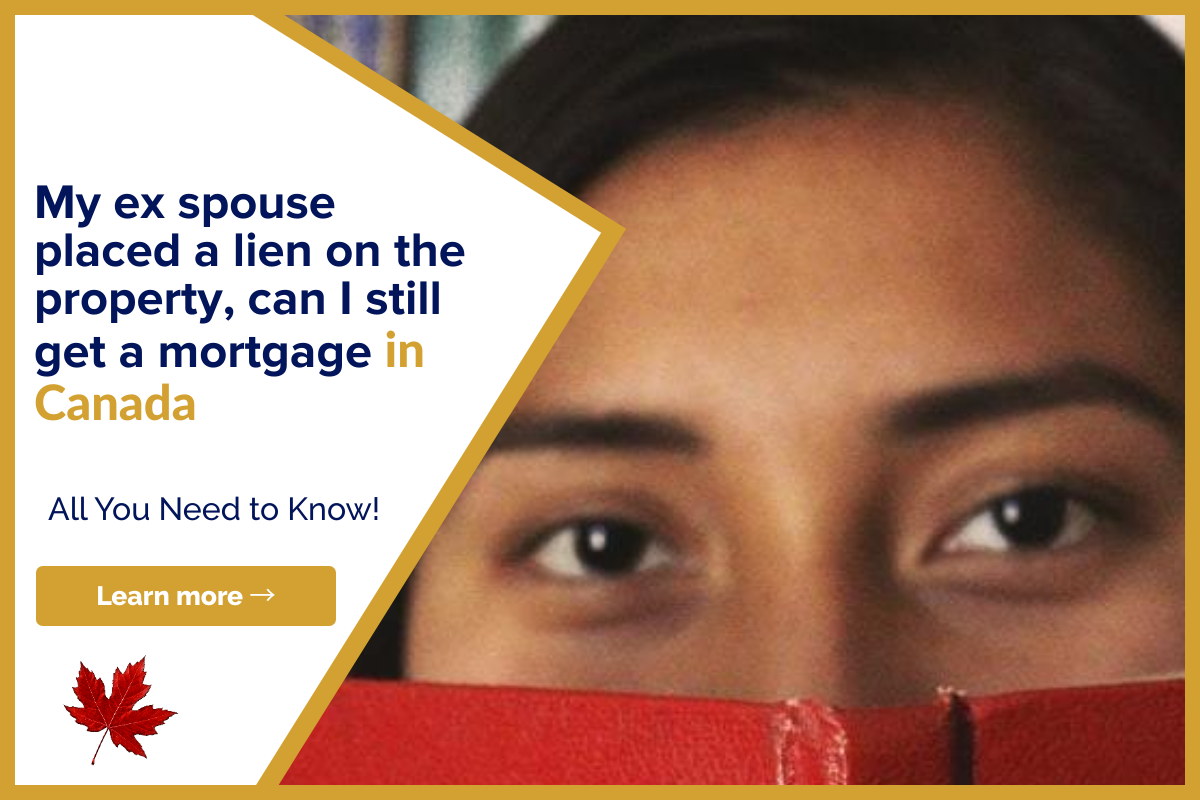 My ex spouse placed a lien on the property, can I still get a mortgage?
Now you can listen to our blog post, "My ex spouse placed a lien on the property, can I still get a mortgage? " while on the go.
The short answer is that mortgage lenders will not approve a mortgage if the property has an outstanding lien on it. A house with a lien on it cannot be sold unless and until you pay off the debt associated with the lien.
If you are wondering about what actually is a lien on the property, can you get your mortgage on the lien property and how to remove it from your property, then this guide is for you. Continue reading as you will know everything you need to know about lean-on property in Canada.
Let's first start with the definition of lien.
What is Lien?
In simple words, a lean is a claim registered upon something you own. A lien is any claim someone has registered on something you own, reliant on you paying a debt of some kind. For instance, when you buy a new vehicle and finance it through a dealer, there is a lien on the vehicle until you pay out the loan. If you stop making car payments, the dealer can take the lien in court and repossess the car.
Similarly, a mortgage is a lien on your house. A loan is not the only kind of lien which you can have on a property. A home equity line of credit is a way of using a lien to increase your buying power. But some liens are not entered into voluntarily. For instance, a builder's lien is registered by the construction firm to ensure they get paid for work done on a new building and the tax lien is registered when a homeowner falls behind in paying property taxes.
Liens are cleared from records when debts attached with them are paid in full. All liens stay with the property, so if you buy a home with outstanding liens, you will have responsibility for those debts. Therefore, it is necessary that members of your team like a lawyer search the local records for any liens on a home before you buy it. In simple words, if you owe money and that debt is attached to your home, there is a lien on the property. When the debt is paid in full, the lien is cleared from the record.
Can My Ex Spouse Put a Valid Lien on My Property?
A lien often cannot be imposed unless there is a genuine legal duty, such as a court order, tax lien, etc. When it comes to the actual estate in question, there is something known as a lis pendens, but it also needs to go through a judicial process to be approved.
Additionally, when divorce proceedings are initiated, there is an automatic "stay" to stop the parties from modifying their rights with regard to real estate owned by either spouse. Despite threats, a registry of deeds is unlikely to accept a filing involving real estate unless there is a legal justification. This is a generic response; the results may vary depending on the details and circumstances.
What is Spousal Lean?
When one spouse may otherwise sell the marital property that is subject to distribution, spouses might ask the court to impose a lien in divorce proceedings.
To protect marital assets that have not yet been shared, courts impose attaches. They are given in addition to restraining orders where there is a high likelihood that the latter will be disregarded. For instance, if the marital home is in the husband's name and he sells it in defiance of a restraining order, a writ of attachment notifies everyone that the sale also includes the wife's rights.
For instance, if Bill has a home that he purchased before marrying Bonnie, she can ask for a spousal lien on the assets since the home is subject to division even though it is only in his name. The lien is an attachment that notifies everyone that the property is the subject of active legal proceedings. To put it another way, the title is ambiguous.
To stop a party from acting before the attachment is implemented, the majority of writs of attachment are issued ex parte, or without notice.
One spouse frequently wants to keep ownership of the property, particularly when they want their children to stay in a familiar area and avoid having to move to a new school district. In some situations, a couple may opt to sell their home and divide the revenues. If a spouse lacks the money to buy their ex-share spouse's house, they might wish to think about a divorce lien.
How to Remove Spousal Lien on Property?
When two people employ a divorce lien, the spouse who won't be residing in the home signs a document giving the other spouse the title to the property. A payable note and a deed of trust to the former partner will be signed by the spouse who is still living in the home. A divorce lien is what is known as this note. The memo will outline the terms of how the spouse who stays in the house will pay the other spouse back. Payment options include a future lump sum payment and continuous instalment plans.
The spouse who is no longer residing in the residence may sell the divorce lien to a third party in the future since it is a valuable asset. A lien should specify the precise date by which payment is due and should not be subject to any other agreements in order to be considered salable (such as the payment of child support). Liens shall also set forth the method for computing interest on the balance of the Note.
A divorce lien is a useful tool, but it only works if the couple has a large amount of equity in their house. The spouse who will stay in the house must be able to pay the mortgage and other expenses related to home ownership, such as utilities and upkeep. Couples should be aware of their joint property tax obligations and how the most recent federal tax reform bill may influence the amount of property taxes they can write off against their taxable income.
Need Some Quick Cash? Let Us Help!
Are you struggling with your financial needs and need some extra cash? Lionsgate can help. Just fill out the form below, letting us know all your cash or mortgage requirements and we will find the best lender for you. Amazing thing? The process is free and you can quit it at any time.
We have a team of experts that analyze your requirements and pick the best lender for you, with prudent advice.
Note: Please give your authentic information while completing the form below.
If you found this article helpful, please share it with someone you care about. Also, visit our blog to read similar helpful articles on finance, real estate, and getting mortgages.