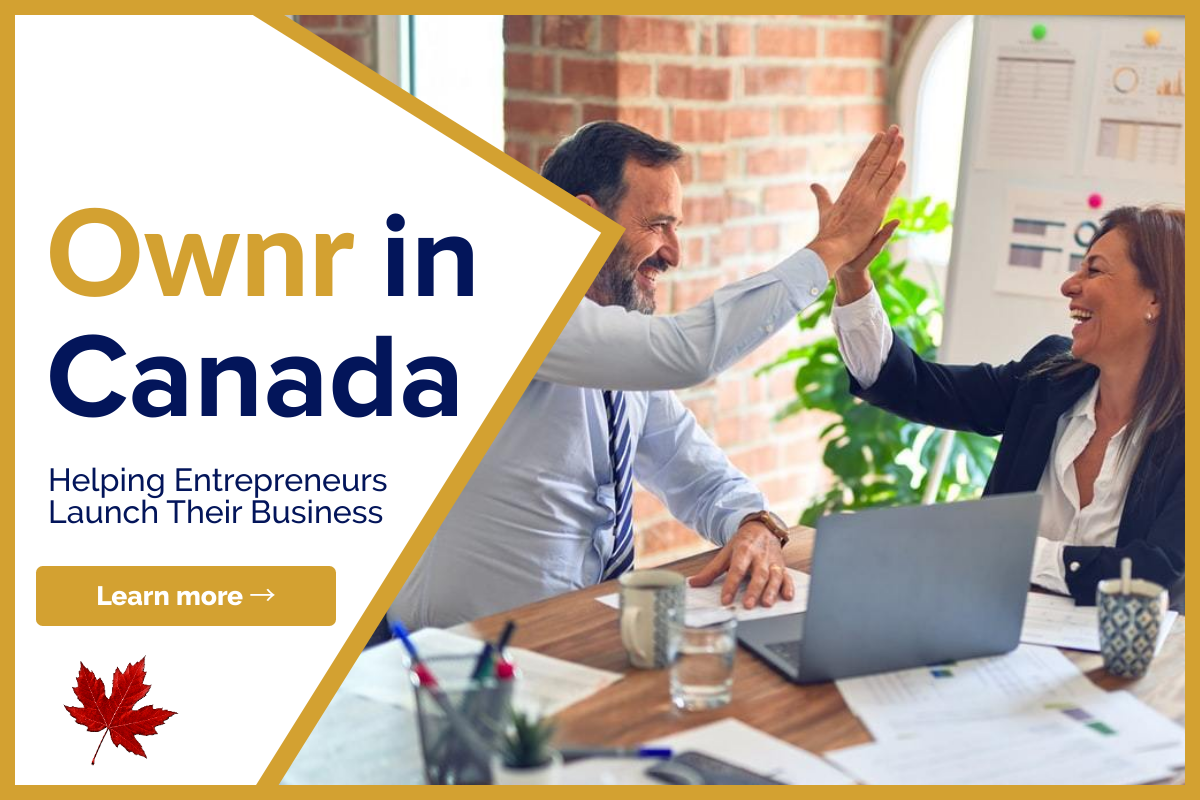 Ownr – Helping Canadian Entrepreneurs Launch Their Business
Now you can listen to our blog post, "Ownr – Helping Canadian Entrepreneurs Launch Their Business " while on the go.
In Canada, registering or incorporating your business is an important step. However, for many business owners, this can be difficult to set aside the time needed. So, what should you do then? If this is your case, then keep your worries calm! There is a digital platform called Ownr, that can help you with this.
Ownr is not only helping entrepreneurs register and incorporate their business but also providing them with the required support. Before delving into the details of how Ownr can help you with your business, let's find out what ownr is and how it works.
What is Ownr in Canada?
Ownr is a digital platform to register or incorporate your business simply, quickly and efficiently. It makes the process of starting a business simple and seamless. The business owners can focus their time on what they can do best in this time.
Starting a business can be stressful. So, we ownr was created as a platform to help entrepreneurs every step of the way. It helps business owners through the process of business registration. Additionally, it partners with an array of deals and discounts to help business owners save money, tools and resources accessible through blogs.
Does Ownr Offer Additional Support To New Canadians Small Businesses?
The short answer is yes! Ownr simplified the registration process so that it is done quickly and easily on one online platform. Their customer support is also available for a one-on-one consultation to help guide new business owners through the registration process and answer any questions they may have. This platform also provides a ton of useful content and resources on their blog. It covers a broad range of topics, to support entrepreneurs at any stage of their business.
Advantages of Using Ownr
Many new entrepreneurs are short of cash, and many others are looking for products and services they will need to run their businesses. Ownr helps small business owners to access partner offers that have been carefully curated to help them start, run, and grow their business and save money along the way.
When you register your business with Ownr or incorporate it, you instantly receive access to all Ownr perks. Ownr customers can get thousands of dollars in value with exclusive offers from Telus, Staples, ShipStation, RBC and more.
Incorporation or Sole Proprietorship? What to Pick For Business
Because different business structures have varying legal and tax ramifications, we recommend that business owners contact an accountant or lawyer to determine which structure best meets their needs. While we cannot provide legal advice on the optimal business structure for a business owner, we can provide the information needed to make an informed decision.
If a business owner registers as a sole proprietorship, they have the option to incorporate at a later date. Here, we'll go through some of the primary advantages and considerations of incorporating and operating a sole proprietorship.
Is Ownr Fully Online?
Yes, Ownr is a fully digital solution. Its digital capabilities provide a platform that reduces the business registration process to minutes. It also saves business owners time and money. While Ownr's suite of business services is fully accessible online, the government may mail documents to your business address.
Registration Process of Ownr is Easy
Ownr has transformed the scary and time-consuming process of launching a business into a straightforward, convenient, and reliable experience for entrepreneurs. It has made the process of registering with the government easier by simplifying it and making it more understandable (no legal language! ), as well as providing you with support along the road.
Business registration and incorporation (in minutes! ), custom logo and branding services, Ownr Perks to help you save on all your business needs, and even money back when you open an RBC business bank account after registering or incorporating with Ownr are all part of Ownr's digital suite of services.
Ownr works hard to give business owners a platform that allows them to not only register or incorporate their company but also to establish and promote their brand. They are committed to assisting businesses in going online and providing a variety of services, resources, and education to help them succeed, so stay tuned for some exciting news.
The Bottom Line
At Lionsgate, we specialize in helping people get the extra cash they need, obtain funding for private mortgages, as well as for other real estate transactions. If you are looking to buy land in Canada, get a mortgage or apply for a loan, fill out the form below. Or, You can leave us a message and we will try to connect you with local lenders and sources that best meet your needs.
If you found this article helpful, please share it on your timeline and with someone you care about. Also, visit our blog to read similar helpful articles on finance, real estate, and getting mortgages.