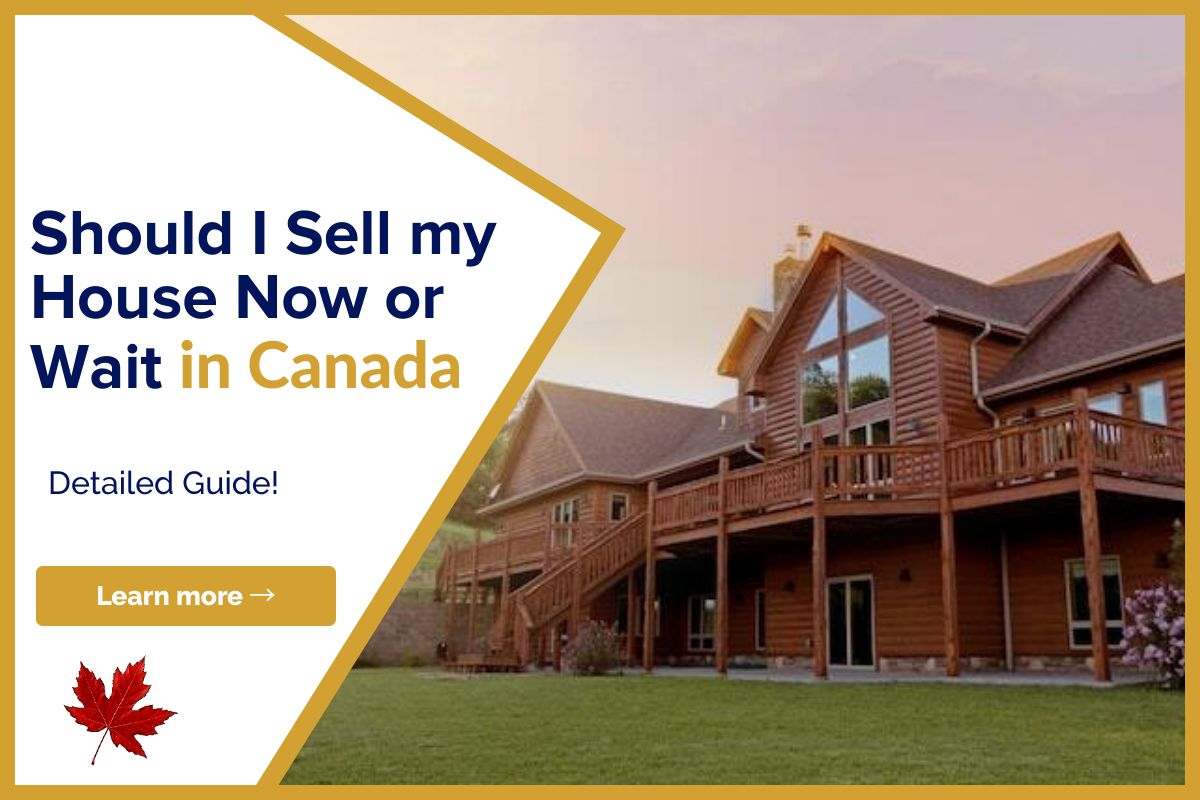 Should I Sell my House Now or Wait?
Now you can listen to our blog post, "Should I Sell my House Now or Wait Until 2023 Canada?" while on the go.
Deciding whether to sell your house now or later is a big decision, especially for Canadian homeowners. The Canadian real estate market has been volatile over the years, with home prices rising for some years and years falling. This can make it difficult to predict what the market will look like in the future and whether it's the right time to sell.
This article explores the factors to consider when deciding whether to sell your house in Canada now or wait until 2023.
Current House Market Conditions
One of the most important factors in deciding whether to sell your house now or wait until 2023 is current market conditions. In some cases, it can also be a seller's market, meaning that demand for housing is high and supply is limited.
This can increase the value of your property and make it a good time to sell. Conversely, if the market is a buyer's market, there may be more supply than demand, reducing house values. In this case, it may be better to wait until the market improves before selling.
Personal Financial Goals
Another important factor is your personal financial goals. If you're looking to downsize, relocate, or pursue other investment opportunities, it may be the right time to sell. Conversely, if you're in no rush to sell and can wait for the market to pick up, you might want to wait and see.
Mortgage Interest Rate
Mortgage interest rates can also influence your decision to sell your house now or wait until 2023. When interest rates are low, it can be a good time to sell as buyers may be willing to take out a larger mortgage. Conversely, if interest rates are high, you may want to wait until interest rates fall before selling. potential changes in the market
It's also important to consider market changes that can affect home values. For example, changes in government policies or economic factors can affect the housing market. It's important to keep these factors in mind and consider how they affect your selling decisions.
State of the House
The condition of the house is also an important factor to consider. If your home is in good condition and doesn't require major repairs, it may be a good time to sell. Conversely, if your house needs major repairs or renovations, you may want to wait until those repairs are complete before putting your home on the market.
Season
Finally, timing can also influence your decision to sell your home now or wait until 2023. Spring and summer are usually the most popular times to sell homes, as the weather is warmer and there are more buyers. Conversely, the fall and winter months can be late, which can affect home sales prices.
In conclusion, deciding whether to sell your Canadian house now or wait until 2023 requires careful consideration of various factors. It is important to consider current market conditions, personal financial goals, mortgage interest rates, potential market changes, home conditions, and timing when making this decision. Considering all these factors may help homeowners decide whether to sell now or wait.
Additionally, it is important to remember that the Canadian real estate market is unpredictable and volatile. Given the current market conditions, it may seem like a good time to sell, but there is always the risk that the market will change in the future. This means that even if you decide to sell now, there is no guarantee that you will get the best possible price for your house.
On the other hand, waiting until 2023 could yield some benefits. By then, the market may stabilize or improve and property values ​​may rise. Plus, waiting a few years gives you more time to save money for your next house down payment or pay off outstanding debt.
Also keep in mind that selling your home will cost you: B. Real Estate Brokerage Fees, Attorney Fees, Closing Fees. These costs can add up quickly and weigh on your bottom line, so it's important to factor them into your decision-making process.
Ultimately, the decision to sell your Canadian home now or wait until 2023 will depend on your individual circumstances and priorities. Before making a decision, do your research and consult with a trusted realtor. , it is important to consider all factors. A thoughtful and strategic approach can help you make the best decisions for your future finances and ensure a successful home sale.
Need Some Extra Cash to Help Your Finances? Try Lionsgate!
Are you struggling with your financial needs and need some extra cash? Lionsgate can help. Just fill out the form below, letting us know all your money or mortgage requirements, and we will find the best lender for you. Amazing thing? The process is free, and you can quit it at any time.
We have a team of experts that analyze your requirements and pick the best lender for you with prudent advice.
Note: Please give your authentic information while completing the form below.
Please share this article on your social media profiles if you found it helpful. Also, visit our blog to read similar helpful articles on finance, real estate, and getting mortgages.