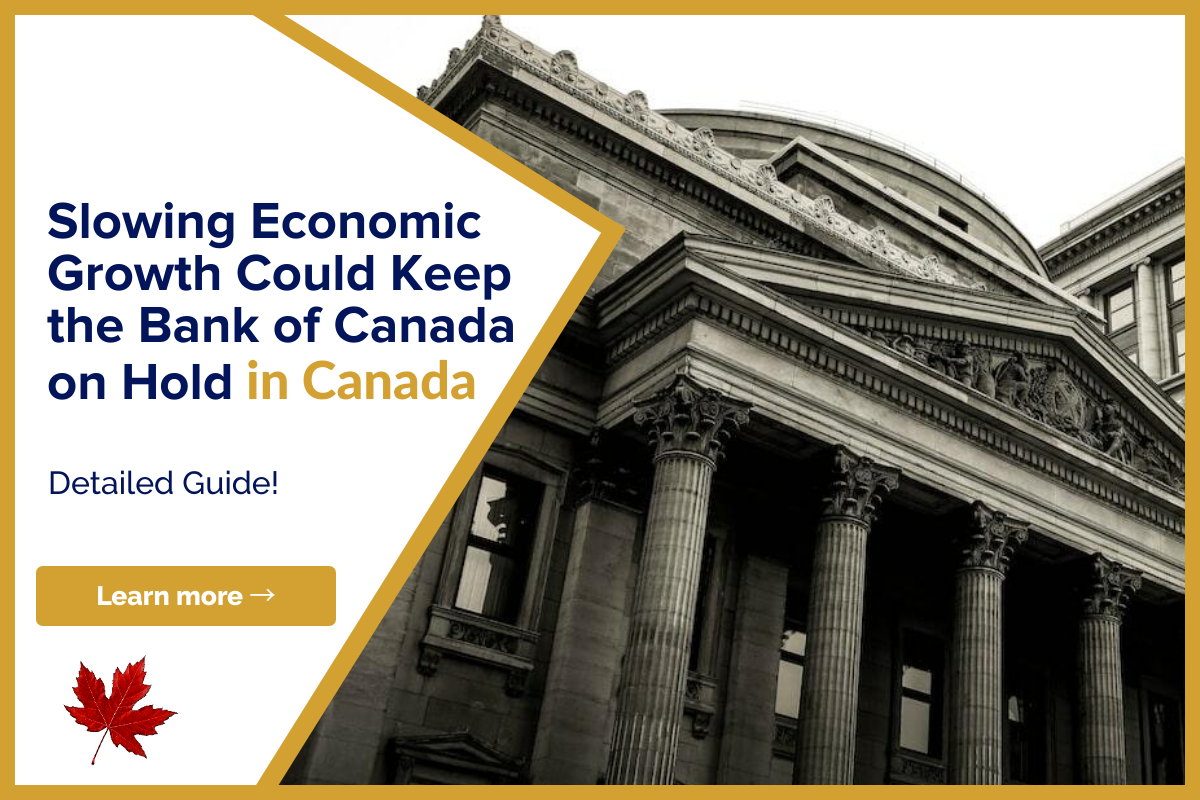 Slowing Economic Growth Could Keep the Bank of Canada on Hold
The latest data on Canada's economic growth is considered "disappointing," leading to speculations that the Bank of Canada might avoid further rate hikes.
May GDP Figures Fall Below Expectations
In May, Canada's gross domestic product (GDP) increased by 0.3% on a monthly basis, which was slightly lower than economists had anticipated. This followed a revised 0.1% growth rate in April.
June Estimate Indicates Further Slowdown
Statistics Canada's preliminary estimate for June suggests a 0.2% monthly contraction, projecting an annualized growth rate of around 1% to 1.2% for the second quarter. This represents a significant slowdown from the 3.4% growth rate observed in the first quarter and falls short of the Bank of Canada's 1.5% growth forecast for Q2.
Factors Contributing to Economic Underperformance
BMO chief economist Douglas Porter attributes the underperformance of the Canadian economy to several factors, including the impacts of wildfires, a civil servant strike, and production issues in the automotive sector.
Sector-Wise Analysis of Economic Growth
The Statistics Canada report revealed that in May, 12 out of 20 sectors experienced growth. Notably, wholesale trade (+2.9%) and manufacturing (+1.6%) saw significant gains, largely driven by increased auto production in response to chip shortages.
Real Estate Demand Boosts Overall Growth
Higher demand for resale housing in major markets such as the Greater Toronto Area, Montreal, Greater Vancouver, Calgary, Edmonton, and Ottawa contributed to overall economic growth. The real estate and rental leasing sector experienced a 0.5% month-over-month increase and a 2% rise compared to the previous year.
Mining and Oil and Gas Sectors Suffer Decline
On the other hand, the mining and oil and gas sector experienced a 2.9% decline due to a slowdown in energy production caused by wildfires.
Implications for Bank of Canada's Future Rate Moves
Slowing Growth Could Keep Rates on Hold
Some economists believe that indications of softening economic growth or potential contractions might lead the Bank of Canada to maintain its current stance on interest rates.
Outlook for the Second Half of the Year
Chief economist Douglas Porter suggests that growth is likely to struggle to remain positive in the second half of the year.
Bank of Canada's Efforts to Manage Economic Growth and Inflation
The Bank of Canada has been working to slow down economic growth and inflation since it began tightening its monetary policy in March of the previous year.
Differing Views on Economic Data Interpretation
While some economists agree that the slowing growth warrants rate stability, others have differing opinions on the data's interpretation.
Stronger Economy than GDP Figures Suggest
Scotiabank's Derek Holt argues that Canada's economy is stronger than the recent GDP figures suggest, attributing the slower growth to temporary factors like the civil servant strike and wildfires.
Crucial Data Report: July Employment Figures
Economists agree that the upcoming report on July employment figures, to be released by Statistics Canada, will play a crucial role in the Bank's decision-making process regarding potential rate adjustments.
Need Some Extra Cash to Help Your Finances? Try Lionsgate!
Are you struggling with your financial needs and need some extra cash? Lionsgate can help. Just fill out the form below, letting us know all your money or mortgage requirements, and we will find the best lender for you. Amazing thing? The process is free, and you can quit it at any time.
We have a team of experts that analyze your requirements and pick the best lender for you with prudent advice.
Note: Please give your authentic information while completing the form below.
Please share this article on your social media profiles if you found it helpful. Also, visit our blog to read similar helpful articles on finance, real estate, and getting mortgages.