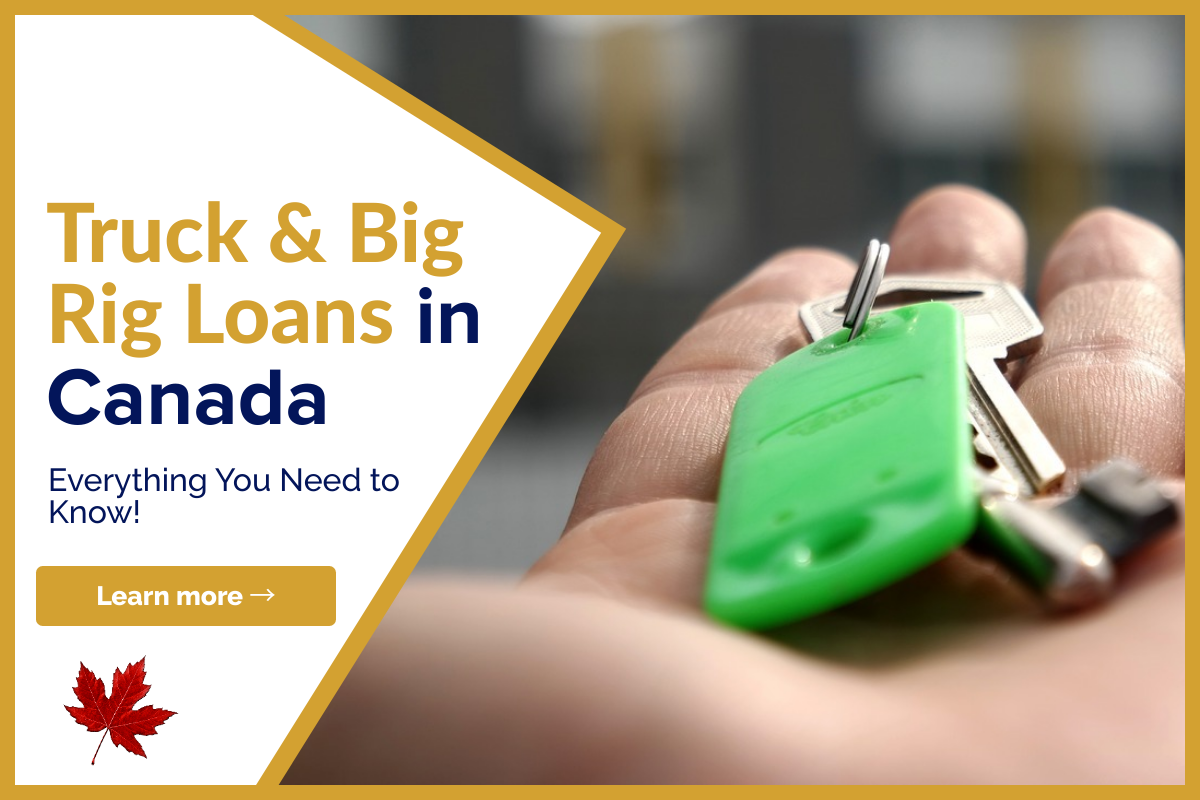 Truck & Big Rig Loans in Canada
Now you can listen to our blog post, "Truck & Big Rig Loans" while on the go.
Are you thinking to start a business and needing a commercial truck? Or do you already own a company and want to expand your fleet? If yes, then you must be looking for truck financing.
While taking a truck loan is not as easy or affordable as financing a minivan or sedan, there are numerous options for all Canadian business owners. With that being said, below is everything you need to know about applying and getting approved for a large truck loan in Canada.
Why Truck Loan is Right for Your Business?
Below are some of the reasons why the truck loan is inevitable for you now.
Your current truck is out of order or needs replacing
You need to increase your fleet
You're starting a new business and need one more truck
You need financing to repair the current truck
Types of Truck and Transportation Financing
When it comes to choosing which type of truck you want, there are numerous options to pick from. There are semi-trucks, box trucks, dump trucks, and flatbeds to name a few. So, with all these options, how do you pick the right one for you?
The type of truck you pick depends on what you need it for. If you are a person who is looking to become an owner-operator of a long haul truck, then your needs will be different than someone who is just looking to do some moderately sized local deliveries. Similarly, the price of a truck is also important as it differs depending on the things like size, age, mileage, etc. Usually, the heavies a truck is, the more expensive it will be and the stricter the requirements of the loan will be.
However, as far as the financing is concerned, there is the option to lease your truck and not pay it. It is also a better and simple option to simply get the loan and pay it.
Prepare to Apply For Commercial Vehicle Financing
Before applying for any type of commercial vehicle financing, make sure you have the following information and documents with you. If you do so, the process will go smoothly and you will be on your way to receiving your finances quickly.
Personal Documentation
Most lenders will want you to present government-issued identification as well as your SIN as a business owner. Your address, phone number, and email address, among other things, will be required. If the lender requires you to personally guarantee your loan, you will be required to present personal financial information and papers.
Plan of Action
Most lenders want to hear what you plan to accomplish with the funds and how they will help you increase your business and revenue. In general, if you own a business, you should have some kind of written business plan. If you don't already have one, now is a wonderful moment to start.
Revenue History & Income Proof
Is your company generating enough revenue to meet the cost of the financing you're considering without putting your working capital at risk? In fact, most lenders will not evaluate your application unless you have a minimum monthly income. They'll likely need your bank statement, cash flow statements, and other financial data to determine your company's health.
Evidence of Assets
Do you own any real estate, equipment, or cars for your business? Proof of ownership, registration and even licencing information will be necessary if you plan to use any of your assets as security.
Making a Down Payment
By putting down a sufficient down payment on the truck or other car you want to buy, you'll not only lower your monthly payments, but you'll also improve your chances of getting approved. The quantity of your down payment will be determined by a number of criteria, including the loan amount, the asset you're buying, and even your credit history.
Get a Loan on Your Own Truck
If you are having a hard time getting approved for a loan to grow your business, you can use your truck as collateral and get approved. This is possible under truck title loans. These loans are not only larger but can also help you get a competitive rate.
In this, the lender takes the title of your truck and use it to protect themselves in case you default on your loan. This is a great way to make yourself a more attractive applicant for a loan, but it can be risky. So, consider all your options and ensure you do not miss any payments.
Below are the requirements you need to fill before applying for the truck title loan.
Must own a big rig or similar large scale delivery truck in working condition
The truck must be used as collateral with no liens on it
Must be 100% finished paying for the truck
If you fulfil all these conditions, you are all good on your end.
Benefits of Truck Title Loans
If you are a truck owner and looking to grow your business more, you cannot do it without cash. For this, a truck title loan is your great option as you can take out a bigger loan with this. Below are the major advantages you will receive if you take a truck title loan.
Low interest rate
Approval rates are higher
Bigger loans available
No check of credit score
What kind of trucks am I able to finance?
There are essentially no limits to the types of trucks that can be financed. You can get finance for anything from a long-haul truck to a smaller delivery truck, depending on the type of business you run.
The Bottom Line
At Lionsgate, we specialize in helping people get the extra cash they need, obtain funding for private mortgages, as well as for other real estate transactions. If you are looking to buy land in Canada, get a mortgage or apply for a loan, fill out the form below. Or, You can leave us a message and we will try to connect you with local lenders and sources that best meet your needs.
If you found this article helpful, please share it on your timeline and with someone you care about. Also, visit our blog to read similar helpful articles on finance, real estate, and getting mortgages.