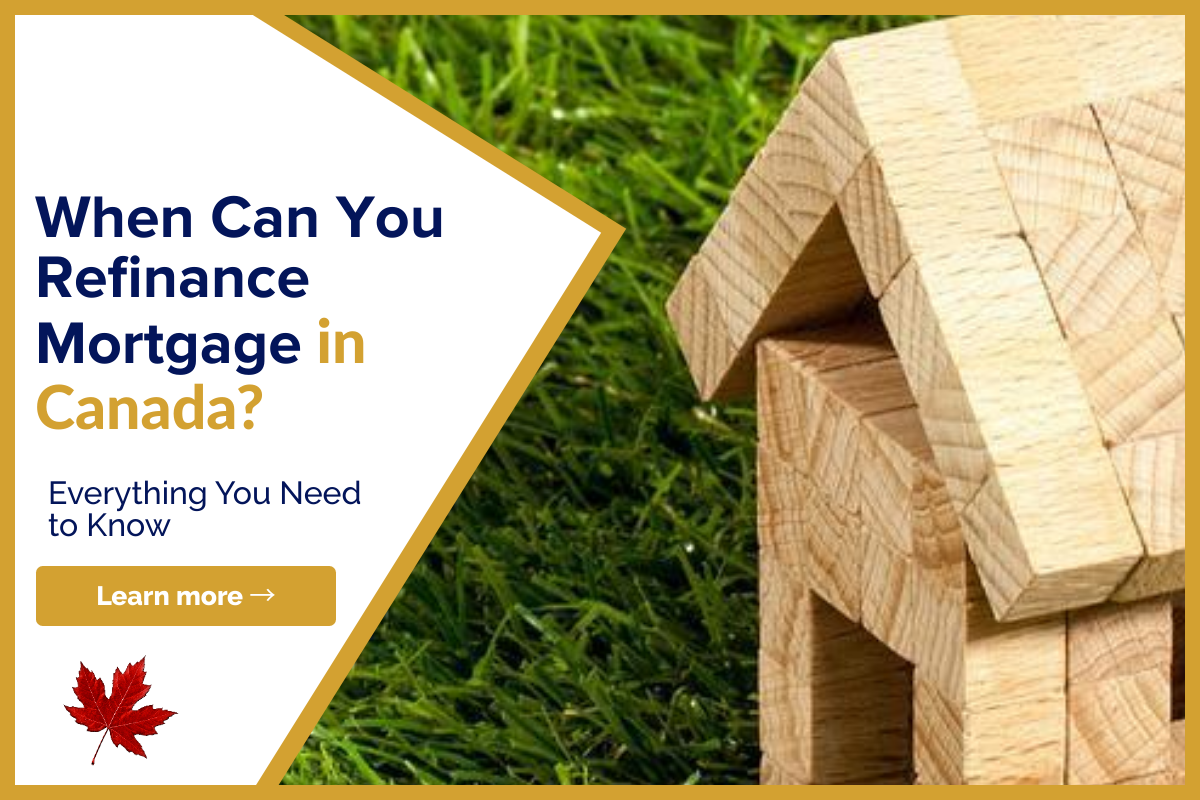 When Can You Refinance Mortgage in Canada?
Now you can listen to our blog post, "When Can You Refinance Mortgage in Canada?" while on the go.
Refinancing a mortgage is not as simple as it sounds. In Canada, you can refinance a mortgage only if you meet certain conditions: You must have good credit and meet the lender's loan-to-value ratio and equity requirements. If you do, refinancing can give you lower monthly payments and a shorter term or lower interest rate. To understand when to refinance is worth it, check out this article.
Unlocking the equity in your home by refinancing or selling is a good option if your mortgage balance (loan principal plus original first mortgage) is less than 80% of the home value. This means you have more equity than debt after subtracting other liens like second mortgages or home equity loans. If your property value has increased since taking out the mortgage, you might want to sell and buy again with a smaller mortgage.
What does It mean to Refinance a Mortgage?
When you refinance your mortgage, you end your present mortgage agreement and take out a new mortgage loan to pay off the remaining sum in full. The terms and conditions of this new loan differ from those of your previous mortgage loan, including the interest rate.
Depending on how much equity you've amassed in the home, you might be able to increase the size of your mortgage when you refinance. This is because the loan you obtain when refinancing a mortgage could be as high as 80% of the home's appraised value.
For instance, you may borrow up to $400,000 if your house is worth $500,000. You would get the extra $50,000 as a lump sum payment if your previous mortgage debt were $350,000.
Because mortgage interest rates are typically cheaper than other loans you could be eligible for from a bank or private lender, this way of borrowing is preferred over different types of debt.
When Should You Refinance Your Mortgage
The end of your mortgage term is the ideal time to refinance, especially if you have a closed fixed-rate mortgage. This is due to the prepayment penalty you will incur if you refinance on a closed mortgage before the term has expired. The penalty is typically only three months' interest with a variable-rate mortgage. However, with a fixed-rate mortgage, especially if there is still a significant amount of time left in the term, the penalty can be much higher.
You can avoid these prepayment penalties altogether if you wait until the end of the term to refinance (or if you have an open mortgage).
The decision to refinance your mortgage mid-term depends on whether the advantages outweigh the disadvantages. If you're unsure whether it's the right time to refinance your mortgage, consider the following:
How does your current mortgage rate compare to other rates on the market?
What fees (such as those for an appraisal, a title search, and title insurance) are associated with the legal and closing costs of refinancing your mortgage?
Consolidating debt with a high APR?
How much will it cost you to break your mortgage, if at all?
Would refinancing significantly enhance your daily life? For simplicity, rank the level of comfort you would experience from one to ten by refinancing.
How To Refinance Your Mortgage in Canada
If you decide to move forward with refinancing your mortgage, make sure you complete your application and gather all the necessary information the lender will need to assess your eligibility. Ask each lender for a list of the supporting documents you'll need, such as tax returns and proof of income. This is where a mortgage broker can help collect these documents and submit your application on your behalf is beneficial.
If you are approved, wait before signing. You should carefully study the terms and conditions, paying particular attention to the information on costs, payments, and interest rates. If there is anything you don't understand or disagree with, ask for clarification.
It's completely fine to negotiate directly with the lender yourself, while a mortgage broker might be able to assist and act on your behalf. After all, a percentage point reduction in your interest rate can be precisely what you need to have more flexibility in paying closing costs.
What is The Alternative to Refinancing?
The best alternative to refinancing is HELOC. It is a home equity line of credit that allows you to borrow money using the equity in your home as collateral (HELOC). The maximum credit limit is 65% of the market value of your home, and you must have at least 20% equity in your home to qualify.
You don't have to break your mortgage or suffer prepayment penalties. This is because you can get a HELOC in addition to your current mortgage. A HELOC will normally have higher interest rates than a refinance of your mortgage.
Another option for getting access to your home's equity is a second mortgage. There are no prepayment penalties. It is issued in addition to your principal mortgage. However, interest rates are greater than a HELOC or refinance of a mortgage.
Want to Refinance or Need Some Quick Cash? Let Us Help You!
Are you struggling with your financial needs and need some extra cash? Lionsgate can help. Just fill out the form below, letting us know all your cash or mortgage requirements and we will find the best lender for you. Amazing thing? The process is free and you can quit it at any time.
We have a team of experts that analyze your requirements and pick the best lender for you, with prudent advice.
Note: Please give your authentic information while completing the form below.
If you found this article helpful, please share it with someone you care about. Also, visit our blog to read similar helpful articles on finance, real estate, and getting mortgages.