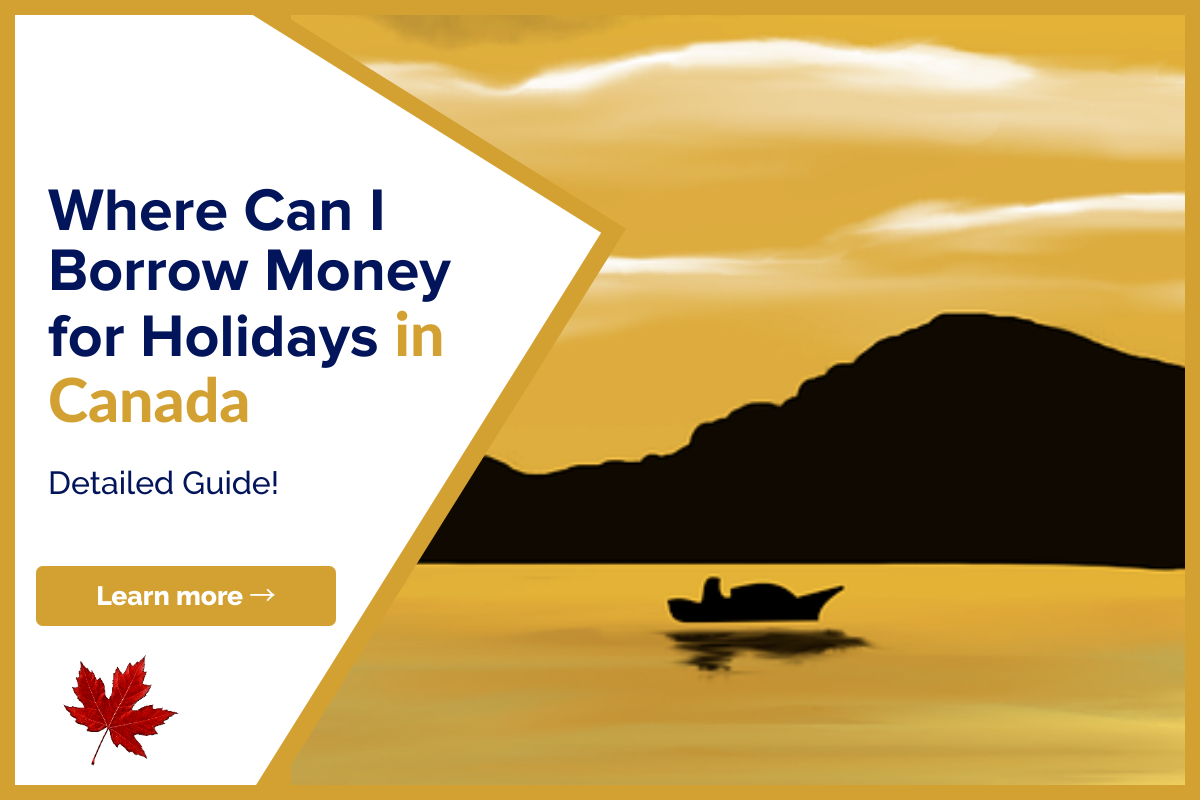 Where Can I Borrow Money for Holidays in Canada?
Now you can listen to our blog post, "Where Can I Borrow Money Fast for Holidays in Canada?" while on the go.
Although the holidays are a time for celebration, they may also be stressful financially for many people. The holidays may be an expensive time for many, regardless of whether you want to go on vacation or need money for gifts. So, if you need holiday loans to aid with financial obligations, this article is for you.
If you're looking for holiday loans in Canada, we know you probably need the money right away and that waiting a few days isn't an option. Because of this, we will guide you to applying for rapid holiday loans that are not only simple and quick but also absolutely painless.
The finest possibilities for obtaining the money you require, while having a low credit score, are listed below.
Options for Fast Cash for Holidays
Unsecured Personal Loan For Holidays
A greater loan amount and lengthier payback terms than payday lenders are available to applicants with bad credit via this unsecured loan, which is paid back in monthly installments. Additionally, they frequently have lower rates. A personal installment loan is typically a better choice than a payday loan if you require money for unanticipated emergencies, debt consolidation, or bill payments.
Cash advances using credit cards for holidays
Any borrowers who already have a credit card can choose this. In essence, it is a way for you to withdraw money from an ATM or deposit money into a checking account using your credit card. To use this option, you won't require a strong credit score or an internet lender. All you require is a credit card. However, this option has no grace period, which means that interest starts to accrue right away. Additionally, this option's interest rate can be greater than the one for typical credit card purchases.
Credit union
These are similar to banks, although their costs and interest rates are frequently lower. This is so because they are non-profit organizations that prioritise offering their clients quality goods at competitive prices. Despite this, you might still need a good credit history to have a loan accepted.
These are a few of the greatest ways to obtain online quick cash loans when you need them. Choose a safer and more reasonable personal loan to protect your finances.
How Do Quick Cash Loans Function?
A quick loan can seem like a difficult undertaking. especially with so many choices available. How are you expected to determine the best loan or lender for you? It all depends on the kind of loan you require and which ones you qualify for. You must understand how some of the most common alternatives operate in order to know which ones you can choose from.
Continue reading to find out more about some of the most typical personal loan types, how they operate, and what to anticipate if you decide to apply for one.
Individual Loans
An installment loan, sometimes known as a personal loan, is an unsecured loan that borrowers utilize to cover unforeseen costs and then repay over a period of several months. These can take on a variety of forms, but they all have one thing in common: they need monthly payments over time rather than a single payment like a payday loan.
Borrowers who don't have great credit typically have access to personal installment loans. This is one factor in the choice of personal loans over bank or credit union loans by many low-credit borrowers. Only consumers with good or excellent credit are often eligible for loans from many banks. However, even if you don't have great credit and are in a bind, you can probably still get approved for a lot of personal loans.
They operate in a rather basic manner. You should start by locating a dependable lender. Lenders might be either online or in physical locations. Before applying, make sure you study their internet reviews, contact them and inquire, and learn all the specifics of their loans. Long-term, this can save you a tonne of time and money.
It's time to submit a loan application if you feel good about your lender selection.
The Procedure for Applying for a Personal Loan for Holidays
Personal loan applications can be made quickly and easily. However, that will depend on the specific loan and lender. It will be considerably simpler if you choose an internet lender who offers an online application. Finding out if the lender accepts online applications is the first step. Give them a call or write them an email if you're unsure.
If your lender has an online application, you should fill it out and submit the required data. They'll probably require a lot of personal and financial data. You'll have to present proof of identity, financial details, proof of income, and more. Additionally, submitting this paperwork in person can be a burden if your lender doesn't offer an online application.
The lender will check your details after you submit the application to decide whether or not to extend you a loan. This is when they will tell you the amount of the loan and the terms of repayment if they are going to provide you with a loan. It's crucial to remember that if the loan's terms and circumstances are unfavorable, you are not obligated to accept it at this time. Prior to accepting and signing for the loan, be sure you have read the complete loan agreement and are aware of all the terms.
After you sign the loan agreement, the lender will give you the agreed-upon sum of money, which you can use however you see fit. On the day specified in your loan agreement, you'll start making payments. The contract and the transaction are fulfilled if you pay back the entire loan balance (principal), along with the interest and fees.
Need Some Extra Cash to Help Your Finances? Try Lionsgate!
Are you struggling with your financial needs and need some extra cash? Lionsgate can help. Just fill out the form below, letting us know all your money or mortgage requirements, and we will find the best lender for you. Amazing thing? The process is free, and you can quit it at any time.
We have a team of experts that analyze your requirements and pick the best lender for you with prudent advice.
Note: Please give your authentic information while completing the form below.
Please share this article on your social media profiles if you found it helpful. Also, visit our blog to read similar helpful articles on finance, real estate, and getting mortgages.