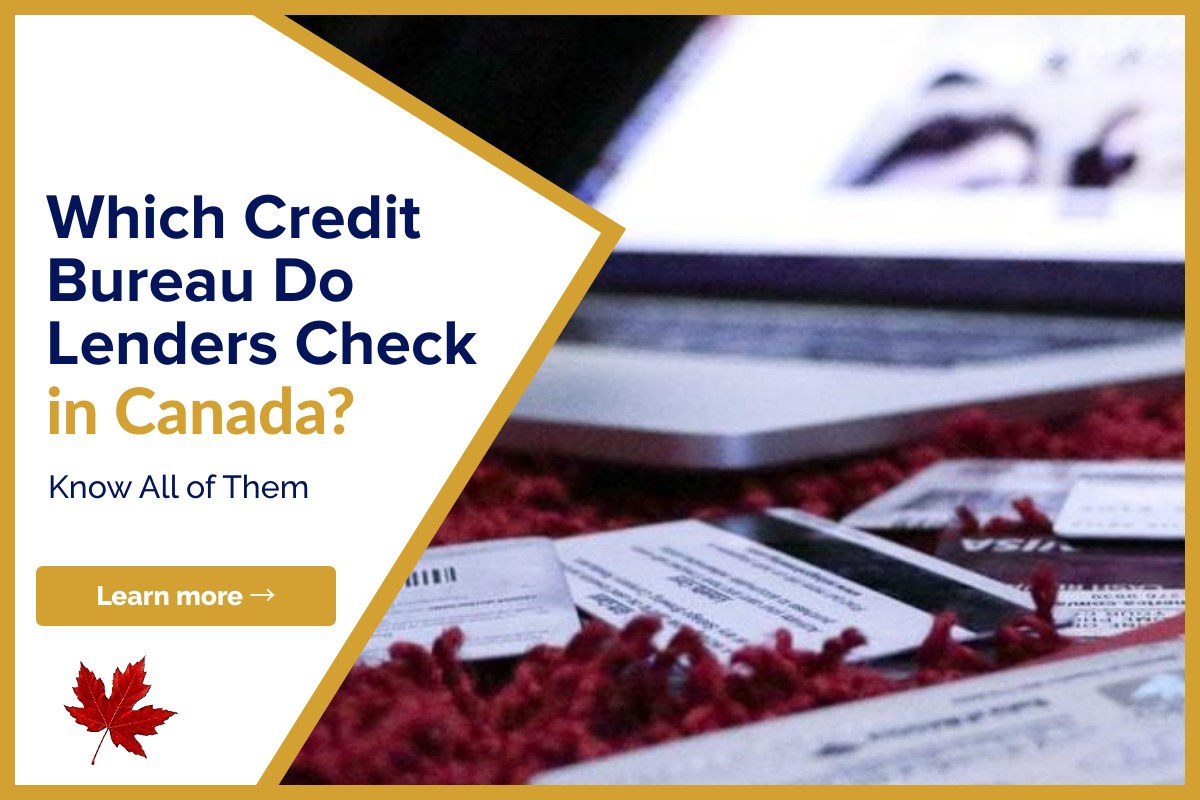 Which Credit Bureau Do Lenders Check?
Now you can listen to our blog post, "Which Credit Bureau Do Lenders Check in Canada?" while on the go.
Before issuing credit, Canadian creditors examine a consumer's creditworthiness using credit bureaus. Although some will check both, lenders often prefer Equifax or TransUnion. You'll benefit later on when you apply with lenders and creditors because you'll know what a credit bureau is, how they obtain their information, and how to keep an eye on the data in your credit report.
How Do Credit Bureaus Work?
A credit bureau, also known as a consumer credit reporting agency, is a company that collects and compiles data from courthouses, the Office of the Superintendent of Bankruptcy, banks, and financial institutions, on a consumer's credit history.
What Does Your Credit Information Get Up to at Credit Bureaus?
With your permission, a credit bureau uses the data they've collected about specific consumers to generate a credit report and score that are then made available to a number of lenders and other financial organisations. Lenders use Equifax and TransUnion, two credit bureaus in Canada, to evaluate your creditworthiness.
Do Credit Bureaus Decide on Lending?
There is a widespread notion that lending choices are made by credit bureaus, however, this is untrue. A credit bureau is a private, unaffiliated business that communicates data between the borrower and the lender. Credit bureaus provide lenders with information about consumers, but ultimately, the creditor is the one who makes the loan decision.
How Do Credit Bureaus Gather Information on Consumer Credit?
As was already noted, creditors, lenders, and other entities including the Office of the Superintendent of Bankruptcy provide information to credit bureaus. It's crucial to remember that not all creditors and lenders report to both credit bureaus (although the majority of significant lenders do), in fact, some don't report to either. This may result in a mismatch between your Equifax and TransUnion credit reports, which may affect various credit scores.
What Sort Of Information Do The Credit Bureaus Gather?
Credit bureaus gather a range of data, such as:
Personal information like your residence and legal name.
Information about your credit accounts, including their status and payment history
Credit checks
Public documents including bankruptcies, tax liens, and consumer proposals, as well as information about collections.
Which credit bureaus do lenders check in Canada?
As was already discussed, because of the errors in your credit report, your credit scores can differ. indicating that one credit score is probably superior to the other. Understanding which credit bureaus your lender will examine might help you anticipate how you'll seem to lenders. For instance, you can check your Equifax credit report and credit score to see where you stand if you are aware that your bank uses Equifax.
Which Canadian banks use Equifax?
BMO Bank of Montreal
TrustDesk Canada (TD Bank)
Scotiabank*
Bank of Commerce Imperial of Canada (CIBC)
Countrywide Bank
Desjardins
Union Credit Meridian
HSBC
Tangerine*
Depending on the type of application, these financial institutions may use data from either or both bureaus.
Which Canadian banks use Transunion?
Bank of Canada, Royal (RBC)
BMO Bank of Montreal
Scotiabank*
Countrywide Bank
Bank of Laurentian
Bank of Bridgewater
Tangerine*
Vancity
From which credit bureau do credit card companies obtain information?
Bank Amex of Canada TransUnion PC Financial Equifax, TransUnion MBNA, TransUnion Capital One Equifax, and/or TransUnion will start, followed by Equifax if more information is required.
CAA Mastercard MasterCard TransUnion Wal-Mart Virgin Mobile/TransUnion Bell Mobility
Equifax Borrowell
American Tire (CTFS) Rogers Wireless and Fido TransUnion
Equifax Telus Mobility/Koodo Mobile
Equifax Canada Chase
How Can You Get A Free Credit Report In Canada?
Equifax offers free credit reports that you can order online or by mail. On the other hand, TransUnion provides free Consumer Disclosure to Canadians once a month through the mail, in person, or online, which is similar to a credit report.
How to Request Credit Report from Equifax
Online – You only need to register for an online account with Equifax to obtain your credit report and credit score. Before you can access it, you must create a username and confirm your account.
Mail – To request your credit report and credit score by mail, just complete this Equifax Canada – Consumer Request for Free Credit Report form. Be sure to enclose a government-issued photo ID as well as any document (such as a phone bill or a utility bill) that verifies the information on the ID, which should include your name and address.
How to Request TransUnion Consumer Disclosure
Online – By registering online, you can see your TransUnion Consumer Disclosure. Similar to Equifax, you'll need to register for an account and respond to a few identity-verification questions.
Mail – Complete the following form to request a copy by mail: Requested by the consumer, along with a government-issued ID
In-Person – To make a copy request in person, go to a TransUnion office near you and bring two forms of identification.
What is a credit pull?
A credit pull or inquiry is a request made to check your credit report by a lender, creditor, financial institution, or any other person. Before giving credit, third parties may check your creditworthiness and other information in your credit report. Credit pulls come in two flavours: hard inquiries and gentle enquiries.
Soft Inquiries – When you check your own credit, a soft query is made. Employers, insurers, and landlords frequently do soft inquiries. Your soft queries are not visible to anybody else and have no impact on your credit score.
Hard inquiries – Hard inquiries can damage your credit and are obvious to anybody who looks at your report. A hard credit inquiry happens each time a prospective lender checks your credit record. When you apply for a mortgage and the lender pulls your credit report to assess your eligibility for a credit extension, that is an example of a hard inquiry.
Need Some Quick Cash? Let Us Help!
Are you struggling with your financial needs and need some extra cash? Lionsgate can help. Just fill out the form below, letting us know all your cash or mortgage requirements and we will find the best lender for you. Amazing thing? The process is free and you can quit it at any time.
We have a team of experts that analyze your requirements and pick the best lender for you, with prudent advice.
Note: Please give your authentic information while completing the form below.
If you found this article helpful, please share it with someone you care about. Also, visit our blog to read similar helpful articles on finance, real estate, and getting mortgages.