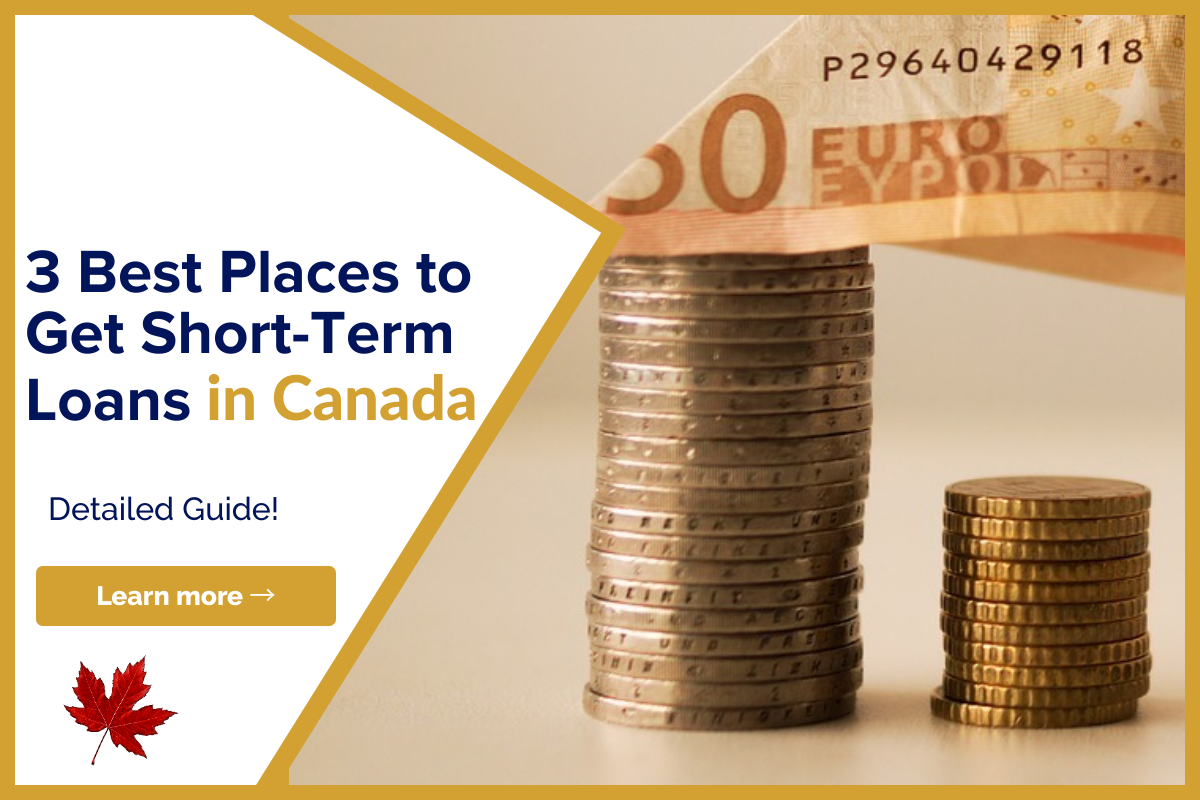 3 Best Places to Get Short-Term Loans
Now you can listen to our blog post, "3 Best Places to Get Short-Term Loans in Canada," while on the go.
Even the best-laid plans can go astray, so even if you've diligently paid off debt, set aside money for emergencies, and bought the necessary insurance, you might still need an immediate infusion of cash. In this situation, a short-term loan might help you bridge the gap between your essential cash needs and your available funds.
Read on to learn the 3 best places to get your short-term loans and if a short-term loan is ideal for your financial emergency because they aren't suitable for every circumstance.
Where Can I Get Short-term Loans?
The lenders on the list below can satisfy your needs even if you have a low credit score if you're seeking a short-term cash source with a rapid turnaround time and flexible terms.
Loans Canada
One of the most well-known online loan platforms in Canada is Loans Canada. It offers loans for practically every situation, including short-term loans, consolidation loans, and loans for small businesses and automobiles. Loans Canada is a loan aggregator, not a lender, and it will match your application with lenders in your neighborhood.
Loans Canada provides short-term loans with durations of three to sixty months and interest rates ranging from three to forty-six percent. Although having a strong credit score will get you a better interest rate, you are not required to have one.
LoanConnect
Another website for connecting Canadians and lenders offering short-term loans is LoanConnect. Even those with poor credit or a history of bankruptcy can apply for loans through LoanConnect, which also offers loans with interest rates ranging from 4.8% to 46.96%. Your credit score and financial situation will determine the interest rate you pay.
To apply for a short-term loan through LoanConnect, you must be at least 18 years old and a citizen of Canada.
Fairstone
Canadians can obtain short-term, high-interest loans from Fairstone Loans. The online application process for this lender offers pre-approval in 15 minutes and terms of up to 60 months.
You can choose to repay your Fairstone loan in monthly, weekly, or biweekly installments, and the interest rate is higher—up to 45%.
Short-Term Loan Types
In Canada, there are several kinds of short-term loans, each with its own features, conditions, and interest rates.
Cash advances using credit cards
A short-term loan is what you are really getting when you take out a cash advance on your credit card. Interest begins to accrue as soon as you make your withdrawal and is typically in the range of 24%. As much as your credit limit permits, you may withdraw. Cash advances made with a credit card are considered revolving credit, so no monthly payments are required. However, because the interest rate is so high, you should endeavour to repay the loan as soon as you can.
Installments Loan
You can obtain installment loans from a traditional lender, an online lender, or an alternative lender. Based on your credit history, the interest rates on these products might range from 5% to 45%. You can take out one of these loans for as little as a few months up to a year or more, and you'll repay it in monthly, weekly, or biweekly payments.
Quick loans
Payday loans frequently have short durations (as little as two weeks), extremely high interest rates (as much as 600%), and smaller sums (generally no more than $1,500). The loans must be repaid in a single installment after the loan, even though approval and cash are typically available the day you apply.
What Purposes Do They Serve?
The most significant time to use a short-term loan is when you urgently need money. Like if your automobile suddenly needs expensive repairs and your emergency money is depleted. Because of the high interest rates, short-term loans should only be used in genuine crises when there are no other options. Vacations and new furnishings are not emergencies and should not be the subject of a short-term loan.
Sometimes you need a short-term loan, but most lenders won't accept your application because of poor credit. Fortunately, there are several emergency loans for people with bad credit.
Who is qualified?
You must be employed and show documentation of your income to be approved for a short-term loan. Additionally, you'll need a checking account and a credit rating that isn't too bad. Some short-term lenders focus on clients with bad credit or don't run credit checks, but their interest rates will be higher than those of other lenders.
When might a quick loan be appropriate?
You should only choose to apply for a short-term loan if you have used up all of your financial reserves because of the higher interest rates attached to them. If you are eligible for a short-term loan with a high interest rate, you might consider borrowing money from family members, getting a cash advance on your credit card, or selling furniture as an alternative.
We issue these warnings because the interest rates on sure of these loans are so high that some Canadians have trouble repaying them and wind up trapped in a cycle of reoccurring short-term borrowing. Avoiding this circumstance at all costs, even if it necessitates soliciting assistance from family and friends or parting with your comic book collection.
A short-term loan might be a good choice if you don't have any other options for dealing with your immediate cash flow problems. Simply be sure—and we cannot emphasize enough—that you have a strategy to repay the loan fully, including any additional interest or fees.
Advantages of Short-term Loans
Reduced terms
Quick approval
Rapid funding
Some lenders don't demand a high credit rating.
Flexible terms for repayment
Drawbacks of Short-term Loans
high rates of interest
Additional costs to underwrite or repay the loan
This might result in an endless cycle of borrowing
If you default or miss payments, it could lower your credit score.
Because of the higher interest rates, short-term loans are not appropriate for all Canadians as a funding source. If you find yourself in need of cash, look into all of your other possibilities first. Short-term loans may be a good choice if no other options are available, provided you carefully review the interest rates and costs.
Looking for Short-term Loans With Lowest Interest Rate? Try Lionsgate!
Are you struggling with your financial needs and need some extra cash? Lionsgate can help. Just fill out the form below, letting us know all your money or mortgage requirements, and we will find the best lender for you. Amazing thing? The process is free, and you can quit it at any time.
We have a team of experts that analyze your requirements and pick the best lender for you with prudent advice.
Note: Please give your authentic information while completing the form below.
Please share this article on your social media profiles if you find it helpful. Also, visit our blog to read similar helpful articles on finance, real estate, and getting mortgages.