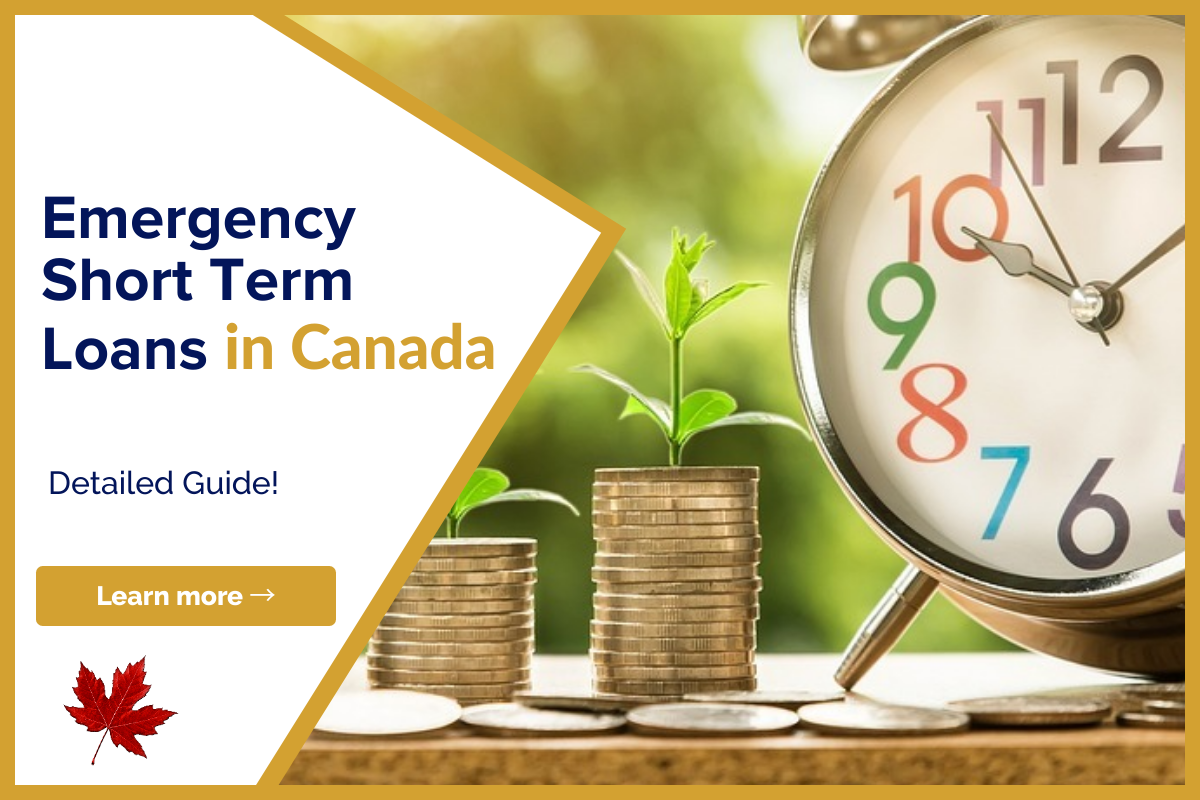 Emergency Short Term Loans in Canada
Now you can listen to our blog post, "Best Emergency Short Term Loans in Canada," while on the go.
Unsecured loans up to $1,500 for emergencies are known as emergency short term loans. They are a helpful option when you have no other way to pay for unforeseen expenses. People needing financial assistance frequently turn to urgent loans due to their rapid application process and same-day approval.
People who require loans immediately need to wait as little time as possible, from contacting a lender to receiving the funds. People select emergency loans in Canada rather frequently because of the accommodating standards and quick application process.
You don't have to worry about defending your intended use of the funds when you take out an emergency loan because they are unlimited. You can use the loan any way you see fit and repay it in a few manageable payments.
Therefore, the next time you find yourself in a tight financial situation, an emergency loan may be the quickest way out.
How Can You Benefit from Emergency Loans?
Many Canadians use these loans to cover costs like:
Home Repairs: Repairs around the house can be expensive and uncomfortable because so many items in a home might fail at the worst possible time. Repairing a broken heater, a leaky pipe, a modest roof issue, a septic system, or dealing with water damage are some examples.
Appliance Repairs: We depend on several appliances for our daily comfort, so when one of them breaks down, it disrupts our routine and adds stress. Appliance repairs or replacement. When it comes to a necessary appliance like the air conditioner, refrigerator, electric heater, or laptop, repairs or replacements are incredibly crucial.
Car Repairs: You can't put off the cost of repairs and upkeep when you depend on your car to get you through your daily routine. Loans for auto repairs can be used to pay for expected auto-related costs like changing tyres, making minor repairs, replacing specific parts, or performing maintenance.
Medical Expenses: Medical and dental costs can be expensive, especially if you don't have adequate dental insurance. When a medical emergency arises, such as a broken jaw or root canal, there may be no other way to pay the bills but to get a cash advance.
Vet Bills: Every pet owner fears paying a vet bill. However, you must act quickly if your young acquaintance has a medical issue. Emergency loans for pet care can pay the expenditures and lessen your monthly financial load.
Rent or Bills: Rent or bills are two examples of pressing expenses that aren't always unexpected. Many seek emergency loans to pay their bills when they don't have enough money and want to avoid late payments and penalties.
As you can see, these cash loans are very adaptable and provide a good alternative in several circumstances. When there are gaps in your paychecks, and an urgent need arises, an emergency loan is essential.
Bad Credit Loans for Emergencies
A short-term loan with lenient credit score standards, known as an emergency loan for bad credit, is available to borrowers with adverse credit. Having negative credit might be a hardship for people who need to borrow money, but this shouldn't be an issue anymore.
Private lenders are the best option for anyone questioning, "Where can I acquire an emergency loan with terrible credit?" When determining who is eligible for a loan, these lenders have different requirements than conventional lending organizations. What matters most when applying for emergency loans with bad credit or no credit is that you have the means to repay the loan.
Along with the frequently asked question of "how to get emergency money with terrible credit," traditional lenders may also have trouble approving borrowers if they have no credit history. Without it, there is no evidence that you have ever successfully repaid a loan. In any case, this is not a concern for private lenders.
This does not imply that a credit check won't be done. It is utilized as a part of the verification process by reputable lenders. But that's just standard procedure; we don't base our evaluation on it and don't set a minimum credit score requirement for eligibility.
Furthermore, even if your application for a bank loan was turned down, you can still get rapid approval loans for persons with terrible credit. We won't let that choice affect how we evaluate your application. We will approve the loan you request as long as you now can repay it.
Another common issue when people wish to apply for a loan is providing collateral. However, since unsecured lousy credit emergency loans are available, you won't need to worry about utilizing your possessions as collateral.
Best Emergency Loan Lenders in Canada for Bad Credit
| Lender | Best For | Interest Rate | Loan Term |
| --- | --- | --- | --- |
| Loans Canada | High loan limits | 3% – 46.96% | 3 – 60 months |
| Loan Connect | Fast loans | 10% – 46.96% | 6 – 60 months |
| LendDirect | No fixed term loans | 19.99% | Open-ended |
| Mogo | Short term loans | 9.9% – 47.42% | 6 – 60 months |
| LoanMeNow | No credit check | 28% – 32% | 3 months |
| Fairstone | Lowest interest rates | 26.99% – 39.99% | 6 – 60 months |
Emergency Loan Alternatives
Many conventional funding sources might not be accessible if you need money right now and have poor credit. Common funding options like a personal or home equity line of credit can be rejected for you. Here are some further choices:
A secured line of credit: Collateral, such as a car, is used to secure your loan with a secured line of credit. Because it is secured, it is less hazardous, so you might still be eligible even if your credit is bad.
Credit card cash advance: With a credit card cash advance, you can withdraw cash immediately from an ATM without getting a loan approval. Paying off cash advances quickly is important since they immediately begin to accrue interest, which is frequently more than the interest rate on your purchase.
A family member's loan: The best alternative for you is to borrow money from a friend or a family member because they will charge you a lower interest rate. Check your ability to repay the loan. Otherwise, you risk destroying your relationships for good.
Need Short Term Loan to Help Your Finances? Try Lionsgate!
Are you struggling with your financial needs and need some extra cash? Lionsgate can help. Just fill out the form below, letting us know all your money or mortgage requirements, and we will find the best lender for you. Amazing thing? The process is free, and you can quit it at any time.
We have a team of experts that analyze your requirements and pick the best lender for you with prudent advice.
Note: Please give your authentic information while completing the form below.
Please share this article on your social media profiles if you find it helpful. Also, visit our blog to read similar helpful articles on finance, real estate, and getting mortgages.