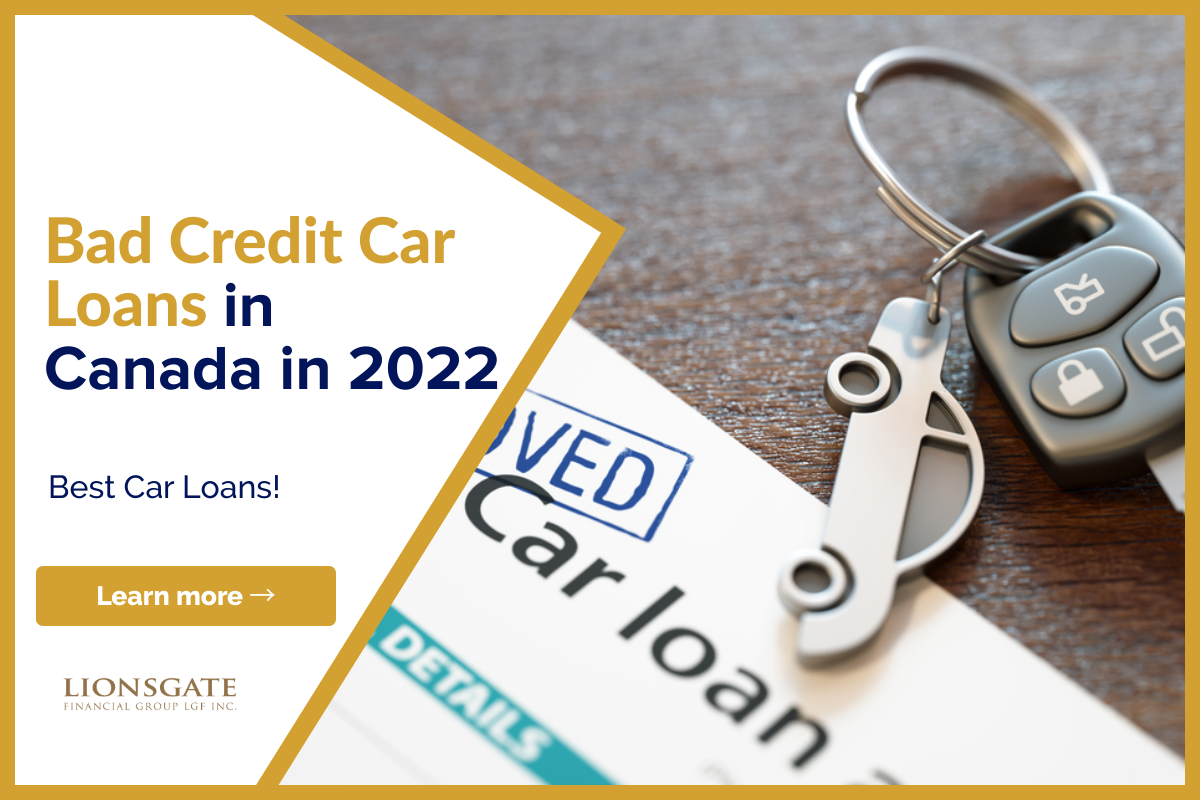 Bad Credit Car Loans Canada in 2022
Now you can listen to our blog post, "Bad Credit Car Loans Canada in 2022", while on the go.
If you live in Canada and have bad credit, then your chances of getting approved for car loans are limited. However, it does not have to be that way! When it comes to bad credit car loans in Canada, new opportunities are on the horizon. Along with lenders who seek good credit scores, there are also lenders and dealers who specialize in helping bad credit customers find a car.
If you too are looking for bad credit car loans in Canada, then this guide is for you. In this guide, we will reveal how you can get a car loan with bad credit. Plus, we will tell you an easier way that will save you from hassle.
First and foremost, know that your credit score is important as it decides whether you get approved or declined at crucial moments in your life. But, if it is bad, then keep your head calm as there are ways you can improve your credit score. Meanwhile, you can still get approved for bad credit loans – even for a car.
Here is what you need to understand when applying for bad credit car loans in Canada.
What is a Bad Credit Car Loan?
A bad credit car loan is when you borrow money from a lender and then finance a car with it. It is basically the same process as of traditional car loan. However, as in this, you apply with bad credit, so the process can get a bit difficult. In this case, the lender will approve you with your bad credit but with a few extra terms.
So, if your credit score is in the range of 300 to 600, it is considered bad credit. With this range, you might get denied from banks, credit unions, and other types of lenders because now you have a high chance of defaulting. However, it does not mean that it is impossible to get car loans with bad credit. Here is how you can apply and get approved.
How to Apply For a Car Loan with Bad Credit
If you have found a lender or an auto dealer, here is how you can get approved for a bad credit car loan.
1. Set Your Budget
Car loans can vary greatly depending on where you live and what kind of vehicle you are financing. It also depends on how you are strong financially, including your credit score. So, the first step you should do is to set up your budget, determining your income, savings and monthly budget. You can set your budget on the common costs, which include:
Gas/electricity bills
Repairs
Maintenance
Tires
Insurance
Registration
2. Decide if Need a New or Old Car
The type of car you need can also make a huge difference in the price. It also impacts your ability to qualify for a bad credit loan. For instance, if you agree to buy a new car, your lender may offer you a better payment plan and interest rate. Also, the car will likely be more safe and reliable than an old model.
However, if you finance a used car, it will more affordable and you will pay less interest rate as well. The value depreciation will also be less of a worry for you as old cars don't depreciate value fast.
3. Get Car Loan Quotes
To have an idea of how much a car can cost, shop around with different lenders and retailers in your area. If you are willing to provide basic information, many financing sources will offer a free pre-approval process that lets you know what your potential loan payments will look like.
Bear in mind that this quote may not end up being the true price of the actual bad credit car loan you are approved for. Generally, it is just a semi-accurate price. During the pre-approval process, the details you will have to provide include:
The make model and year of the car
Gross monthly/yearly income
Length of your desired payment plan
How often do you make payments (bi-weekly, monthly, etc)
4. Consider All Options
Every lender offers different requirements, rates and payment plans for their bad credit car loans. So, it is wise to compare multiple offers before picking. Also, make sure your financing source is flexible and has a good reputation. If you have found an appealing bad credit car loan, you should read your contract carefully and make copies for your records.
What Do You Need to Get a Bad Credit Car Loan?
Although lenders and vehicle dealers who work with people with terrible credit have fewer restrictions, you'll still need a number of personal and financial documentation to qualify, including:
Proof Of Employment: Before approving you for a large loan, most lending companies will want to see copies of your most recent pay stubs or paychecks to ensure that you have a history of consistent employment.
Income, Assets, And Liabilities Proof: In addition, the lender/dealer must know how many cars you can afford. As a result, they may request your most recent bank statements, as well as any papers detailing your current debts and properties.
Driver's License and Proof of Address: You'll need to show that you're a licenced driver in your province or territory when applying.
Car 
loans 
are 
not 
only 
available 
to 
individuals 
with 
excellent 
credit. 
Your 
bad 
credit 
shouldn't 
stop 
you 
from 
getting 
a 
new 
car 
and 
getting 
a 
loan 
to 
pay 
for 
it. 
If 
you 
follow 
our 
instructions 
and 
keep 
yourself 
informed 
about 
your 
financial 
condition, 
you 
should 
be 
able 
to 
obtain 
the 
vehicle 
you 
desire.
The Bottom Line
At Lionsgate, we specialize in helping people get the extra cash they need, obtain funding for private mortgages, as well as for other real estate transactions. If you are looking to buy land in Canada, get a mortgage or apply for a loan, fill out the form below. Or, You can leave us a message and we will try to connect you with local lenders and sources that best meet your needs.
If you found this article helpful, please share it on your timeline and with someone you care about. Also, visit our blog to read similar helpful articles on finance, real estate, and getting mortgages.