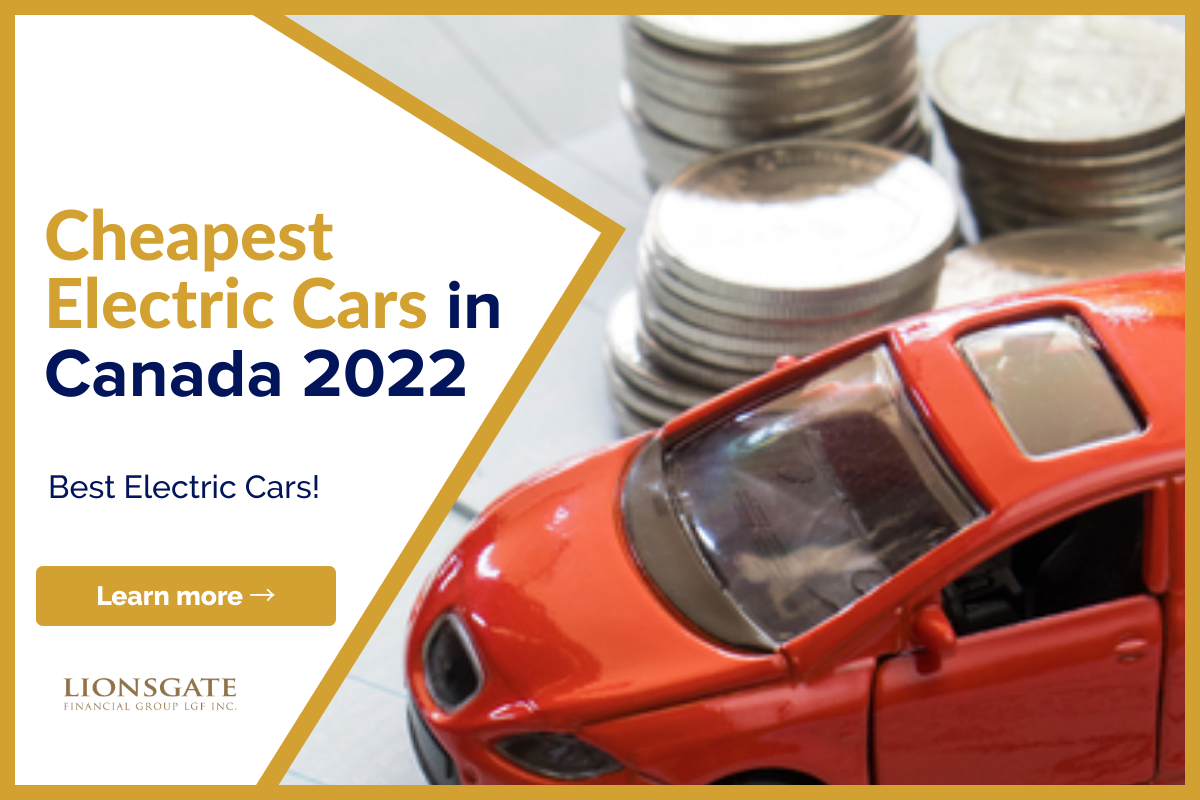 Cheapest Electric Cars in Canada 2022
Now you can listen to our blog post, "Cheapest Electric Cars in Canada 2022" while on the go.
If you're thinking of making the switch to an electric car, it's important to consider which model will best suit your needs. With so many popular, excellent options available today, it's a great time to make the change.
Canada has some of the best incentives in the world for electric vehicle shoppers and is currently at the forefront of electric car production. Additionally, gas prices are at an all-time high and growing every day. So, having an electric car is the need of the hour for everyone.
But before exploring the cheapest electric cars in Canada list, let's first find out what an electric car is exactly?
What is an Electric Car?
A battery and the electric motor in an electric car are designed to provide performance using electricity rather than the fuel. Electricity is employed as a source of energy in electric vehicles. They work by connecting to a charger and drawing power from the grid. The electricity is stored in a rechargeable battery, which drives an electric motor that propels the vehicle forward.
Electric vehicles are divided into two categories: plug-in hybrids and fully electric vehicles.
Plug-Electric
A plug-hybrid car has a gasoline engine and a much larger battery that is charged by an external power source. The car is powered by electricity when the battery is charged. The gasoline engine is turned off and only starts up when the battery is entirely depleted.
Plug-in hybrids, which can run on both gasoline and electricity, provide versatility and fuel savings. It is more cost-effective to drive on an electric battery rather than using gas for short distances. Long journeys, on the other hand, can rely on the gasoline engine as a backup.
Fully Electric
Because there is no engine in a fully electric automobile, it runs entirely on electricity. Fully electric vehicles have larger and more powerful batteries that can function over longer distances because they can't rely on a gasoline engine as a backup.
The Benefits and Drawbacks of Owning an Electric Vehicle
There are numerous advantages to owning an electric vehicle:
Fewer repairs and maintenance costs: Because electric automobiles' components are more complex and durable, they don't require the same level of maintenance as traditional vehicles. Oil changes, coolant flushes, filters, batteries, and other car repairs will cost less.
Gasoline savings: You may save a lot of money by reducing your fuel consumption. The average person travels approximately 20,000 kilometres per year, which can cost up to $2,000 in petrol. You will save 100% of this money if your automobile is totally electric.
Better for the environment: Because electric automobiles do not release carbon dioxide while in use, they help to reduce greenhouse gas emissions.
Smooth driving: Because electric cars have no engine or transmission noise, they provide a pleasant and relaxing driving experience. In addition, because they accelerate faster than ordinary automobiles, they feel lighter and more nimble while driving.
Despite the benefits of electric vehicles, you should be aware of the following disadvantages:
Higher price tag: Electric automobiles cost between $30,000 and $45,000, which is slightly more than ordinary cars.
Limited Driving Range: An electric car's range is normally between 80 and 160 kilometres before it needs to be recharged. As a result, they're not the best car for a long trip; you may easily become trapped without a charging station nearby.
Long recharging time: Depending on the model, fully charging an electric automobile might take anywhere from 4 to 20 hours.
Limited choice: Due to the fact that the electric car market is still in its early stages, there are only a few manufacturers and models to select from.
Cheapest Electric Cars in Canada
Here is the list of the 3 cheapest electric cars in Canada, that provide the best value for your money.
Ford Fusion Energi
This midsize car, one of the cheapest hybrids on the market, was first debuted in 2013, and Ford's continual updates have kept it relevant.
Roomy seats, heated side mirrors, an intuitive infotainment system, and a high-quality, large interior cabin distinguish this hybrid. It has a lot of basic features and can travel at highway speeds extremely quietly.
Despite its appealing pricing, this vehicle has a few flaws, including poor handling, a small trunk, and a short driving range. The suggested retail price of this vehicle is $32,930 and it is in the category of a plug-in hybrid. With its 42 km driving range, it needs up to 2 hours of charging time.
Toyota Prius Prime
The Toyota Prius Prime is a fantastic blend of cutting-edge smart technology, incredible fuel efficiency, and a luxurious interior. The 2020 model has a new infotainment system as well as a fifth seat and two additional USB outlets in the back seat.
For individuals wishing to drive around town, the Prius Prime's short electric driving range is ideal. It's worth looking at because of its low price and good fuel economy.
The vehicle does have several flaws, such as a short cargo room and slow acceleration. When driving on bumpy surfaces, things can get a little tumultuous. The suggested retail price of this vehicle is $32,990 and it falls in the plug-in hybrid category. With a driving range of 40 km, it needs 2 hours of charging time.
Volkswagen e-golf
Volkswagen's e-golf is the company's first foray into the fully electric vehicle industry. The hatchback comes with a high-end interior, different energy-saving technology, and plenty of trunk room.
The outward and interior styling and design of the electric version of the Golf are quite close to that of the standard version, with just minor differences. While it isn't the most visually appealing vehicle, it provides a comfortable ride, superior construction, and the usability of a normal Golf.
The short driving range is a significant disadvantage that may be undesirable to individuals who rely on a completely electric car for long excursions. The retail price of this version is $37,895 and it falls in the fully electric category. With 198 km of electric driving range, this electric car needs 5.3 hours of charging time to be fully charged.
The Bottom Line
If you're in the market for a new vehicle, the hefty sticker price of an electric vehicle may cause some trepidation. However, when you consider the money you'll save on gas, repairs, and maintenance, an electric car may be the better option in the long run. If you are looking for loans or other financing options to purchase an electric car, Lionsgate Financial can help.
At Lionsgate, we specialize in helping people get the extra cash they need, obtain funding for private mortgages, as well as for other real estate transactions. If you are looking to buy land in Canada, get a mortgage or apply for a loan, fill out the form below. Or, You can leave us a message and we will try to connect you with local lenders and sources that best meet your needs.
If you found this article helpful, please share it on your timeline and with someone you care about. Also, visit our blog to read similar helpful articles on finance, real estate, and getting mortgages.