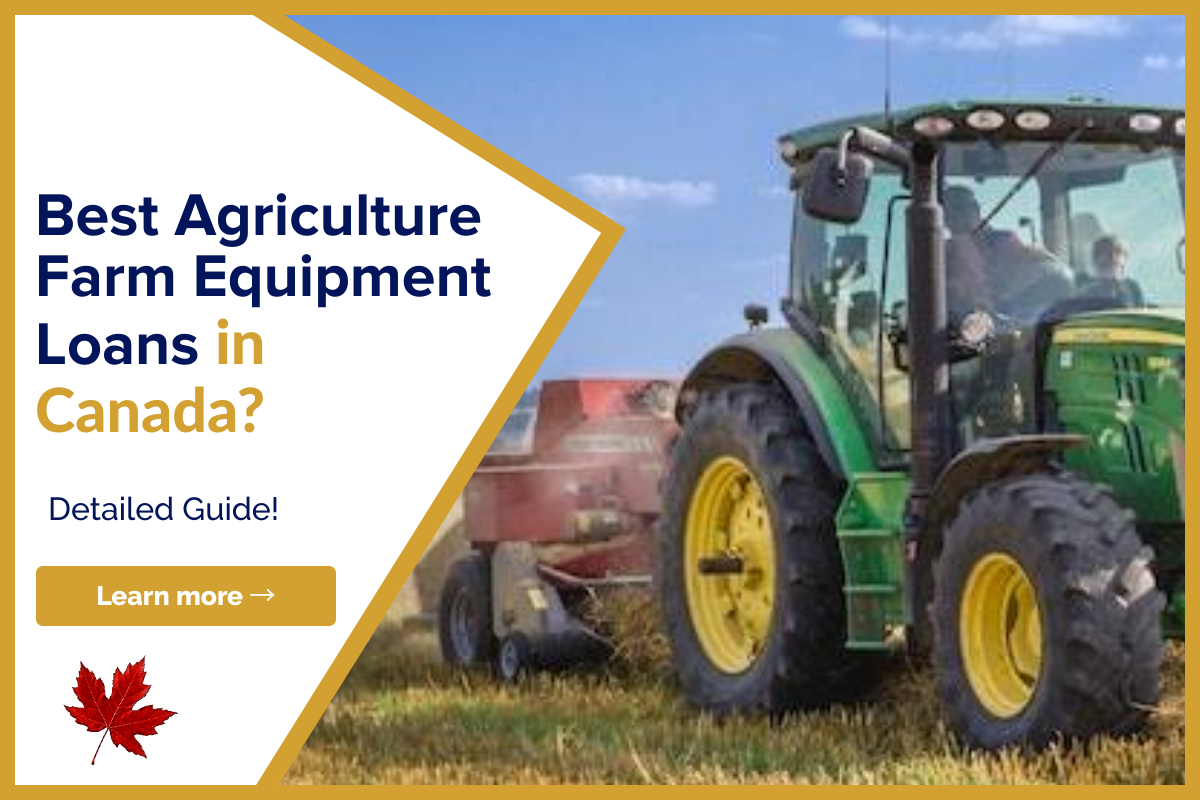 Best Agriculture Farm Equipment Loans in Canada
Now you can listen to our blog post, "Best Agriculture Farm Equipment Loans in Canada", while on the go.
You have two major alternatives for getting the finance you need for the equipment you need to help establish and expand your farm or agricultural business. Financing for purchasing new equipment or utilising your current equipment inventory as collateral to obtain extra money.
Buying New Or Used Farm Equipment
A successful farm operation requires a lot of dedication and frequently the correct specialised equipment. However, buying a substantial farming equipment, like tractors, is expensive. This is where a loan for farm equipment can be helpful. The appropriate equipment for your needs can be bought with the help of a farm equipment loan, which will also help your farm become more productive and profitable.
Getting Ready to Apply for Financing for Farm Equipment
Many lenders in Canada provide loans for farm equipment, each of which will have slightly different requirements for acceptance.
However, because financing for farm equipment sometimes involves large sums of money, getting approved may be more complicated than it would be for a standard instalment loan. Therefore, be sure to take the following things into account before applying:
1. What kind of equipment do you require?
The size and cost of the equipment you need can vary depending on the type of farm you own. For instance, if veggies are your primary product, you could need a tractor and other power equipment. Dairy farming requires fewer cars, but lots of tools are still needed to feed, shelter, and milk your cows.
It's possible that you'd like to buy brand-new things straight away because they might last longer than used ones. But what happens when you include fuel, insurance, and routine maintenance? Consider carefully the components you can genuinely buy as well as those that are absolutely required for your operation.
2. In what ways can the new machinery help your business expand?
Even a successful farm can run into financial difficulties, many of which can be related to equipment that is either out of the owner's price range or just not necessary for their business. Before you apply for financing, weigh the potential financial effects of the equipment against the long-term benefits to your company.
3. How is your credit rating currently doing?
Most lenders will want to verify your personal credit when you seek a sizable amount of loan to ensure that you are financially responsible. You'll find it simpler to obtain acceptance for additional credit and a better interest rate if you have a high credit score (660 to 900), which indicates that you've been reliable with your other credit-related debt payments.
Unfortunately, getting financing will become more difficult and expensive as your credit score gets closer to the "poor" range (300-600), since it indicates a higher likelihood of future payment default. As a result, it could be a better option to work on raising your score before applying.
4. Are You Ready To Address Revenue, Debt, And Profitability Questions?
When you apply for a farm equipment loan, the lender will want to see a strong business plan because it might be a sizable sum of money. Additionally, you should be equipped to respond to a range of queries, including:
How much money do you estimate your farm to make each month or annually?
Do you owe any other debts or have a mortgage on the currently active property?
How much money can you expect to make after paying off your current debts?
How much are your company's assets (such as its cars, buildings, etc.) worth on the market?
Do you have a partner in business or a guarantor for a loan? (If so, they must be ready to respond to inquiries of a similar nature.)
What Kind Of Farm Machinery Can I Buy?
The amount of the loan you are authorised for will depend on your credit score and general financial situation, but with enough funding, you can buy practically any type of farming equipment you require, including but not limited to:
Tractors
Loaders
Harvesters
Feeders
Utility automobiles
greenhouse machinery
Enclosures and fencing
Applicators & Sprayers
Systems for ventilation and illumination
Asset-Based Loans for Agriculture and Farming
The best speciality farming equipment is frequently stored in entire barns by seasoned farmers and landowners who own agricultural properties as they wait for the season to begin. You can use this form of equity well when your company needs modifications or repairs.
You can get loans with reduced interest rates by using your agricultural equipment as collateral, which would minimise the cost of much-needed modifications.
What Is Asset-Based Financing?
When it comes to financing for agricultural equipment, most loans that a lender will provide are asset-based loans, which means that the machine, tool, or vehicle you're trying to buy will be held as collateral until you've finished your repayment plan. The lender will hold title to the asset until that time and have the authority to reclaim it if you fall behind on payments by a significant margin.
Alternatively, you may exchange a typical instalment loan for the title to the farm machinery you already own. However, whatever asset you offer must be valuable enough for your lender to make back any losses if they need to seize and sell it, which is a remote possibility. Since the asset's title serves as security for the lender, these choices are called "secured" loans.
The Benefits And Drawbacks Of Securing A Loan With Your Farm Equipment
Asset-based finance can help farm owners in many ways, but potential hazards also need to be considered.
Benefits
Larger Loan Amount: Because your agricultural equipment provides security, you can be given a larger loan amount than you would with a typical unsecured loan. Additionally, you might be eligible for a lower, more affordable interest rate, which could end up saving you money over time.
Better Payback Terms: Some lenders will also grant you a longer repayment period and waive any fees associated with early loan repayment. This can help farmers like you manage their financial flow more effectively.
Extend Your Business: By putting up current assets, you may be able to raise more money, which you can then utilise to enhance and expand your farming operation in various ways.
Purchase The Tools You Need: The wrong tools can clog up your business, costing you a lot of time and money. You can finance the equipment required to manage your farming operation with the correct loan.
Drawbacks
Penalties for Missed Payments: Repeatedly skipping payments on your loan can lead to late fees, increased interest, unmanageable debt, and even adverse repercussions on your credit. Your lender may take away your asset and sell it at auction to recuperate payment if you consistently skip payments and fail to explain why.
Collections: If you don't pay your obligations for long enough, you can have to deal with a collection agency or, in the worst-case scenario, file for bankruptcy.
Make sure to weigh your options before applying with any lender if you're looking for a farm equipment loan in your province or territory. You can obtain multiple quotes from various lenders using loan comparison websites with just one application.
Need Some Extra Cash to Help Your Finances? Try Lionsgate!
Are you struggling with your financial needs and need some extra cash? Lionsgate can help. Just fill out the form below, letting us know all your money or mortgage requirements, and we will find the best lender for you. Amazing thing? The process is free, and you can quit it at any time.
We have a team of experts that analyze your requirements and pick the best lender for you with prudent advice.
Note: Please give your authentic information while completing the form below.
Please share this article on your social media profiles if you found it helpful. Also, visit our blog to read similar helpful articles on finance, real estate, and getting mortgages.