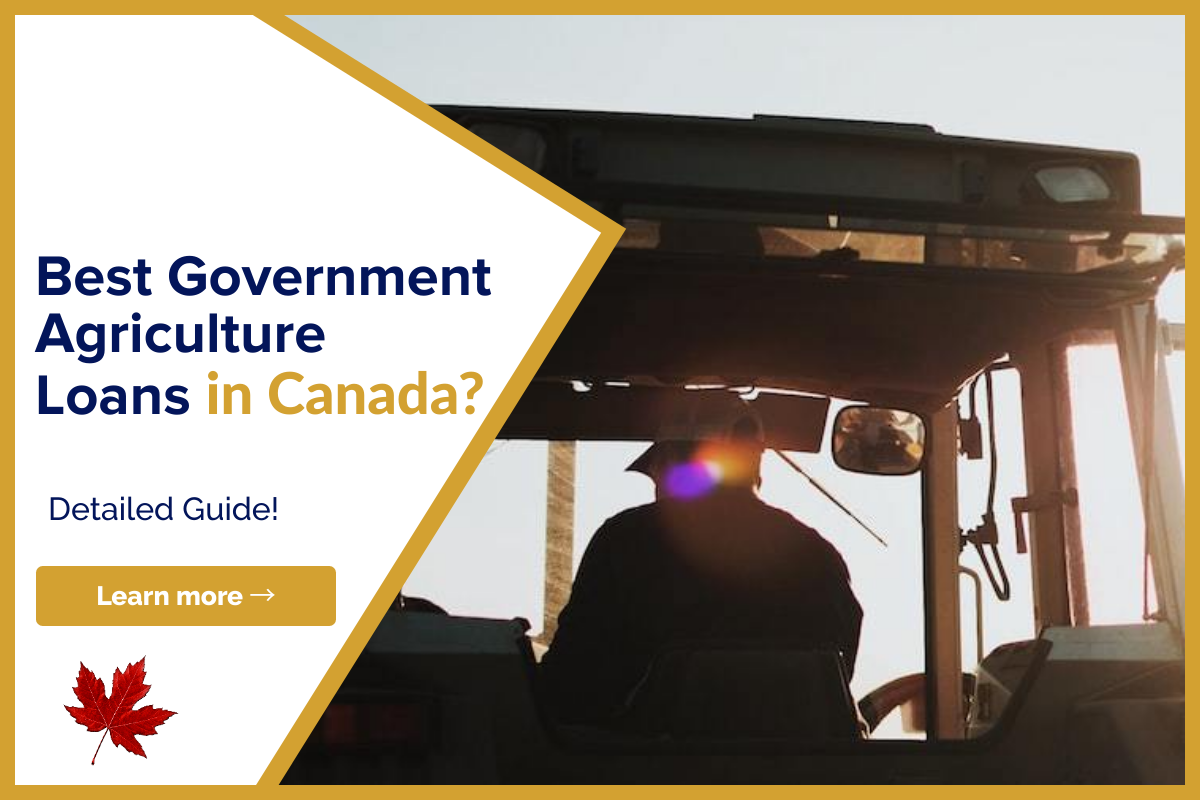 Best Government Agriculture Loans in Canada
Now you can listen to our blog post, "Best Government Agriculture Loans in Canada", while on the go.
In order to defray the cost of innovative projects, capital investments, and strategic growth, Canadian agricultural firms have access to a wide spectrum of finance. The federal and provincial governments offer targeted grants and government agriculture loans to support business development and diversification because several agribusinesses operate from coast to coast.
As a result, businesses have access to funding ranging from thousands to millions of dollars to implement agricultural projects that foster robust, long-term economic prospects.
Government loans and grants for agriculture can help expand export markets, workforce development, technology adoption, and research.
Access to several of the best government funding programmes is advantageous to Canadian agricultural and food processing enterprises. One of the main advantages of government funding for agrarian growth is how flexible money is to support various initiatives and the enormous number of available programmes.
Government Agriculture Programs for Agriculture and Agri-Food
Although funding sources can be accessed on a project-by-project basis, we advise using grants and loans as part of your overall growth strategy. To do this, we recommend all manufacturers to consider their government funding plan.
In order to maximise funding potential, government funding plans take a proactive approach by outlining all upcoming key project costs and then matching them with financing programmes.
Want to know more about creating a successful financial strategy with managing, financing, and growing a profitable agribusiness? Download the free Canadian Agri-Business Growth Guide for a thorough research review of current trends, tools, and data analytics on Canada's enormous agriculture industry.
Top Grants for Agriculture in Canada
These are some of the best funding opportunities the Government of Canada offers for agricultural, agri-food, and beverage enterprises around the nation.
Find out how they can contribute to the expansion and innovation of your business:
1. Network for Canadian Food Innovation (CFIN)
The CFIN organisation provides two programmes to aid Canadian food and beverage companies wanting to innovate by researching and developing new goods, methods, and other things. The Innovation Booster stream and the Challenge stream are the two programmes.
Amount: For the Innovation Booster stream, Canadian enterprises are eligible to receive up to 50% of qualifying costs between $10,000 and $100,000, and for the Challenge stream, up to 50% of eligible costs between $500,000 and $2 million.
The eligibility:  Requirements change depending on the stream. However, each application must contain at least one food-related Canadian company with no more than 500 full-time equivalents (FTE) workers.
2. CanExport For SMEs
The CanExport programme offers financial aid from the Canadian government to promote exports, including participation in trade fairs and official trade missions. Businesses can reduce the risk associated with evaluating and developing their export markets by gaining access to additional finance, thereby assisting in accelerating global expansion.
Amount: Canadian companies are eligible for up to 50% funding, with a maximum of $50,000 award per project.
Eligibility: Businesses incorporated in Canada that have been profitable for three or more years are eligible. Must continue to employ one to 500 full-time workers and generate yearly revenues between $100,000 and $100,000,000.
3. Jobs Canada Grant (CJG)
The Canada Job Grant is a financial initiative from the Canadian government created to lower the price of offering both new and existing employees third-party skills training. It is offered across Canada, and each province and territory is in charge of co-branding and creating a system that is appropriate for its workforce and corporate structure. Learn More
Amount: Up to a maximum of $5,000 to $15,000 per trainee in non-repayable grant contributions covering 50–100% of training expenditures (such as courses, tests, textbooks, software resources, etc.).
Eligibility: Canadian SME with $2M in liability insurance is eligible. Trainees must have refugee status or be permanent residents of Canada.
4. Agricultural Partnership of Canada (Provincial Streams)
A federal-provincial-territorial alliance called the Canadian Agriculture Partnership (CAP) combines resources to offer targeted agricultural support initiatives across the nation. Food producers and processors should look into the prospects present in their operating province(s) and its typical federal streams to uncover additional chances. Learn More
Amount: Depends on application type, province, and project focus.
Eligibility: Depends on application type, province, and project focus.
5. Employing Grants
Canada-wide hiring awards are generally accessible to assist in integrating new, youthful workers into the industrial sector. Money is typically based on the sort of applicant hired and the length of time they work for your business; intern hiring receives less financing, whereas recent grads receive more funding. Learn More
Amount: Depends on the sort of candidate. Businesses may benefit from incentives of $5,000 to $7,000 for each additional new hire when interns or Co-op students are involved. Companies may be able to use incentives of $12,000 to $15,000 per new recruit with the aid of recent grads.
Eligibility: For-profit and nonprofit organisations in Canada that can offer valuable job opportunities are eligible. Candidates must be enrolled in (or have recently completed) a STEM or business programme.
How to Get Around The Government Funding Process
The first step in creating and implementing a strategic government financing plan is to find manufacturing grants and loans that could finance the next projects of your company. Mentor Works can assist with this crucial first step towards fundraising success.
Simply get in touch with us to discuss how to get money for your following growth projects so that our staff can assist you with this discovery and application process.
Need Some Extra Cash to Help Your Finances? Try Lionsgate!
Are you struggling with your financial needs and need some extra cash? Lionsgate can help. Just fill out the form below, letting us know all your money or mortgage requirements, and we will find the best lender for you. Amazing thing? The process is free, and you can quit it at any time.
We have a team of experts that analyze your requirements and pick the best lender for you with prudent advice.
Note: Please give your authentic information while completing the form below.
Please share this article on your social media profiles if you found it helpful. Also, visit our blog to read similar helpful articles on finance, real estate, and getting mortgages.