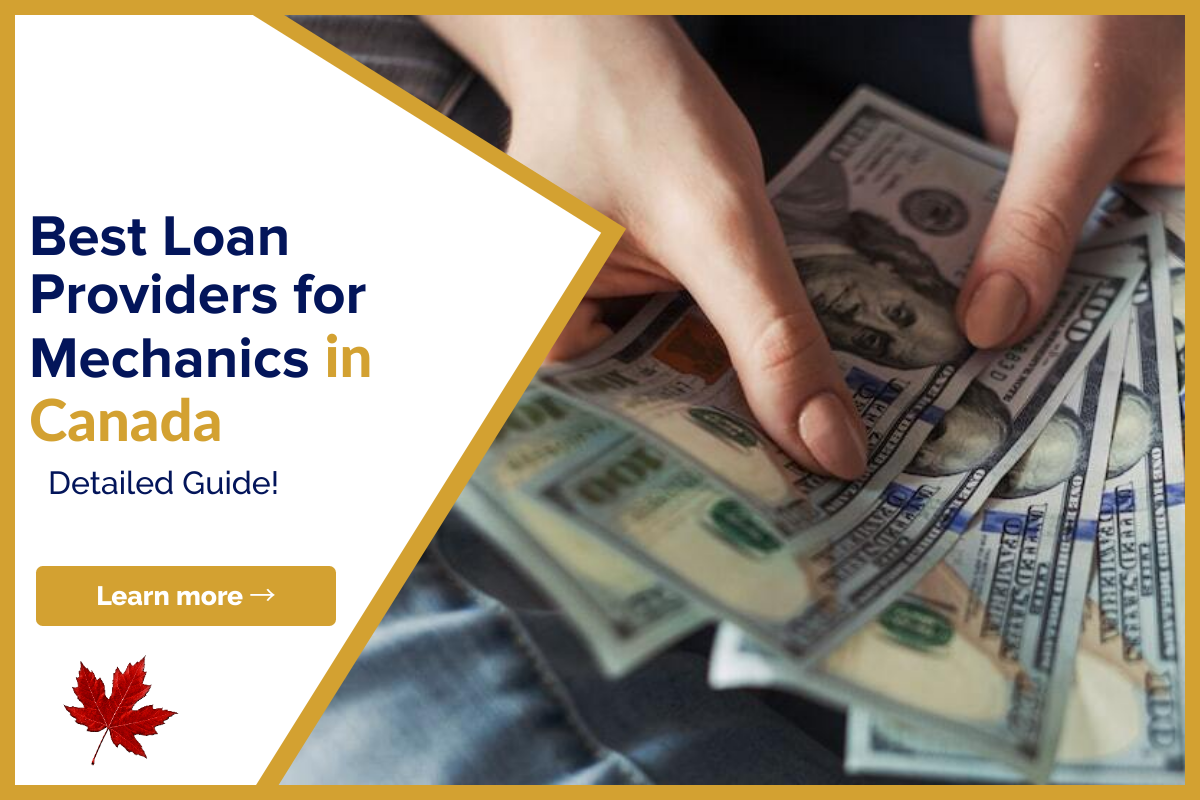 Best Loan Providers for Mechanics in Canada
Running a successful mechanic business in Canada requires enough financial resources. For this, many consider the option of securing a business loan. Although a business loan can be a crucial step in expanding operations, purchasing equipment, and managing cash flow, it can turn into a financial disaster if loan providers are not selected wisely.
So, in this article, we will explore the best business loan providers for mechanics in Canada, with a deep understanding of all the loan providers' terms. We will also consider factors such as loan options, terms, eligibility criteria, flexibility, reputation, and customer reviews, to provide you with the best option for your business. 
Let's first start with the things you need to keep in mind when choosing a loan provider in Canada.
Factors to Consider When Choosing Business Loan Providers
Before exploring the best loan providers for mechanics, it is important to understand the factors to consider when selecting a business loan provider.
Loan options and terms: When selecting a business loan provider, look for lenders that offer a variety of loan options, including equipment financing and working capital loans. Carefully check the loan amounts, repayment terms, interest rates, and fees associated with each option.
Eligibility criteria and application process: As a mechanics business, review the requirements you need to meet to qualify for the loan. Evaluate the lender's application process for its simplicity and efficiency.
Flexibility and customization options: Every individual has different needs and thus requires a special customized plan for his business. So, when choosing a lender, make sure it provides flexibility in tailoring loans to suit your specific business needs. Go for the one which has refinancing or loan restructuring options.
Reputation and customer reviews: Research the lender's reputation in the industry and consider feedback from other mechanics who have worked with them. It is essential especially when you are starting your first business. 
Once you know the factors or precautions of taking a loan for a mechanics business, it is time to delve into the best business loan providers for mechanics in Canada. 
Best Business Loan Providers for Mechanics in Canada
SharpShooter Funding
Who is SharpShooter Funding? 
SharpShooter Funding is a company that offers various solutions to meet the funding needs of Canadian small business owners. It provides an alternative option for business owners who have been rejected by banks and credit unions and are seeking additional capital to support and expand their businesses.
What Business Financing Products Does SharpShooter Offer? 
SharpShooter Funding offers a range of business funding solutions. Here are some of their notable products:
Working Capital: This is one of the primary solutions offered by SharpShooter. It involves receiving a lump sum of money that can be used to finance short-term business goals, such as small investments, payroll bonuses, and inventory. The loan amount can go up to $300,000, with a repayment term of 6 to 24 months. Instalments can be made on a weekly or daily basis.
Unsecured Business Funding: SharpShooter provides options for unsecured funding, including short or long-term loans and business lines of credit. The advantage is that no collateral is required for approval, but interest rates may be higher. This means that your assets, such as vehicles or buildings, will not be at risk if you default on payments.
Merchant Card Processing: If your business accepts debit and credit card transactions, SharpShooter offers merchant terminals that can improve cash flow, provide direct access to working capital, and add convenience to your operations.
Commercial Mortgages: SharpShooter offers commercial mortgages that can be used to finance buildings or real estate properties for your business. Even clients with bad credit can apply for these mortgages.
Start-Up Funding: SharpShooter not only funds existing businesses but also provides start-up funding. They offer working capital loans of up to $150,000 for new businesses, with repayment terms ranging from 6 months to 4 years and interest rates between 7.9% and 19.9%. Other 
start-up funding options include business credit cards, small business grants, BDC microloans, creative crowdfunding, and the possibility of financing business equipment and using it as collateral for a secured loan with better conditions.
OnDeck
Who is OnDeck?
OnDeck's primary objective is to assist Canadian business owners in obtaining the necessary capital, support, and tools to foster business growth. They believe that entrepreneurs should be able to concentrate on what truly matters rather than worrying about securing financing. OnDeck offers responsible business loans and provides excellent customer service, ensuring that funding can be obtained in as little as 24 hours.
Intelligent Financial Solutions
OnDeck prioritizes the evaluation of a company's success rather than solely relying on personal credit history. This approach enables them to approve a greater number of applicants, allowing businesses to enhance their cash flow, recruit skilled employees, expand to additional locations, or upgrade existing equipment.
OnDeck Business Financing Solutions: Key Features
OnDeck offers several business financing solutions, each with its own key features. It's important to discuss these options with OnDeck's sales representatives before applying to determine which solution is most suitable for your current financial situation.
Short-term financing for small businesses looking to grow.

Funds are directly deposited into your business bank account.

Repayment is made in installments.

Fixed interest rate for easier calculation and budgeting.

Loan Amount: $5,000 – $300,000.

Available Term: 6 – 18 months.

Repayment Type: Daily or weekly installments.

Interest Rates: 8% – 29% APR.
Revolving credit line that replenishes based on monthly repayments.

Withdraw funds as needed, with interest charged only on outstanding balances.

Minimum or multiple monthly payments can be made.

Loan Amount: $6,000 – $50,000 (withdrawal amount: $1,000 – $10,000).

Available Term: 6 or 12 months.

Repayment Type: Monthly balances based on borrowing amount.

Interest Rate: Starting at 19.99% APR (average: 25.27%).
Flex Funds (Merchant Cash Advance):
Access additional capital by leveraging a portion of daily sales.

Financing is based on future credit and debit card receivables.

Longer repayment term compared to loans or lines of credit.

Loan Amount: $5,000 – $300,000.

Available Term: Flexible.

Repayment Type: Daily installments.

Interest Rate: Variable percentage of your sales.
It's important to note that OnDeck reports activity to Canadian credit bureaus, meaning that applying for financing and making payments will be recorded on your credit report and affect your credit score.
Comparison of Business Loan Providers
Comparing the loan options and terms, eligibility criteria, flexibility, and reputation of the aforementioned providers, mechanics can make an informed decision based on their specific business requirements and preferences. It is essential to consider factors such as loan amounts, interest rates, repayment periods, and customer reviews to choose the best business loan provider.
Conclusion
Securing the right business loan can significantly impact the success and growth of a mechanic business in Canada. Considering factors such as loan options, terms, eligibility criteria, flexibility, reputation, and customer reviews, mechanics can choose the best business loan provider to meet their financial needs. 
Conduct thorough research, assess various lenders, and carefully evaluate loan terms to make a well-informed decision. By partnering with a reliable and suitable loan provider, mechanics can access the necessary funds to expand their operations, purchase equipment, and navigate the challenges of managing cash flow effectively.
Need Some Extra Cash to Help Your Finances? Try Lionsgate!
Are you struggling with your financial needs and need some extra cash? Lionsgate can help. Just fill out the form below, letting us know all your money or mortgage requirements, and we will find the best lender for you. Amazing thing? The process is free, and you can quit it at any time.
We have a team of experts that analyze your requirements and pick the best lender for you with prudent advice.
Note: Please give your authentic information while completing the form below.
Please share this article on your social media profiles if you found it helpful. Also, visit our blog to read similar helpful articles on finance, real estate, and getting mortgages.