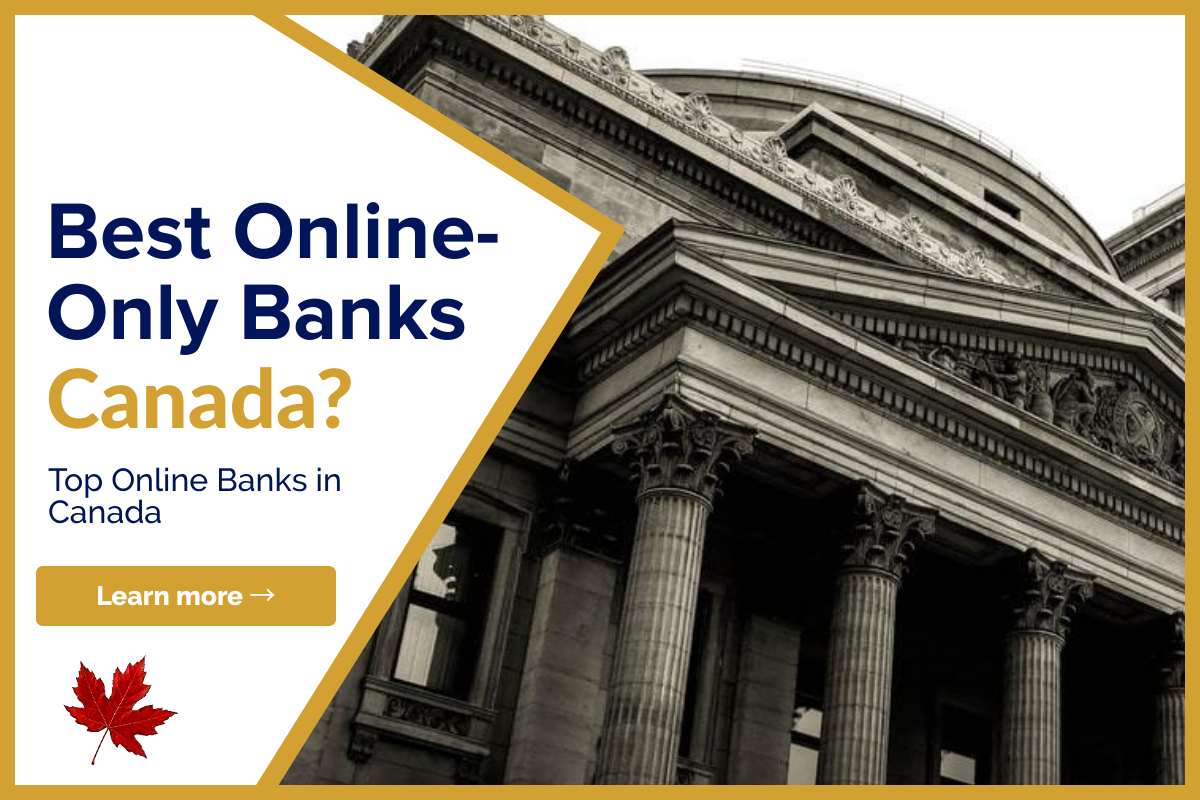 Best Online-Only Banks 2022
Now you can listen to our blog post, "Best Online-Only Banks 2022" while on the go.
Choosing an online-only bank is becoming more and more popular. The convenience of doing everything from your phone or computer, combined with the benefits of banking online without a physical branch, is a big part of the attraction. But let's get down to brass tacks: Which online only banks in Canada come out on top? In this article, I'll present you with one best online-only banks in 2022.
Tangerine
Tangerine is one of the most well-known online banks. Tangerine, a Scotiabank affiliate, was one of the first branchless virtual banks in Canada and has a sizable customer base. The online bank runs deals on a regular basis to entice new customers, and once you're in, you'll have access to a wealth of additional products.
Tangerine does not have any physical locations, however, there are Tangerine cafes in Toronto, Vancouver, Calgary, and Montreal where customers can interact with employees. Clients can also use any of the more than 3,500 ATMs located across Canada for free.
For a limited time, Tangerine is giving 2.15 percent interest on your first Tangerine Savings Account for 5 months and $200 when you move to a daily bank account.
Savings Account
Tangerine has almost every form of account and product you'd find at a traditional major bank, including the following:
Savings Accounts: 0.10 percent High-Interest Savings Account
0.10 percent in a tax-free savings account
0.10 percent for a retirement savings plan
0.10 percent Retirement Income Fund in US Dollars (RIF) 0.15 percent in a savings account
0.20 percent for a Children's Savings Account (for children up to the age of 16).
Savings accounts for businesses can earn up to 0.55 percent interest.
Chequing Account
0.01 percent from $0.00 to $49,999.99
$49,999.99 to $199,999.99: 0.05 percentage point
$100,000 and up: 0.10 percentage point
Money-Back Credit Cards from Tangerine
Tangerine provides two credit cards with no annual fee that allow you to earn cashback on your everyday transactions.
MONEY-BACK CREDIT CARD
There is no annual charge with this card.
Earn up to 2% cashback in up to three different categories.
19.95 percentage point
WORLD MASTERCARD
Enjoy all of the benefits of the Mastercard Money-Back Credit Card, plus travel rewards.
Subscription and on-demand services
Insurance for a rental car
Insurance for mobile devices
Experience the VIP lounge
Reduce your travel anxiety with these credit cards that provide access to airport lounges.
Accounts for Investing
Tangerine offers a variety of investment accounts with competitive interest rates, including the following:
Savings Account That Isn't Taxed (TFSA)
Plan for Retirement Savings (RSP)
Retirement Income Fund for Non-Registered Investment Accounts (RIF)
Loans
a 

line 

of 

credit 

secured 

by 

your 

home 

(HELOC)

a 

credit 

line

A loan

from 

an 

RRSP
Is it Safe to Use Online-Only Banks?
Given the sensitivity of the information circulating in cyberspace, it's reasonable that some customers might be apprehensive to conduct all of their banking online. The banks listed above, on the other hand, are all affiliated with reputable and long-standing Canadian banks and credit unions. In the event that one of these banks fails, deposits (up to $100,000) are protected by the Canada Deposit Insurance Corporation (CDIC).
These banks also encrypt your information, making security breaches improbable. However, choosing a strong password is always a good idea to make hacking practically impossible.
The Benefits and Drawbacks of Online-Only Banks
Is it time to make the transition to an online bank? Before you do, you should be aware of the advantages and disadvantages of various types of financial institutions.
Pros
Convenience: Perhaps the most significant advantage of an online bank is the convenience it provides. There's no need to visit your bank and speak with a teller in person. Instead, you can conduct all of your banking from the convenience of your own home. This includes loan applications such as mortgages and personal loans. Simply fill out an application and wait for approval, all from the comfort of your own home.
Accessibility: You can perform your banking whenever you want, 24 hours a day, 7 days a week because you're not bound by the hours of operation of a bank branch. Plus, you won't have to wait in line behind anyone or try to fit your banking into your hectic schedule.
Products: As you can see from the above list of online banks, many of them provide all of the services that you would expect from a traditional bank. Savings accounts, chequing accounts, investment accounts, lending products, and credit cards are all examples of this.
Fees are low: Because online banks have almost no overhead, they can pass those savings on to you in the shape of lower fees and better interest rates.
Cons
No in-person service available: While this may be acceptable for many customers, some prefer to speak with a bank teller in person.
No safe deposit boxes available:
You won't get the same level of support from an online bank if you use banks to keep your belongings safe.
Is It Necessary To Use An Online Bank?
At the end of the day, whether or not you utilise an online-only bank is a personal choice. There's little reason not to use these platforms if you like the notion of having 24/7 access to banking, appreciate minimal fees, and are comfortable conducting all of your banking online.
They're secure, convenient, and provide the level of customer service you'd expect from a bank. If you do decide to go with an online-only bank, make sure you pick one that offers the entire range of accounts and services that you require.
The Bottom Line
At Lionsgate, we specialize in helping people get the extra cash they need, obtain funding for private mortgages, as well as for other real estate transactions. If you are looking to buy land in Canada, get a mortgage or apply for a loan, fill out the form below. Or, You can leave us a message and we will try to connect you with local lenders and sources that best meet your needs.
If you found this article helpful, please share it on your timeline and with someone you care about. Also, visit our blog to read similar helpful articles on finance, real estate, and getting mortgages.