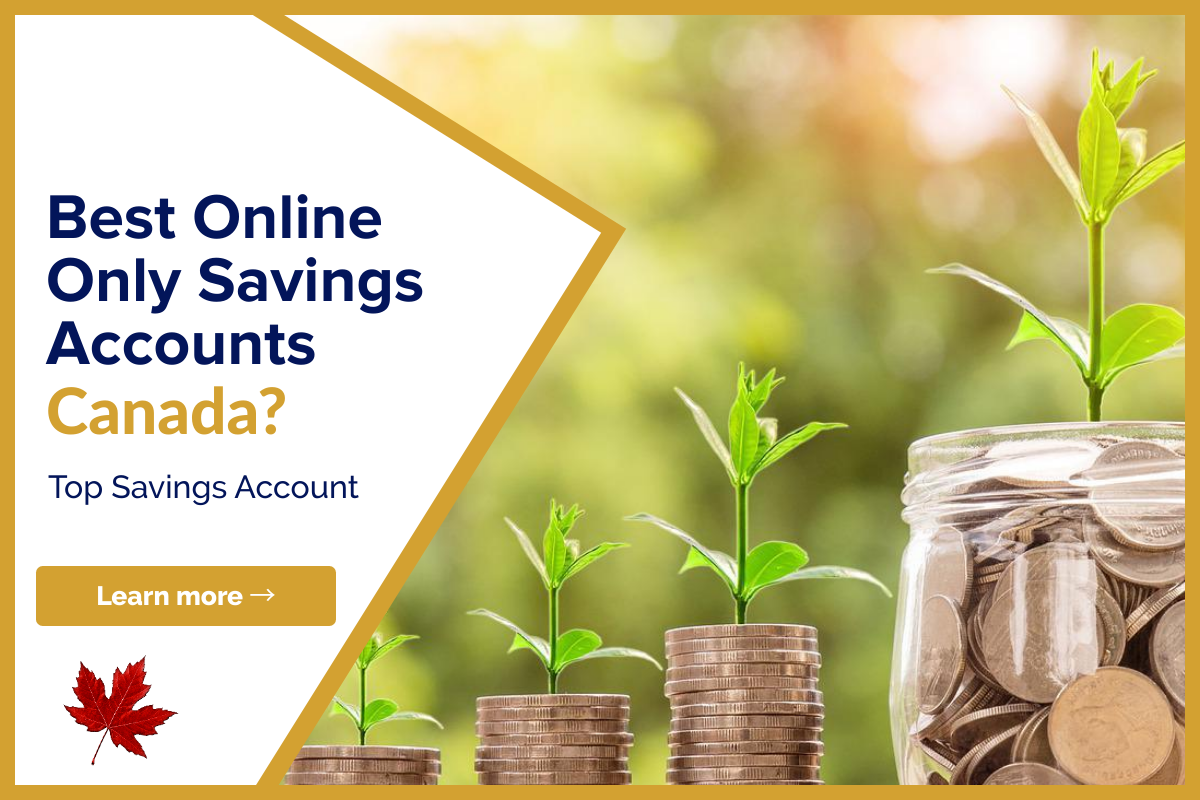 Best Online Only Savings Accounts 2022
Now you can listen to our blog post, "Best Online-Only Savings Accounts 2022" while on the go.
Looking for the best online-only savings accounts can be a tricky task. Every bank is offering new promotions, so it can get overwhelming. That's why we've done all the work. We've analyzed dozens of top banks to find out which ones are offering the best savings accounts and CD rates in each category.
We scoured the web for the top online-only savings accounts with competitive interest rates and favourable terms, and hand-picked the best.
Simplii Financial Savings Account
Simplii Financial is a well-known online bank in Canada, thanks to its wide range of financial products and association with CIBC, a well-known bank. SimpliiTM offers a high-interest savings account with a current promotional rate of 2.20 per cent for new account users, which is a market-leading rate. There is no minimum balance requirement, no monthly fees, and recurring transfers can be set up to make saving a snap.
The interest rate of 0.10 per cent every day
The 2.20 per cent promotional rate will expire on April 30, 2022.
Deposits up to $100,000 are accepted.
There are some restrictions, and the rate only applies to qualifying deposits.
No requirement for a minimum balance.
No monthly costs.
There are no transaction costs.
Deposits are made automatically.
The CDIC insures your assets.
Tangerine 

Savings 

Account 
It is
a 
type 
of 
savings 
account 
that 
allows 
you 
to 
save 
money.
Tangerine 
was 
one 
of 
the 
first 
online-only 
banks 
to 
emerge. 
It 
was 
once 
known 
as 
ING 
Direct, 
but 
Scotiabank 
currently 
owns 
it. 
It 
has 
a 
wide 
range 
of 
goods 
that 
are 
similar 
to 
those 
found 
in 
a 
regular 
brick-and-mortar 
bank. 
Tangerine's 
high-interest 
savings 
account 
is 
one 
of 
its 
most 
popular 
banking 
products. 
Tangerine's 
rates 
are 
substantially 
more 
competitive 
than 
traditional 
savings 
accounts, 
which 
offer 
very 
little 
interest.
You 
can 
establish 
a 
savings 
goal 
and 
track 
your 
progress 
with 
Tangerine's 
savings 
account. 
The 
Automatic 
Savings 
Program 
(ASP) 
is 
a 
completely 
free 
service. 
It 
enables 
you 
to 
make 
recurring 
transfers 
from 
your 
checking 
account 
to 
your 
savings 
account. 
This 
will 
assist 
you 
in 
achieving 
your 
financial 
objectives 
even 
more 
quickly. 
Simply 
set 
the 
amount 
and 
frequency 
of 
these 
transactions, 
and 
your 
savings 
will 
increase 
without 
any 
work 
or 
interaction.
When 

opening 

a 

savings 

account, 

new 

clients 

can 

earn 

2.15 

percent 

for 

the 

first 

five 

months. 

This 

special 

rate 

can 

be 

used 

for

deposits 

made 

into 

any 

other 

savings 

account, 

up 

to 

the 

maximum 

allowed 

by 

the 

account 

type

After 

the 

introductory 

time 

ends, 

get 

0.10 

percent 

interest.

There 

are 

no 

service 

fees.

Program 

for 

Automatic 

Savings 

(ASP)

There 

is 

no 

requirement 

for 

a 

minimum 

balance.
Wealthsimple Cash Savings Account
Wealthsimple is an online investing platform that also incorporates an online banking platform with high-interest savings accounts for digitally savvy investors. You can then link your savings account to any Wealthsimple investing accounts to help you increase your money more quickly.
Free and unlimited withdrawals, no minimum balances, and excellent interest rates are all available to account customers. Plus, the Wealthsimple Cash savings account functions similarly to a checking account, making banking easier. With one Wealthsimple Cash account, you can save and spend.
There are no monthly account fees.
There are no fees for low balances.
Get a 0.50 percent interest rate
Withdraw money from ATMs all throughout the country.
Deposits, transfers, and transactions are all free.
E-transfers are a convenient way to send money.
CIPF-protected encrypted data
Make a connection between your savings and investing accounts.
Savings Plus Account at EQ Bank
Equitable Bank is a trademark of Equitable Bank, a major Canadian bank with a long history. Because of its online-only business strategy, the bank has a low overhead and can pass those savings on to consumers in the form of high-interest rates. In fact, EQ Bank has one of the highest savings account interest rates in the industry, at 1.50 percent. * The digital bank is noted for its simple sign-up process, free transactions, and free transfers, in addition to its high rates.
The following are some of the benefits of the EQ Bank Savings Plus Account:
1.50 percent per day interest *
There are no monthly costs.
There is no requirement for a minimum balance.
Electronic fund transfers and EQ to EQ account transfers are also free.
Payment of bills is completely free.
Transferring money internationally at a low cost
Savings Account for Financial Savvy People
Motive Financial, formerly known as Canadian Direct Financial (CDF), is an online-only bank that offers high-interest savings accounts. You can earn between 1.100 percent and 0.500 percent interest depending on your account amount. Not only that, but Motive's savings account has no minimum balances or monthly fees, as well as free Interac e-transfers and CDIC insurance.
Interest rates range from 1.100 percent to 0.500 percent.
There is no requirement for a minimum balance.
There are no monthly costs.
Deposits that are completely free
Transfers between accounts are unlimited.
Every month, you get two free transactions.
Interac e-transfers are free.
The CDIC insures your assets.
What Should I Look For When Choosing An Online-Only Savings Account?
Certain criteria should be considered while choosing an online-only savings account, including the following:
Rates of Interest
Savings accounts are designed to assist you in saving money, thus the higher the interest rate, the faster your funds will increase.
Monthly Charges
Nobody wants to have a monthly charge thrown onto their account, so be sure the online-only savings accounts you're considering have one.
Maintaining a Minimum Balance
You don't want to be charged a fee if you go below a particular minimum balance threshold, therefore look for accounts with a low or no minimum balance requirement, just like you don't want to be charged a fee if you go below a specific monthly balance threshold.
Unless you intend to invest your money, the best option is to keep it in a high-interest savings account. However, instead of using traditional banking, you might want to try online-only savings account to benefit from cheap fees and the unparalleled convenience of banking online. And if you're searching for a good online-only savings account to put your money in, we think the accounts listed above should be on your list.
The Bottom Line
At Lionsgate, we specialize in helping people get the extra cash they need, obtain funding for private mortgages, as well as for other real estate transactions. If you are looking to buy land in Canada, get a mortgage or apply for a loan, fill out the form below. Or, You can leave us a message and we will try to connect you with local lenders and sources that best meet your needs.
If you found this article helpful, please share it on your timeline and with someone you care about. Also, visit our blog to read similar helpful articles on finance, real estate, and getting mortgages.