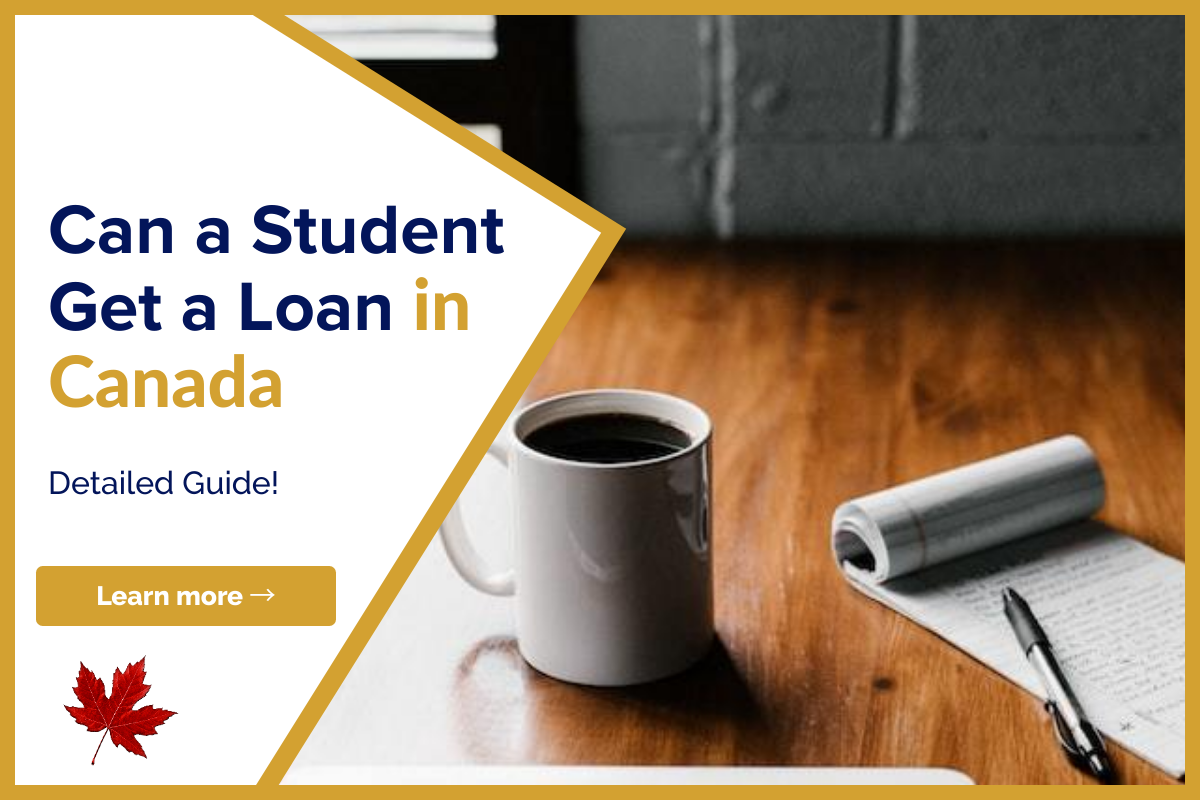 Can a Student Get a Loan in Canada?
Now you can listen to our blog post, "Can a Student Get a Loan In Canada" while on the go.
Every year, international students from all over the world come to Canada for higher education. Many of these students have financial obligations that may require bank loans to meet their objectives. Securing a loan can be a complicated process, even under the best of circumstances, and many international students may be completely new to Canada's financial landscape. 
Some may wonder if it is possible to secure it.
Am I eligible for a bank loan as an international student in Canada? Here's everything you need to know to get a line of credit if you're looking to pursue a degree in the Great North.
Scholarships and student loans
Scholarships and student loans are usually the best choices for international students looking to finance the cost of higher education. Scholarships and scholarships are available to many Canadian students, but these are often aimed at local students who are much more likely to receive them. Many international students will find scholarships and educational grants unavailable or very difficult to obtain. 
Still, there are resources available to help identify post-secondary scholarships and programs for which international students are eligible. Your institution may also have an international education office on campus that you can contact when looking for scholarships. Unlike loans, many scholarships do not require students to repay what they are awarded, so the extra effort is often worth it.
However, finding private funding on your own may be the quickest and most viable way to finance your college education. Student loans from private lenders often cover education and living expenses. can be used for both
Ontario and British Columbia have the highest number of international students in Canada, so private lenders in these areas may be familiar with student needs when it comes to lending. IRCC (Immigration, Refugees, and Citizenship Canada) expects international students to pay for their own higher education, but there is no formal ban on securing student loans for higher education. is not. Students should always familiarize themselves with the basics of Canadian interest rates before applying for a loan.
Consider an unsecured loan
Government loans are usually repaid when the contract is signed, but private lenders may have specific interest rates that must be settled once the loan is secured. Students with established credit histories may be best suited for unsecured loans as they do not require collateral to receive funds. 
With just a good credit rating, a high-income and well-paying job, or a low debt-to-income ratio, students can obtain unsecured loans to pay for books, housing, or other expenses. These loans help you reach the financial goals you need to set early in your career.
Canadian banks may be willing to provide education loans to international students only if a Canadian citizen co-signs the loan. International students who have relatives or close friends in Canada may find this option most appealing. Those who do not have a joint guarantor may find it difficult to obtain an education loan from a private bank. Some private companies, whose main business is to provide loans to international students, require that they study in a particular field (such as STEM) or be from a particular region in order to receive a loan. There may be.
Students seeking an unsecured loan will need:
A reliable credit history that proves you can pay back what you owe

Minimum credit score of 700 or above with most lenders

Credit history does not have significant adverse characteristics. B. Default on previous loans

Income verification method (e.g. payslip) or tax return

Low debt to income ratio, usually less than 40D
Obtaining a Secured Loan
Bank loans may be available even for international students without a proven credit history. Secured loans require certain assets, such as cars or rare antiques, to be posted as collateral in order to receive the loan. International students can use secured personal loans for almost any financial purpose, including books, transportation, and rent. It is important to understand that you will lose the assets you pledged as collateral if you do not repay your secure personal loan.
In fact, Global News reports that private loans may have much higher interest rates than government loans in Canada. International students who are concerned about meeting their financial obligations should thus consider private sources of funding before making a final choice. Government loans are often tax deductible and offer delayed repayment options, but this won't be an advantage to international students who are incapable of qualifying for federal loans.
Students pursuing secured loans will need the following:
A valuable asset (or assets) that can be put up as collateral in exchange for the loan; antiques, cars, investments, or future paychecks may qualify as collateral.

A minimum credit score of 600+ for most lenders

Some method of income verification (e.g., a paystub) or tax returns
Government options for international students
International students may not be able to secure a loan from the Canadian federal government, but their own governments back home may offer some assistance. Students from the United States who are studying in Canada may be eligible for US federal student aid programs, for instance. Provided that you meet the eligibility criteria, an American student studying abroad in Canada (or elsewhere) may find that this federal aid helps them grapple with tuition or everyday costs of living.
Those who aspire to study in Canada one day should thus consult their own federal government websites to see if they may qualify for federal aid that applies even when studying abroad. These loans may not be enough in and of themselves, however, so consider a personal loan or private student loan in order to finance the remainder of your expenses. Housing, transportation, tuition, books, meals, and personal devices like laptops and cellphones can be too expensive to afford on a government federal aid program alone.
Students pursuing a federal loan from the US will need the following:
American citizenship or eligible non-citizen status and the documents to prove it

A valid social security number

A high school diploma completed homeschooling, or a GED certificate

Males must be registered with the US Selective Service System

A clean criminal record
Secure your future in Canada
Virtually all Canadian universities will check with international students ahead of time to determine if they have enough money to fund their education. Some lenders may offer pre-admission loans that help you meet this criterion, especially if you possess a robust credit score or low debt-to-income ratio. amount of money you may have to meet.
Need Some Extra Cash to Help Your Finances? Try Lionsgate!
Are you struggling with your financial needs and need some extra cash? Lionsgate can help. Just fill out the form below, letting us know all your money or mortgage requirements, and we will find the best lender for you. Amazing thing? The process is free, and you can quit it at any time.
We have a team of experts that analyze your requirements and pick the best lender for you with prudent advice.
Note: Please give your authentic information while completing the form below.
Please share this article on your social media profiles if you found it helpful. Also, visit our blog to read similar helpful articles on finance, real estate, and getting mortgages.