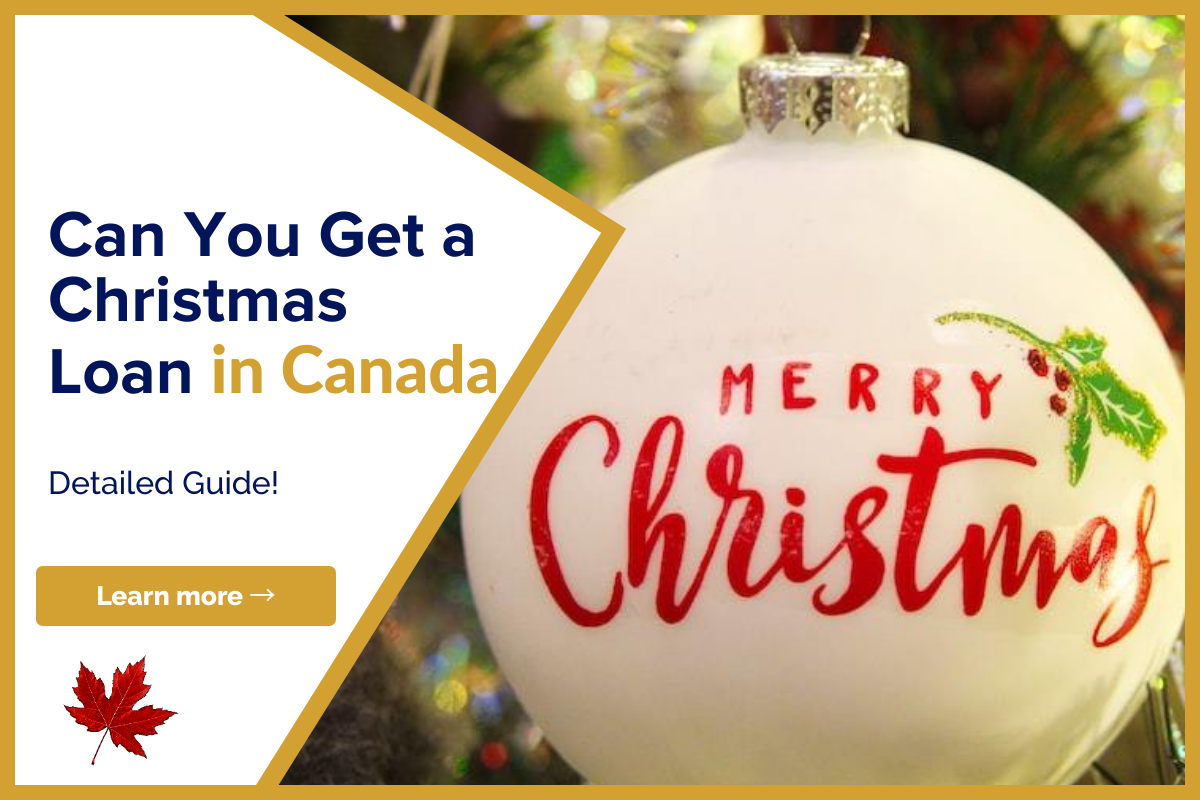 Can You Get a Christmas Loan in Canada?
Now you can listen to our blog post, "Can You Get a Christmas Loan in Canada?" while on the go.
Many Canadians associate Christmas with snow, sparkling lights, delectable feasts, gifts, and quality time with loved ones. For other people, though, holiday happiness is regrettably accompanied by financial worry. It's easy to say that the Christmas season can be expensive due to travel, decorations, gifts, mulled wine, and large festive dinners.
The typical Canadian spends $1700 throughout the holiday season. Many people use their credit card, which is the most practical kind of credit, to cover the cost of the holidays. However, is this the best choice?
It's not a good idea to start the new year with a credit card that is maxed up. You shouldn't carry a big balance on your credit cards from one month to the next.
The amount on a credit card is not required to be paid in full because it is revolving. Although it may sound appealing, carrying over a balance from month to month will require daily interest payments.
Have you given personal loans for vacation expenses any thought? If you have credit card debt problems or don't want to get sucked into a payday loan debt cycle, applying for a personal loan may be your best bet.
A personal loan is a wonderful option if you need to borrow money to pay for Christmas, but there are other options as well.
This article will explain what a Christmas loan is, its advantages and disadvantages, as well as other substitutes that can help you get through the holiday season without harming your personal finances.
How to obtain a Christmas loan?
Christmas loans are exactly what they sound like—personal cash loans are taken out to pay for holiday obligations. They can take many different forms.
If you quickly look online, you'll discover that most Christmas loans are actually payday loans disguised as the holiday season. But take heed—payday loans have a reputation for causing more harm than good. The loan repayment terms are very condensed, and the interest rates are sky-high. Payday loans have the potential to leave you with more debt than you started out with if you're not careful.
A personal instalment loan is another option for Christmas financing. Payday loans have much higher interest rates than personal loans do. Applying for an instalment loan online, receiving online approval, and having the funds sent into your bank account within 48 hours are all possible options. Bad credit isn't as much of a barrier as it is for conventional bank loans. These online lenders use cutting-edge analytics to examine factors other than your credit score. Additionally, there is less paperwork and no in-person meetings.
I have bad credit. Can I still receive a Christmas loan?
If your credit is less than ideal, you can still acquire a Christmas loan whether you choose a payday lender or a personal instalment lender. However, there are a few crucial differences to note between these two lenders.
Many consumers find payday lenders appealing since they provide Christmas loans without a credit check. Due to quick payback schedules and hefty interest rates of more than 400%, payday lenders pose a huge risk. Additionally, timely repayments are not reported to the credit bureaus, so a payday loan won't help you raise your credit score.
With personal instalment lenders, you gain access to a flexible payback schedule, a significantly cheaper interest rate, and good monthly payment information that can help you repair your credit.
It's also vital to keep in mind that you will receive better interest rates the better your credit is.
Benefits and Drawbacks of Christmas Loans
Every type of borrowing, including Christmas loans, has advantages and disadvantages. It's critical to comprehend the benefits and drawbacks of funding before moving further.
Benefits
It reduces financial tension. Holiday expense worries is never enjoyable. Instant Christmas loans give you the breathing room you need to get through the holiday season while momentarily relieving your financial pressure.
swift and practical
When you need one, Christmas loans are quick, simple, and convenient to get. The internet has made it incredibly simple to submit an application online and, if necessary, have the money deposited within 48 hours.
opportunities to improve credit.
Even if you don't have excellent credit, you can still get a christmas loan provided you choose the correct kind of loan (i.e. personal loan), you can utilise it to aid in credit recovery. This advantage is not provided by payday loans.
Disadvantages
Charges for interest. Christmas loans can have high interest rates, which will add to your already high level of financial stress. Some interest rates can reach 400% if you choose the wrong lender (payday lenders, for example).
You are required to repay it. This disadvantage should go without saying, but you should only borrow what you can afford to pay back in a timely manner to avoid financial stress following the holiday season.
Alternatives for holiday loans
You can get Christmas loans if you need them, but they aren't your only choice. Think about your options if you want to avoid getting a loan for the holidays:
Make a second source of income. You can get a second job to get some additional money for the holidays.
Develop your financial literacy. You may create a Christmas cash stash for all of your holiday expenses by honing your budgeting techniques. Budgeting and saving can be done at any time.
Make a plan in advance. You're asking for trouble if you wait until the last minute to finish your holiday shopping. Master the art of planning.
Make the necessary adjustments and use your creativity. These days, Christmas is surrounded by a lot of glitz and glamour, but that doesn't mean you have to blow your budget! Consider buying smaller, more meaningful gifts for your friends and family rather than large, pricey ones. There are several ways to make Christmas more affordable if you're struggling to make ends meet this year. Simply use your imagination to determine what is most important to you.
The conclusion
The busiest months for shopping and spending are from October to December. If you're set on getting a loan for the celebrations, be sure to apply with a reputable lender who charges fair interest rates. Also, stay away from payday lenders!
Need Some Extra Cash to Help Your Finances? Try Lionsgate!
Are you struggling with your financial needs and need some extra cash? Lionsgate can help. Just fill out the form below, letting us know all your money or mortgage requirements, and we will find the best lender for you. Amazing thing? The process is free, and you can quit it at any time.
We have a team of experts that analyze your requirements and pick the best lender for you with prudent advice.
Note: Please give your authentic information while completing the form below.
Please share this article on your social media profiles if you found it helpful. Also, visit our blog to read similar helpful articles on finance, real estate, and getting mortgages.