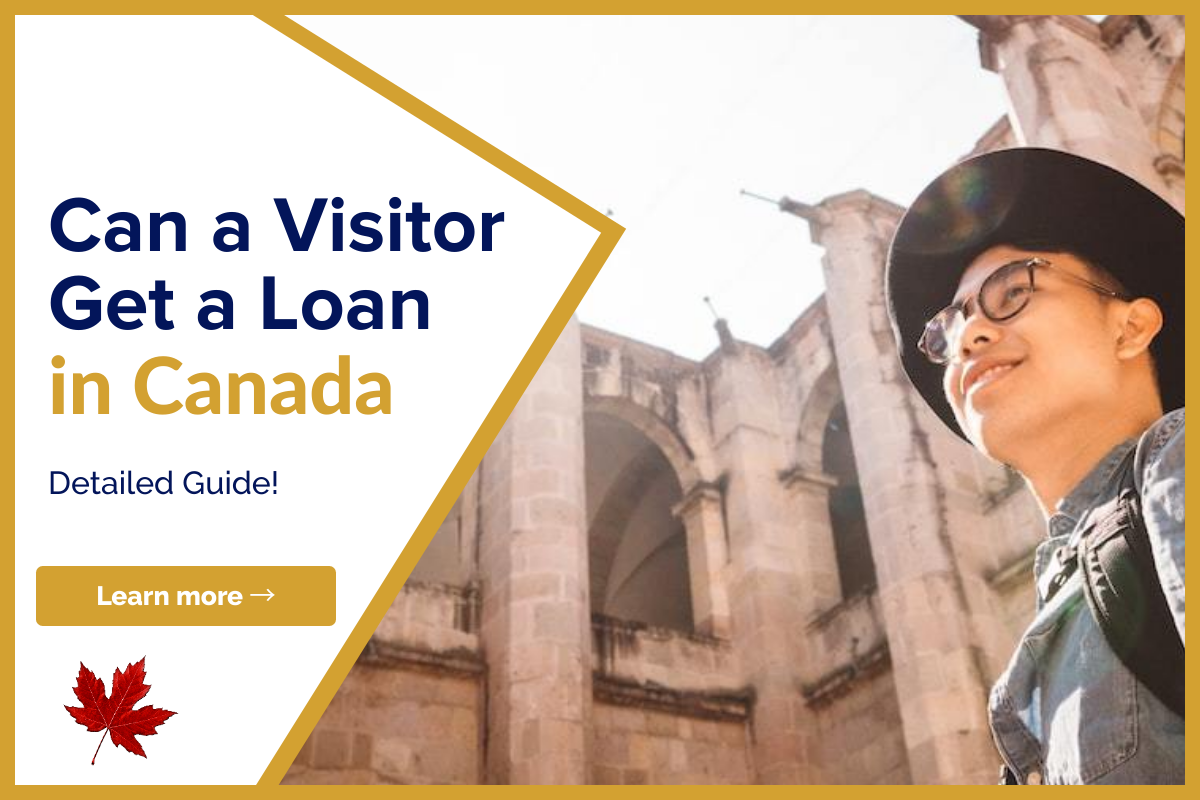 Can a Visitor Get a Loan in Canada?
Now you can listen to our blog post, "Can a Visitor Get a Loan in Canada?" while on the go.
A new life in Canada can be difficult to begin, and immigrating there is a major step. To assist new immigrants in settling down and purchasing a home, several banks and lenders offer mortgage solutions. This page will examine newbie mortgages, including how they operate, which banks provide them, and the qualifications needed to obtain one.
For those without Canadian credit history or work experience, visitor mortgages have more flexible requirements than conventional mortgages. To be deemed a new immigrant, you must have resided in Canada for fewer than five years.
Both permanent residents and non-permanent residents are eligible for a newcomers mortgage, but the down payment requirements for non-permanent residents may be greater. For properties under $500,000, the down payment requirement might be as little as 5%, or it can be as high as 35% if you don't have any credit history.
As soon as you can, you should work to establish your Canadian credit history. Even if individuals have no credit history, several institutions provide newbies with free credit cards. Non-permanent residents may not be able to acquire rental property in Canada from all lenders. CMHC, Sagen, and Canada Guaranty all offer mortgage default insurance for newcomer mortgages.
Visitor Mortgage: What Is It?
The majority of Canadians will require a mortgage loan in order to buy a home. A newcomer mortgage is a unique mortgage product provided by various Canadian banks for persons who are recent immigrants. They are made to assist newcomers in obtaining a mortgage even if they do not match the standards for a conventional mortgage. The following are the primary factors that make it challenging for immigrants to obtain a conventional mortgage:
Lacking a history of employment in Canada
Banks prefer it when you have worked in Canada for the past two years or more. An employment history demonstrates that your income is steady.
Canadian Credit History Without History
A bank will review your credit report to determine how you have handled debt in the past. This contains your balances and credit limits as well as information about your payment history, such as if you've ever skipped or paid late. An established credit history demonstrates your long-term financial responsibility.
You might not have a work history or credit history in Canada if you are a recent visitor. Banks are more lenient with regard to eligibility restrictions when it comes to newbie mortgage programs. However, in order to be regarded as a newbie to Canada, you must fulfill a number of requirements.
Am I Eligible for a Visitor Mortgage?
The Canada Mortgage and Housing Corporation (CMHC), Sagen, or Canada Guaranty offer mortgage default insurance for people who are new to Canada. All of these insurers have minimal borrower requirements. A newcomers mortgage must be qualified for in order to:
Newly arrived in Canada five years ago
You must have immigrated to Canada within the last five years to qualify as a newcomer. You are no longer regarded as a new immigrant if you have been in Canada for more than five years.
A Canadian legal status
You must be a temporary or long-term resident of Canada. This indicates that you must be a landed immigrant or permanent resident, or a non-permanent resident with a work permit.
Possess a full-time job for at least three months in Canada.
For a new immigrant mortgage, you might not need to have two years of employment history, but you will need to have at least some full-time employment history. Unless you are being transferred to Canada by your existing company, you must have at least three months of full-time employment history in Canada.
Have a minimum 5% down payment
A down payment of at least 5% is required. If the home costs more than $500,000, for example, the minimum down payment demand could be increased. Your lender may stipulate that the required minimum down payment must come from your own funds and savings rather than from gifts or loans.
If you are unable to obtain an insured mortgage, some lenders may demand a larger down payment, such as 20%. If you don't have a Canadian credit history, the minimum down payment may potentially be as high as 35%.
Satisfy the qualifying ratios
How much of your income is used to pay off debt is shown by your debt service ratio. This ratio is bad the greater it is because you are using more of your income to pay off debt. You must have a gross debt service ratio (GDS) and total debt service ratio (TDS) of 39% and 44%, respectively.
Your GDS and TDS ratios will be evaluated using the mortgage stress test rate.
Your GDS and TDS ratios will be evaluated using the mortgage stress test rate. Your international rental income is not taken into account when determining your GDS and TDS, but your foreign debt is.
It's time to choose your mortgage provider if you meet these prerequisites. This can include significant Canadian banks or smaller regional lenders. To assist you in obtaining a newbie mortgage, you can also work with a mortgage broker.
It's never too early or late to start considering your new immigrant mortgage alternatives, regardless of whether you have already arrived in Canada or not. Knowing the procedures might help you get ready for your home search and get your mortgage authorized.
Need Some Extra Cash to Help Your Finances? Try Lionsgate!
Are you struggling with your financial needs and need some extra cash? Lionsgate can help. Just fill out the form below, letting us know all your money or mortgage requirements, and we will find the best lender for you. Amazing thing? The process is free, and you can quit it at any time.
We have a team of experts that analyze your requirements and pick the best lender for you with prudent advice.
Note: Please give your authentic information while completing the form below.
Please share this article on your social media profiles if you found it helpful. Also, visit our blog to read similar helpful articles on finance, real estate, and getting mortgages.