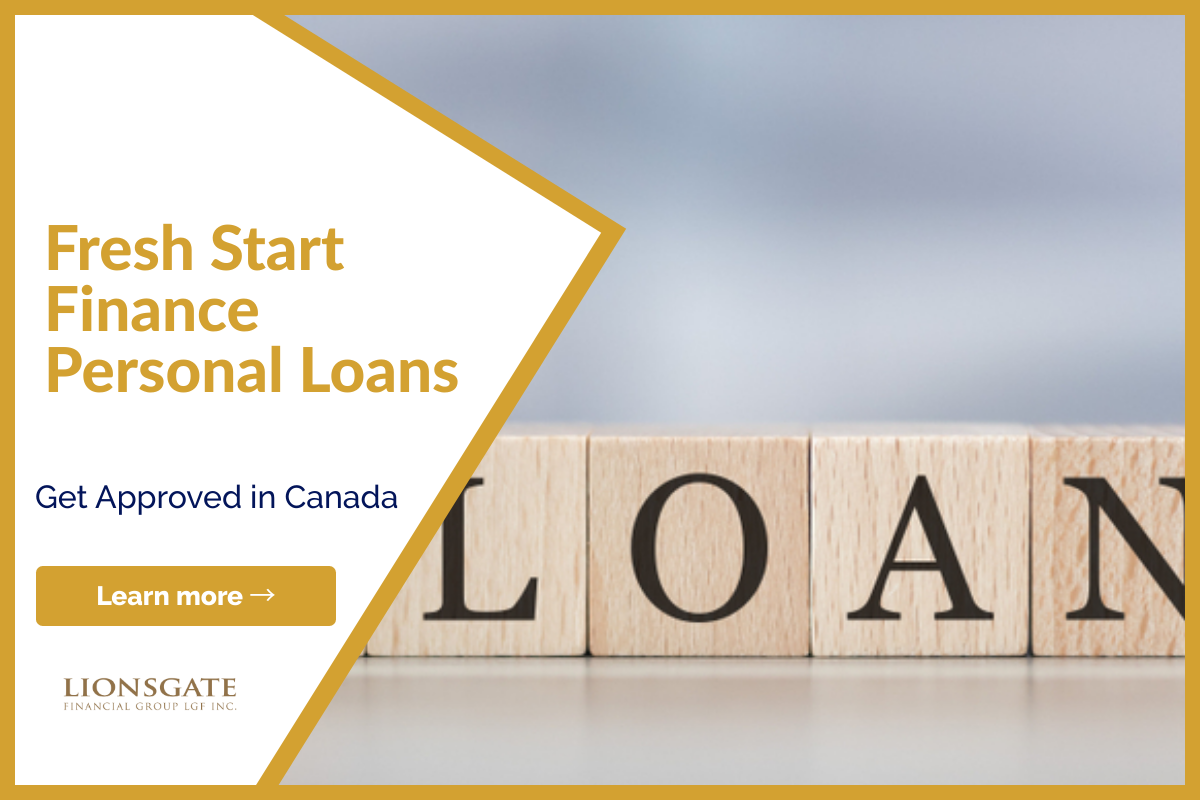 Fresh Start Finance Personal Loans: Get Approved
Now you can listen to our blog, "Fresh Start Finance Personal Loans: Get Approved " while on the go.
Banks have denied you loans but you need the money badly? Fresh Start is for you! It is an affordable yet convenient alternative to payday loans with very tempting rates. No matter the reason, Fresh Start can fulfill all the needs of your financial problems.
Once you know what Fresh Start Finance can do for you, let's explore how to qualify for it.
How to Quality for Fresh Start Finance in Canada?
Fresh Start Finance, unlike many banks and other premier lenders in Canada, appears to accept individuals with little financial resources and poor credit scores. However, there are still a few requirements to meet in order to be considered for a loan or to open an account.
You may be qualified for a personal loan from Fresh Start Finance if you have the following:
Proof that you are of legal age in your province/territory (18-19 years old)
You must be able to demonstrate that you have a consistent source of income or employment (recent pay-stubs, etc.)
A bank account with direct deposit capabilities that is active.
Examining your credit report and credit score
Their website doesn't contain a lot of information regarding the exact requirements for their loan products right now (for additional information, see their General Terms of Service page), but you may have to fill out some personal information, such as your name and residency. When you apply, the better your financial situation is, the better your interest rate and total loan terms will be.

How Can Someone With A Fresh Start Apply?
Fresh Start Finance's website, like most other online lenders, has a simple application process that takes only a few minutes to complete. You should receive a loan quote within 24 hours if all of your information is correct. After that, it's up to you to make a decision.
If you accept the offer, the loan will be deposited into your account within one or two business days.
What Are the Benefits of a Fresh Start Personal Loan?
Fresh Start Finance, in essence, provides simple personal loans with little conditions, which is one of the things that makes their products interesting. Nonetheless, prior to applying with any lender, it's always a good idea to assess the positive and negative parts of their services. After all, you want to do what is best for your finances.
Here are some of the benefits of a Fresh Start personal loan:
1. Your final loan sum will not include any hidden or administrative costs.
2. Their interest rates can be changed at any time and are disclosed on their website.
3. Repayment lengths range from 9 to 60 months.
What Costs Might a Fresh Start Personal Loan Include?
As previously said, one of the best things about applying with Fresh Start Finance is that you shouldn't have to pay any of the administrative fees that come with a standard personal loan.
Apart from the principal loan balance, the most significant thing you'll have to be aware of with Fresh Start is their interest rates, which range from 29.99 percent to 46.96 percent. Although these rates may be altered based on your financial situation and your home province or territory, they will almost likely increase the total cost of your loan over the course of your repayment period.
That said, most lenders who accept clients with negative credit, low incomes, or recent debt management issues do so because of this, so keep that in mind while looking for credit.
What Are the Advantages and Disadvantages of Using Fresh Start Finance?
Remember that assessing the benefits and drawbacks of your preferred lender is an important aspect of the pre-application process. Before you apply for a personal loan with Fresh Start Finance, take a look at the following list:
Pros
When compared to other lenders, processing and approval processes are rapid.
Qualified consumers may be awarded loans of a reasonable size.
There will be no additional costs charged to your final loan balance.
Cons
There were high interest rates involved.
There isn't enough information about loan requirements or fees.
How can I apply for a Fresh Start loan?
Fresh Start can be applied for in three steps.
Complete the online application
Obtain a loan contract
Give us your banking information and we'll fund your account
How often will I have to pay back my loan?
Fresh Start has repayment durations ranging from 9 to 60 months, which can be altered if you have good credit, allowing you payment patterns like these:
Bi-weekly (26 payments per year)
Weekly instalments (52 instalments per year)
Semi-monthly (24 payments per year)
(12 instalments each year)
The Bottom Line
At Lionsgate, we specialize in helping people get the extra cash they need, obtain funding for private mortgages, as well as for other real estate transactions. If you are looking to buy land in Canada, get a mortgage or apply for a loan, fill the form below. Or, You can leave us a message and we will try to connect you with local lenders and sources that best meet your needs.
If you found this article helpful, please share it on your timeline and with someone you care about. Also, visit our blog to read similar helpful articles on finance, real estate, and getting mortgages.