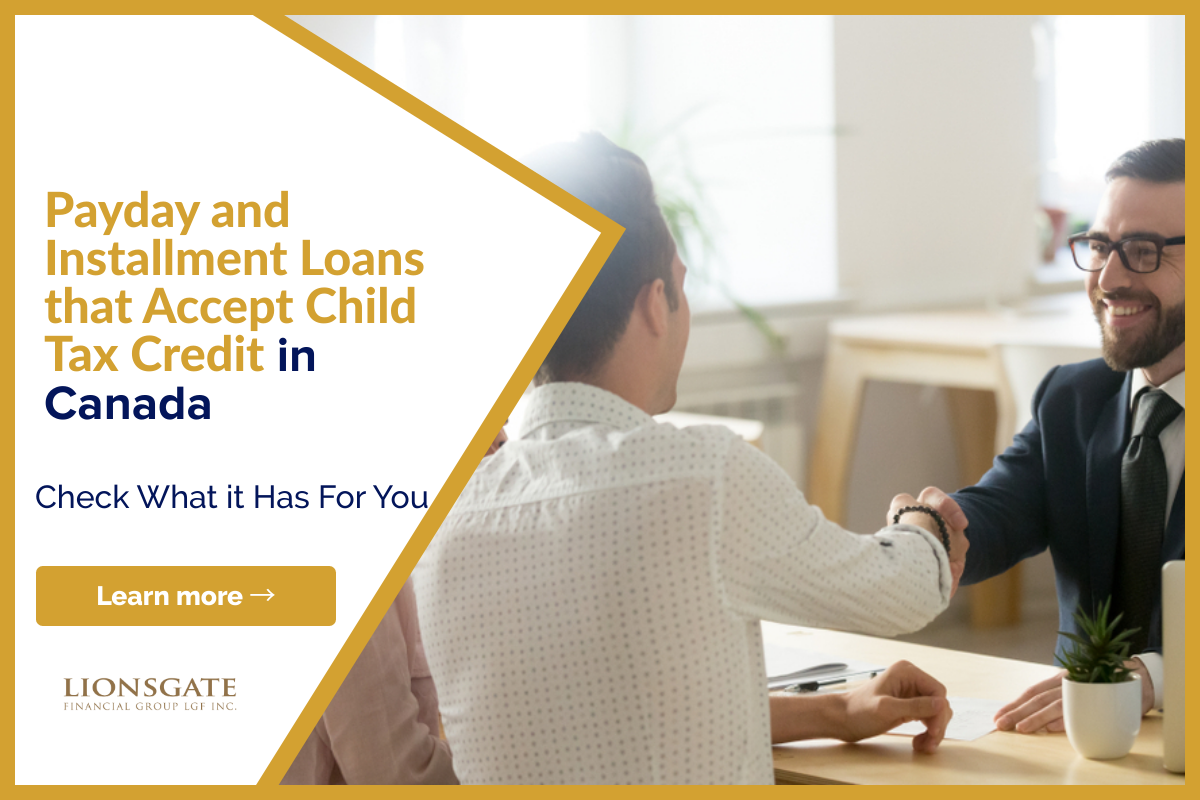 Loans that Accept Child Tax Credit
Now you can listen to our blog, "Payday and Installment Loans that Accept Child Tax Credit" while on the go.
What is the Canada Child Benefit (CCB)?
The Canada Child Benefit is a government program that provides financial help to families and single parents. When a family or single parent has a kid or children who are currently under the age of 18, they can apply for this tax-free payment.
The amount you can receive from the child tax credit is determined by a number of factors, including:
How many kids do you have?
What is the age of your children?
How much money do you earn on a yearly basis?
What is your current marital status?
The following is the highest amount you can receive under the CCB program:
Each child under the age of six receives $6,833 per year.
Each youngster between the ages of 6 and 17 receives $5,765 per year.
The Disability Tax Credit allows parents with a kid with a physical or mental disability to receive an additional $2,915 per year for each child (DTC).

Is It Possible To Take Out A Loan With Your Canada Child Benefit?
Though any loan you take out is normally based on your income, employment, and credit history, you might be able to use your CCB to acquire a loan. You can utilize your CCB to qualify for a loan because it is considered part of your income. To secure a loan while on CCB, though, you'll need to find a lender who accepts the child tax credit as a source of income.
Child Tax Credit Personal Loans or Installment Loans
Personal loans (also known as installment loans) offer lower interest rates and longer repayment terms than payday loans, making them less expensive and easier to repay. When you take out a personal loan, you'll be given a lump sum of money that you'll have to repay in equal installments over time, plus interest.
Main Characteristics Of Child Tax Deduction Personal Loans Or Installment Loans
Personal Loan Amount – You'll be able to qualify for a bigger amount with a personal loan that takes child tax as a source of income than you would with a payday lender. These sums can range anywhere from $300 to $10,000.
Interest Rates – Child tax loans have lower interest rates than payday loans, making them a better option. In Canada, the maximum interest rate a lender can lawfully charge you is 60%. (APR).
Term Length – One of the key reasons a personal loan is more reasonable is that it can have loan lengths of up to 5 years.
Loan Requirements for Child Tax Credit Personal Loans – The conditions for each lender you apply with may differ. A good credit score may be required by one lender but not by another. Similarly, while one lender may ask that you be working, another may only require that you have a consistent source of income.
How To Get A Loan Using The Canada Child Benefit
TO APPLY, FOLLOW THESE 4 EASY STEPS
Calculate the Debt-to-Income Ratio for yourself
This is an excellent approach for you and your lender to determine whether you are financially solid enough to handle the costs of a child tax credit loan. Subtract the average total cost of your monthly loan payments and other debts from your normal monthly income. After that, you'll have your debt-to-income ratio.
Your ratio should ideally be 30-35 percent, or even lower if possible. If your debt-to-income ratio is higher than that, you should wait to apply until you and/or your spouse can improve your income or reduce your debt.
Lenders should be researched and shopped around for
You can begin your search once you've determined that you're financially capable of taking out a loan. There are numerous lenders who cater to various types of borrowers. Some have more stringent requirements, such as a high credit score. If you don't have a high credit score, there are lenders who won't consider your credit score when making a decision.
Similarly, some lenders accept non-traditional forms of income like a child tax credit, CPP, and other government benefits, while others do not. Make sure you meet the minimum requirements for a child tax credit loan before applying with any lender.
Obtain Pre-Approval
If you've identified a few lenders who consider the child tax credit as income, you can get pre-approved to see how much you qualify for. Most lenders provide this service, and you can take advantage of it by completing a fast online application. You can utilize a loan comparison website if you're not sure who to apply with.
You can get pre-approved with numerous lenders with a single application. This will allow you to evaluate your options and select the one that best meets your requirements.
Complete the application
To complete your application, you'll need to give some more information, depending on which lender you choose. Personal identification and proof of income are required. You may also be required to submit bank statements and pass a credit check.
Eligibility Requirements for Child Tax Credit Loans
The qualification conditions for the majority of lenders, whether banks or other organizations, will differ from loan to loan. The standards they set for the clients they take on, on the other hand, will largely remain the same.
In other words, any genuine lender will want to know that you're financially stable enough to repay whatever amount of money you're borrowing, plus any interest charges. Depending on your lender, they may do the following checks as part of the application process:
Your credit score is excellent (report, history, and score)
Your financial records (debt/bankruptcy history, income, debt, and so on)
Work experience (usually from the last 2 years)
While these are likely to be the most significant items to check out, additional areas of qualification may be examined, so it's better to have all of your financial and personal information current and structured before submitting.
Now you can listen to our blog, "Loans on Disability Income in Canada: Payday, Instalment & Vehicle Title Loans" while on the go.
Looking for loans on disability income in Canada? Well, you have few options: Payday loans, instalment loans and vehicle title loans. A payday loan, however, is the most common and viable option to consider. Fortunately, there are payday loans that accept disability income in Canada.
Before you move further, note down that all these disability loan options are expensive and can create problems for you. So, consider them only as your last resort.

Below are disability loans no credit check and what you need to consider before applying.
Payday Loans for Disability Income Canada
Payday loans for disability income are short term loans offered to people whom incomes come from social assistance program benefits. In Payday loans, the primary source of income is the disability payment of the borrower.
Approximately a payday loan of $1500 is enough to pay your bills, replace or repair damaged goods, pay medical expenses or any other type of emergency you or your family is facing.
PayDay loans can also be used as a cash advance from your paycheck with no limitations. The very idea of a Payday loan is to provide financial assistance, no matter what your source of income is government benefits.
Read: No Credit Check Loans in Canada
So, when getting a disability payday loan, it is important to make sure you are going with the right lender. Usually, direct lenders are preferred as the person with disability wishes to handle the entire process from home.
What Do You Need to Know Before Applying for Payday Loans?
As mentioned already, Payday loans have extremely high-interest rates and should only be used as a last resort. Also, while you have a lot of options for payday loans in Canada that take disability payments, not all payday lenders are the same. The payday loan industry as a whole is known for being predatory. It is critical to find a lender who follows provincial legislation and assesses your ability to repay a loan appropriately.
Payday Loans for Disability Income Eligibility Requirements
Lenders' specific requirements will vary, but in general, you'll need to:
Be of legal age in the province or region where you live (either 18 or 19 years old)
Be a Canadian citizen or a permanent resident of Canada.
Live in a province or region where your lender have authorization
Have a stable source of income (you may have to provide disability income pay stubs or bank statements from the past several months)
Have a Canadian chequing account where you may deposit funds (some short-term lenders may allow you to pick up cash at a branch location if the amount isn't too huge).
Provide your contact information (your name, home address, phone number, and email address)
Other Loans for Disabled Individuals
Payday loans aren't the only way to get money. Disability benefits may be accepted as a type of income by some instalment loan and vehicle title loan providers. They may, however, have more stringent eligibility conditions than payday loans.
Instalment loans: A type of loan that is repaid over Smaller loan amounts, shorter durations, and higher interest rates characterise this sort of personal loan.
Vehicle Title Loans: Your automobile serves as collateral for this loan. The lender has the right to repossess your vehicle if you do not make your payments. Keep in mind that car title loans have extremely high-interest rates.
Features of Installment Loans
Rates of interest: Depending on your credit score, loan provider, and other personal criteria, interest rates might range from 8% to 47%. Borrowers with poor credit are more likely to be charged higher interest rates.
The repayment schedule is consistent: Determine the amount and frequency of your loan repayments with your lender. You may plan and budget accordingly with these fixed terms.
Amounts of loans: The loan size range varies depending on the lender, however, most instalment loans are between $500 and $10,000.
Loan Term: Conditions of the loan Term lengths typically range from 6 months to 5 years.
No Prepayment Penalties: There are no consequences for paying in advance. You may be able to pay off your instalment loan early without incurring any costs, depending on the lender.
Bad Credit: Even if your credit score is less than 560, you might be able to get an instalment loan.
Features of car title loans for people on disability
Your car is a security deposit. You can keep driving your automobile, but if you don't pay your bills, you risk losing it.
It's fine if you have bad credit. Borrowers with a credit score of less than 560 can apply for this loan.
Loan terms are longer than payday loans. A longer loan term allows your finances to recover more quickly (but the longer the term, the more interest you pay).
Interest rates are extremely high. Interest rates on car title loans can be as high as 29%.
There will be no credit check. A credit check is not required for some automobile title loans. Instead, the lender will concentrate on the consistency of your income.
Will taking out a loan have an impact on my disability payments?
Loans aren't considered income and aren't normally deducted from your disability payments. However, there are two scenarios that may have an impact on your payments:
You are given money as a present. If you are given money that you are not required to repay, the government considers it a gift and records it as an asset. This could push you over the individual resource limit, making you ineligible for benefits for that month.
You don't immediately spend the money you borrowed. When you get a loan, you normally have to pay it back within the month you get it. Anything left over may be counted against your resource limit, making you ineligible for benefits.
Make sure you don't go over your personal resource limit in these situations. To prevent taking on too much debt or having too much money in the bank when your monthly resources are calculated, only borrow as much as you need.
Will I have to pay a higher rate since I'm disabled?
Lenders cannot lawfully discriminate against you because you have a disability. The interest rate you pay will be determined by all aspects of your loan application, including your total income (which may include sources other than disability benefits), your credit history, and other criteria.
If your income is modest and you have fair or poor credit, lenders may view you as a larger risk and will charge you a higher interest rate to compensate. Keep in mind that the APR stated by lenders is usually a "representative" APR, which means that while the majority of individuals who get a loan will get a rate close to this, not everyone will.
You May Also Like: Mortgage Gift Letter: Everything Canadians Need to Know
When you're on disability, there are still lending choices accessible, despite your low income. If borrowing isn't the best option for you, look into other grant and benefit options.
Need Some Quick Cash? Let Us Help!
Are you struggling with your financial needs and need some extra cash? Lionsgate can help. Just fill out the form below, letting us know all your cash or mortgage requirements and we will find the best lender for you. Amazing thing? The process is free and you can quit it at any time.
We have a team of experts that analyze your requirements and pick the best lender for you, with prudent advice.
Note: Please give your authentic information while completing the form below.
If you found this article helpful, please share it with someone you care about. Also, visit our blog to read similar articles.