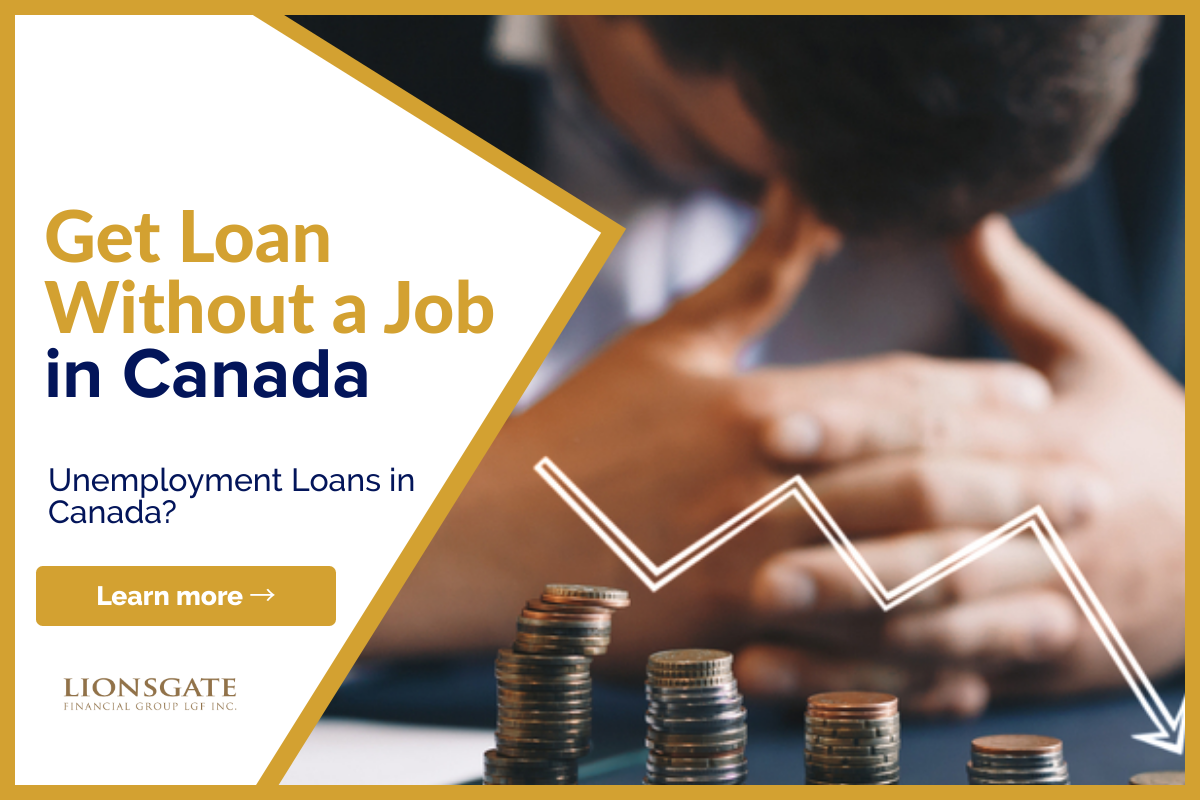 Get Loan Without a Job? Unemployment Loans in Canada
Now you can listen to our blog, "Get Loan Without a Job? Unemployment Loans in Canada" while on the go.
COVID-19 has sent Canadians home and out of work. The uncertainty of where your next paycheque will come from can weigh heavily on the psyche of even the most responsible money manager. Unfortunately, coronavirus has demonstrated that, regardless of how fantastic your job is, unemployment can strike anyone at any time.
Over 1 million jobs have been lost as a result of the crisis, and many people are considering taking out loans to assist them to get by for the time being. Make sure you have all of the information you need to make the best option for you before taking that step. Because taking out a loan when unemployed as a result of the epidemic shouldn't increase your stress.
What Is an Unemployment Loan?
Unemployment loans are loans given to people who do not have a regular source of income, usually at a higher interest rate. The sad reality is that banks are unlikely to issue loans to people who have no income.
That isn't to say you don't have choices.
Unemployment loans are available from a number of financial organizations in Canada to assist you in meeting your monthly obligations.
Canada's Best Unemployment Loan Providers
Interest rates, possible fees, and payback term lengths are the most important factors to consider while shopping for unemployment loans. Please keep in mind that our suggestions include both lending platforms that source the best loans from a network of lenders and specific lenders.
Loans Canada
Loans Canada is a lending platform with a large number of lenders, each with its own set of interest rates and loan conditions.
It is one of Canada's most reputable and largest indirect lenders.
Loan amounts range from $500 to $300,000, with durations ranging from three to sixty months. Depending on your profile, your interest ranges from 3% to 46.96 percent.
Loans can be authorized in as little as 24 hours, although it usually takes two days. Depending on the lender, there may be fees associated with the loan.
LoanConnect
LoanConnect is a loan platform that connects you to a variety of lenders.
It is one of the top lenders for no-credit-check loans because all they ask is that you be of legal age in your province and a Canadian citizen.
Based on the personal credit, interest rates range from a competitive 10% to a very high rate of 46.96 percent, so be careful to read the fine print. You might be authorized in as little as 5 minutes and have the funds in your account within 24 hours.
LendingMate
LendingMate is a one-on-one lender that specializes in loans for those with bad credit.
A guarantor is required for all loans, so you'll need someone prepared to legally be responsible for repaying your loan if you can't make payments.
Loans are accessible within 24 hours after your guarantor's approval. A qualified guarantor is a Canadian citizen between the ages of 19 and 75 who has good credit and either strong credit history or owns a home.
Loans range from $2,000 to $10,000 and have a high APR of 43 percent in British Columbia and Ontario and 34.9 percent in Quebec (so be cautious).
LendingMate does not charge any hidden costs; but, in my opinion, this lender should only be utilized by people who have been rejected by other lenders.
How can I know whether someone is the right fit for me?
When applying for a loan, the interest rate is the most important factor to consider. Keep in mind that these are for-profit businesses. They need to make money, and the interest you pay on your loan is how they do it.
The smaller the interest rate, the more likely it is you'll be able to manage to repay it.
Many lenders may try to hide how much interest you'll pay over time by focusing on how manageable the monthly payments are rather than how much you'll pay overall to repay the loan.
It doesn't take much for a $1000 loan to turn into a $2000 or more loan over time due to hefty interest. Make sure you understand the APR and total cost of your loan.
Other important things to keep an eye out for are:
If there are any fees for things like early repayment or late payments.
Do you need to secure the loan with collateral like a car?
Is a guarantor required? Remember that if you are unable to make payments, your guarantor is legally responsible, and if they are unable to make payments, their credit score will suffer significantly. Asking someone to be your guarantor is a large ask, and it could put an undue strain on them if you default.
Doing as much research as possible before looking for a reputable lender is the best way to go. Read everything carefully before signing on the dotted line, and don't feel pressured.
There are lots of predatory lenders out there and getting a loan with such a lender could make your financial situation a lot worse in the long run.
How do I know if I'm Eligible?
While each lender's requirements may differ, there are a few that are universal:
You must be at least 18 years old.
Have a current and active bank account
Possess a valid photo ID and a Social Security number (SIN).
Other requirements for these loans could include the following:
Having a secondary source of income (such as investments, unemployment insurance, or a part-time job or side hustle)
Have a bankruptcy-free history
Have a guarantor (someone who will repay the loan if you are unable to do so)
Where Can I Use Unemployment Loan in Canada?
There are numerous methods to employ a no-income-guaranteed loan in Canada, especially presently. They can assist with: Not only do they cover daily expenses, but they can also assist with:
Health-care costs
Help you pay off high-interest debit and credit cards so you can go back to school to improve your abilities.
If you're behind on your income tax payments, we can help you catch up.
Make it more affordable to buy a car, which you might need to get to new employment.
If you wish to downsize, you'll have to pay for moving costs.
Make sure you don't fall behind on your power bills
The Bottom Line
Losing a job may happen to anyone, and there's no need to be embarrassed about it. It's best to have emergency money set aside to handle an unexpected job loss so you don't need to take out a loan to get by. It's also crucial to understand how unemployment works in Canada so that you may take advantage of all available assistance and benefits.
However, emergency saving is a luxury for some people, and government benefits may not cover all of your needs, so an unemployment loan may be the best alternative in this instance. Make the best loan decision possible by understanding interest rates, repayment terms, and fees to ensure that your unemployment is only a temporary setback and not a huge financial setback.
At Lionsgate, we specialize in helping people get the extra cash they need, obtain funding for private mortgages, as well as for other real estate transactions. If you are looking to buy land in Canada, get a mortgage or apply for a loan, fill the form below. Or, You can leave us a message and we will try to connect you with local lenders and sources that best meet your needs.
If you found this article helpful, please share it on your timeline and with someone you care about. Also, visit our blog to read similar helpful articles on finance, real estate, and getting mortgages.