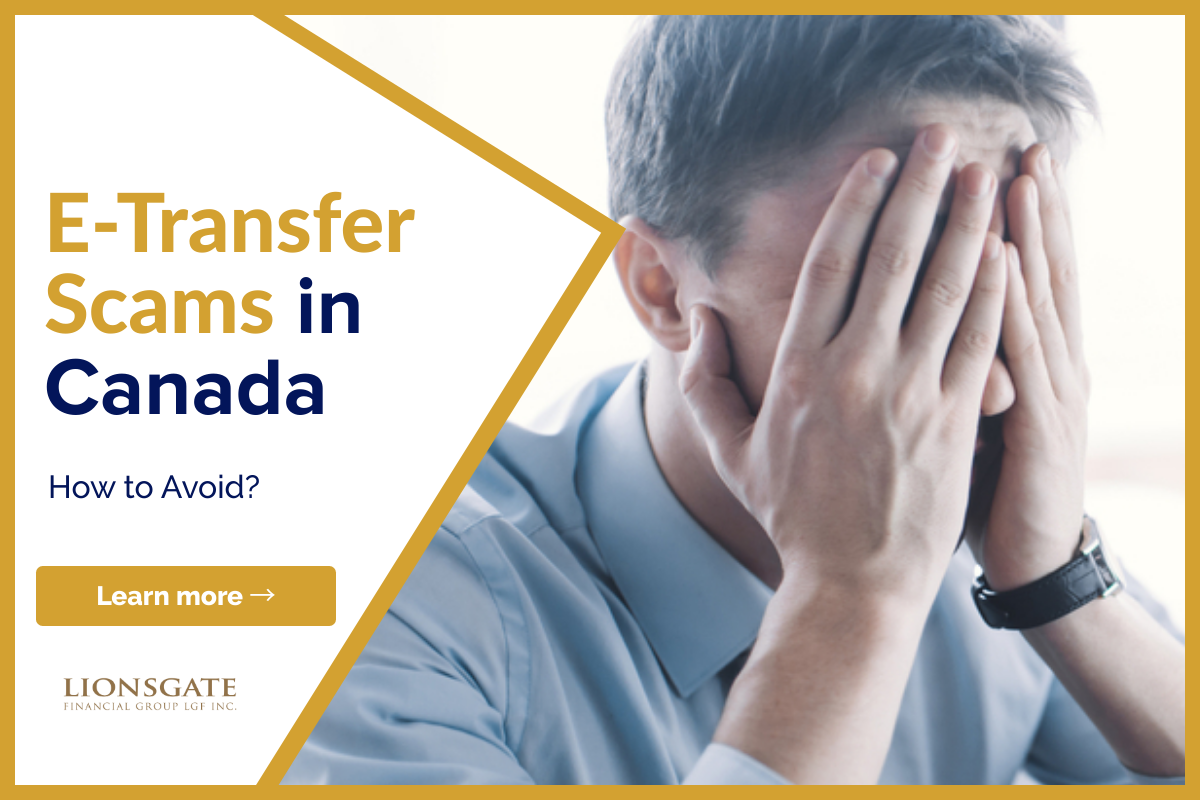 E-Transfer Scams in Canada: How to Avoid?
Now you can listen to our blog, "E-Transfer Scams in Canada: How to Avoid?" while on the go.
With the rise in popularity of internet banking, e-Transfers have become one of the simplest and most convenient ways to send or receive money. However, as a result of the current technological growth, hackers, fraudsters, and identity thieves have developed new ways to take your money, mainly through e-Transfer scams.
In reality, if you're not vigilant when doing bank transactions online, you could become a victim of this type of cybercrime.
What Should You Do If You've Been Scammed Through an E-Transfer?
Scammers are constantly devising new ways to defraud you. Especially online, where security may be lax (no matter what a financial institution tells you). In most cases, your bank or credit union will not admit guilt or compensate you in any manner for the money you lose as a result of an e-Transfer scam.
To avoid being held accountable, most financial institutions would do or say practically anything to avoid being sued. Even if the e-Transfer was intercepted due to their own inadequate security standards. So, unless you can show that the e-Transfer scam was entirely the fault of the bank or credit union, you're unlikely to get your money back.
However, there are a few things you can take to improve the security of your account or prevent the fraud from happening again, such as:
1. Notify your financial institution right away: They may be able to cancel your e-Transfer before it reaches its destination. If not, they can at least follow the transfer or initiate an investigation to discover the perpetrator.
2. Contact the Authorities: If your financial institution is unable to assist you, the police's cybercrime branch may be able to examine the case, depending on the importance and severity of the fraud you have been the victim of.
3. Pay attention to the small print: The criteria that would or would not make the institution liable for a stolen e-Transfer are likely specified in your online banking agreement, as well as what you must do to be fully protected against such crimes.
4. Have Your Banking Information Notified: While your money may be gone, you can still ask the institution to provide you with new banking numbers or establish a fraud alert on your account, which will tell you if any suspicious activity occurs.
5. Be patient but tenacious: It can take weeks, if not months, for a financial investigation to produce any results. Please don't give up. Keep contacting because the bank or credit union may compensate you for a portion of your loss in exceptional situations.
What You Can Do to Avoid E-Transfer Scams
Scams using electronic funds transfers (e-Transfers) can be difficult to deal with and recover from financially. As a sender or a recipient, there are a few keys "do's and don'ts" that can help you avoid and protect yourself from these types of scams in the future.
As a Sender:
Avoid sending money to anyone you don't trust whenever possible. Create a security question that only you and your recipient can answer.
The answer should not be included in the security question.
No answers or passwords should be sent via email, social media, or text message.
If you must communicate your security response with someone, do so over the phone or in person.
Change your passwords and security questions for email and online banking on a frequent basis.
Don't ask or answer the same security question or provide the same response to your other receivers.
As a Reciever:
Any information you obtain from the transaction should be saved (receipts, emails, etc.)
If you are unfamiliar with the sender, conduct some research on them or their company.
Job offers, e-Transfers, and requests that appear dubious in any manner should be avoided.
Request that your sender(s) modify their security questions and answers on a regular basis.
Make sure the sender creates a question that only you would know the answer to Don't ask for the answer via any method that isn't 100% secure
Change your passwords often (don't use the same one for multiple accounts)
Creating an Auto Deposit Account
Signing up for Interac e-Transfer Auto Deposit might be one of the safest and easiest ways to protect yourself. After all, the funds will be transferred directly to the recipient's account, ideally before any hacker can intercept them.
There are a few other things you can do to increase the safety of an Auto Deposit e-Transfer, including:
Create distinct email addresses: Some financial experts advise creating multiple email addresses with different names. Actually, you can register up to five different emails with your bank for the same e-Transfer profile.
Use strong passwords: We cannot emphasize this point enough. It's critical to keep your internet accounts. Such as your email, bank account, and social networking platforms, up to date and to utilize cryptic passwords.
Check your sender/recipient information twice: Make sure an e-Transfer is coming from or going to someone you trust before sending or accepting it. If you have any doubts, give them a call or pay them a visit.
Take it out for a spin: Don't transmit or receive the entire amount of the transfer right away. Instead, transfer or accept the least amount of money feasible to ensure that everything is secure. And the sender/recipient is who they claim to be.
Monitor your accounts and devices: There are several decent antivirus apps that can assist safeguard your computer or mobile device from numerous risks. Also they detect any spyware, malware, or hacking signals.
Don't spend money from an untrustworthy source: Any new money in your account should be notified to you or your recipient. If you are unaware of the transfer, contact your financial institution immediately.
The Bottom Line
While e-Transfers are quick and handy, it's crucial to be cautious and do your homework before sending or accepting money over the internet. Remember, if something appears to be too good to be true, it most likely is. Trust your instincts and avoid doing business with people you don't know.
At Lionsgate, we specialize in helping people obtain funding private mortgages for land purchases as well as for other real estate transactions. If you are looking to buy land in Canada, get a mortgage or apply for a loan, leave us a message and we will try to connect you with local realtors and sourcing for financing.
If you found this article helpful, please share it with someone you care about. Also, visit our blog to read similar articles on mortgages.