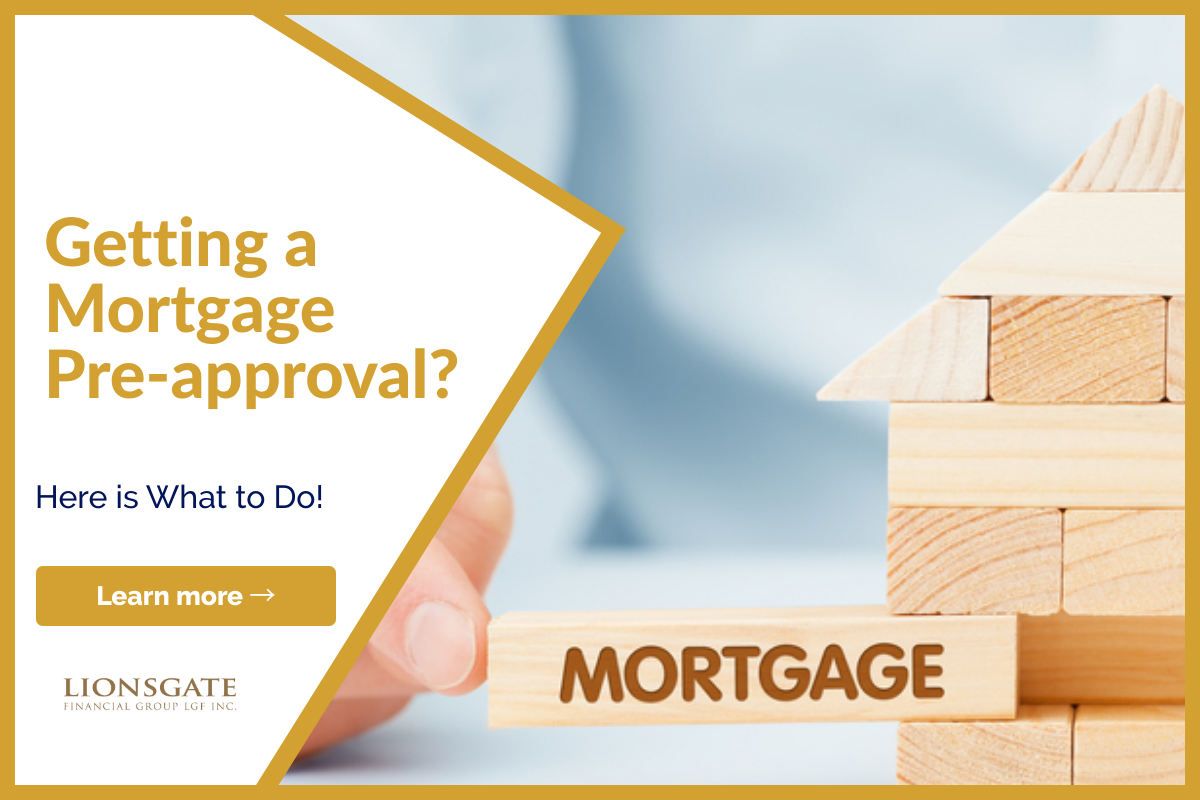 Getting a Mortgage Pre-approval? Here is What to Do
Now you can listen to our blog, "Getting a Mortgage Pre-approval? Here is What to Do" while on the go.
For many Canadians, being a homeowner has been a lifelong ambition. However, like with any new experience, there may be some doubt, and you may find yourself second-guessing yourself. You'll be interviewing agents, touring properties, fretting over bidding wars, and, of course, determining whether or not you qualify for a mortgage.
Obtaining a pre-approval is one of the most effective ways to streamline the procedure and increase your trust in your purchasing power. A pre-approval tells you how much you can borrow with the least amount of risk. However, like with anything with mortgages, you should familiarise yourself with the pre-approval process before getting started.

We can assist you whether you're a first-time home buyer in BC, Ontario, Alberta, or another province. The mortgage pre-approval procedure has several complexities. So, here is what you should do when getting a mortgage pre-approval.
Do This Before Getting a Mortgage Pre-approval
The pre-approval procedure for a mortgage isn't complicated, but it is crucial. If you read and follow these five guidelines, you're likely to get a terrific mortgage offer.
1. Get a pre-approval for a mortgage first
The majority of Canadians believe that contacting a realtor and starting looking at houses is the first step in the home-buying process. This isn't the case. The initial step should be to obtain a mortgage pre-approval. After all, you'll want to move swiftly if you locate a home you like. Pre-approval for a mortgage eliminates a step from the process.
Being pre-approved also allows you to determine how much you can spend. With our mortgage affordability calculator, you can obtain a decent idea of how much you can afford. The hard limit, however, will always be the amount that the bank will approve you for — a mortgage pre-approval will tell you how much you can borrow.
How long does it take to get a pre-approval for a mortgage? If you have all of your documentation ready, you can complete it in under an hour. To get started, contact a mortgage broker in your area.
2. Look for a low-cost pre-approval rate
You should browse around for the best mortgage rate, just like you would for a home before deciding on "the one." Don't expect to get a good bargain merely by going to your local bank location. Do your homework and compare mortgage rates, or hire a mortgage broker to do the work for you.
Even a half-percentage-point difference in your regular payments and the amount of interest you'll pay over time can make a big impact. Plug your figures into our mortgage payment calculator to understand what we mean, then modify the interest rate in small increments. You'll quickly understand what we're talking about!
What happens when you get pre-approval for a mortgage? In most cases, your offered rate will be retained for you for a period of 90 to 120 days. This is the time to start looking for a home!
3. Gather all of your documentation
It's essential to start collecting the papers needed for a mortgage pre-approval and application as soon as possible. Inquire with your mortgage broker about the paperwork needed to close your loan, and begin gathering them in one location.
To get you started, here's a typical list:
Identification is required to verify that you are who you say you are.
Statements from your bank account and investments – to demonstrate your ability to make your monthly payments.
Evidence of assets, such as a car, cottage, or boat.
Pay stubs or a letter from your company will suffice as proof of income. If you're self-employed, you'll require a notice of assessment.
Your debt information, which includes student loans, car loans, and credit cards. Lenders have access to databases containing this information and hiding it will make you seem bad.
4. Maintain contact with your broker
Keep your phone number handy in case your mortgage broker has any questions regarding your paperwork. This means avoiding vacations or business trips where you won't be able to check your email or talk on the phone. If you aren't available, they may make assumptions about your intentions and deny your mortgage pre-approval application. If you absolutely must leave town, notify your mortgage broker as soon as possible.
5. Pay attention to the fine print
Your loan officer will send you a pre-approval document after you've been pre-approved. The interest rate you'll get, the loan terms, and the mortgage amount you've been pre-approved for will all be outlined in this document. Although it may appear to be financial jargon, it is critical to read the fine print on each page attentively. It's a good idea to have a family lawyer or accountant look at your documents as well.
Planning ahead, like with many things in life, makes all the difference. After all, obtaining a mortgage pre-approval is a type of forward planning in and of itself! Before you apply for a mortgage pre-approval, get your finances in order, shop around for the best rate, and maintain your finances constant. If you can do that, you can expect a smooth transition from pre-approval through the move-in day.
Before moving to the end, it is important to note here that there are a few things which you should not do at any cost. One of the major mistakes that people make is listed below.
Do not get pre-approved for a loan that exceeds your budget
Make sure your maximum purchase price does not exceed the top limit of your mortgage pre-approval. Make your own calculations to determine how much you can afford to pay each month (don't forget about the various costs of homeownership, not just the mortgage) and go from there.
I recently sought pre-approval for a mortgage since I was interested in a home that was way below my budget. I requested a pre-approval for a mortgage for the amount I'd require: $250,000. My mortgage broker surprised me by telling me that the amount had been increased to $300,000, with "plenty of wriggle room over that."
Despite the fact that I had asked for a lower pre-approval amount, I was authorized for substantially more. While this worked for me because my final budget was $300,000, you should be aware that the mortgage you've been pre-approved for maybe more than you can afford. I could have gotten pre-approved for a lot more money and been tempted to utilize it to buy a property that I couldn't afford.
The Bottom Line
At Lionsgate, we specialize in helping people obtain funding private mortgages for land purchases as well as for other real estate transactions. If you are looking to buy land in Canada, get a mortgage or apply for a loan, leave us a message and we will try to connect you with local realtors and sourcing for financing.
If you found this article helpful, please share it with someone you care about. Also, visit our blog to read similar articles on mortgages.