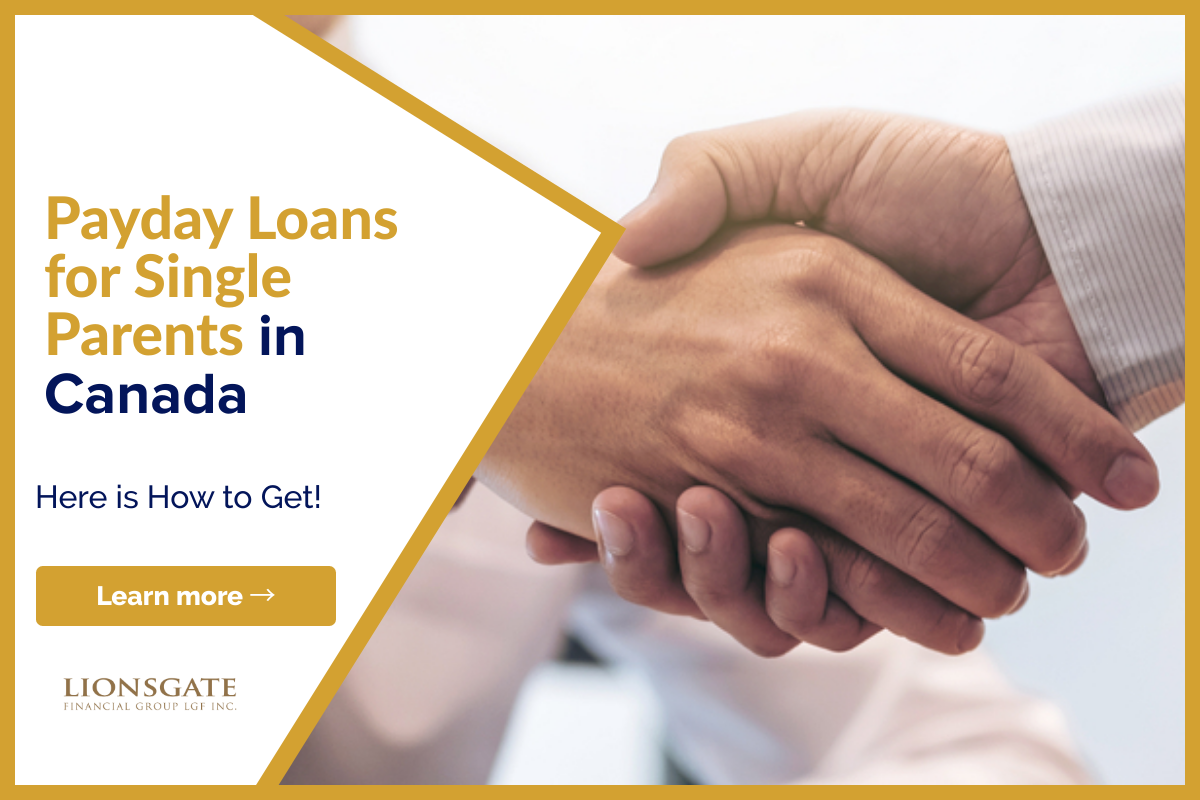 Payday Loans for Single Parents Canada [2021]
Now you can listen to our blog, "Payday Loans for Single Parents Canada [2021]" while on the go.
You could be considering a payday loan if you're a single parent with income that doesn't satisfy the restrictions of traditional lenders.
Payday loans are useful when you need money quickly, but they should only be used as a last choice because they are so pricey. Compare payday loans from reputable lenders, and read our guide to learn everything you need to know before applying.
What is the process of getting a payday loan?
Payday loans are tiny, short-term loans that are intended to be paid back when your next paycheck arrives. For a period of 14 to 62 days, you can normally borrow between $100 and $1,500. The loan approval time is usually less than an hour after you submit your application. Payday loans are typically used by persons with low incomes, those on assistance, or those who require cash immediately.
Can I still acquire a loan if I receive government assistance?
Yes, borrowers who receive government benefits as income are accepted by a number of lenders in Canada. For a list of reliable payday loan lenders who accept benefits as income, see our entire guide on acquiring a payday loan while receiving benefits.
My credit history isn't exactly stellar. Is it possible for me to get a payday loan?
Even if you have a low credit score, most payday lenders would consider you for a loan.
Lenders are usually more concerned with your ability to repay the loan than with your credit score, so you'll need to show that you have enough money to make your installments in order to get a loan. Other eligibility conditions that you must meet in order to take out a loan may be set by lenders.
What is the best way to find a suitable loan for you?
Compare your options before applying for a loan to obtain the best loan for your financial circumstances. When making your comparison, keep the following aspects in mind:
What is the maximum amount of money you can borrow?
Lenders often provide between $100 and $1,500, depending on a number of factors such as your ability to repay the loan, your income, and your credit score. If you choose a personal loan, you can get a larger loan sum – $5,000 to $10,000 – but you may have to work your way up to this by borrowing and repaying lesser amounts with the same lender.
When you'll have to pay back the debt?
Typically, loan terms will be tailored to your pay schedule. If you are paid biweekly, for example, your repayments will be automatically deducted from your account every two weeks. The duration of a payday loan is usually up to a year.
What are the costs?
Fees differ by province and lender. Check to see if the lender follows any provincial restrictions that limit the amount a lender can charge every $100 borrowed.
When you'll get the money?
If you apply in person at a shop, you should be able to get your funds the same day you are approved. It could be transferred to you within an hour or the next business day if you use an online lender.
What other financial possibilities are available to single parents?
Payday loans have exorbitant interest rates and should be avoided at all costs. Alternative short-term financing choices include assistance programs, a credit card cash advance, a personal loan, or borrowing money from family or friends if you don't think you'll be able to fulfill the payback terms.
If you do decide to take out a payday loan, make sure you only borrow as much as you can afford to return and plan your payments accordingly. You'll get a negative mark on your credit report if you default on your loan or the loan goes into collections. This mark can stay on your credit report for up to 6 years.
Things to Consider Before Applying for a Payday Loan
While payday loans may appear to be a wonderful option, there are a few disadvantages to be aware of. Payday lenders, for example, impose exorbitantly high-interest rates and costs. Furthermore, payday lenders prey on borrowers who are in desperate need of cash, which might trap you in a debt cycle if you don't manage your finances well.
You must first ensure that you meet the qualifying requirements before applying for a loan. This varies by lender, however, you'll almost certainly need to meet the following criteria:
You must be 18 years old or the age of majority in your province or territory to participate.
Have a valid Canadian address if you are a Canadian citizen or permanent resident.
Possess proof of income.
Have a bank account that is active.
How can you use it?
As a single parent, getting a payday loan is simple.
Begin by completing the extensive study and weighing your possibilities.
Apply for a loan online or in-person at a lender's physical location. You'll need to supply your contact information, a valid ID, bank account information, and information about your job and current financial situation. The application should take no more than 10 minutes to complete, and most lenders will respond immediately whether or not you have been approved.
You'll receive your loan amount within the timeframe set by the lender once you've signed the loan contract.
Can I Get a Payday Loan in my Province or Territory?
Payday loans are available in all of Canada's provinces and territories. Payday loans are governed by distinct provinces, which means that charges and fees can vary. Make certain that any lender you choose follows the regulations of the state where you live. The federal government regulates the Yukon, Nunavut, and Northwest Territories.
The Bottom Line
You may be eligible for a payday loan even if you are a single parent. Many payday loan lenders in Canada will accept part-time work, government benefits, or a mix of the three to meet their income requirements.
At Lionsgate, we specialize in helping people obtain funding private mortgages for land purchases as well as for other real estate transactions. If you are looking to buy land in Canada, get a mortgage or apply for a loan, leave us a message and we will try to connect you with local realtors and sourcing for financing.
If you found this article helpful, please share it with someone you care about. Also, visit our blog to read similar articles on mortgages.