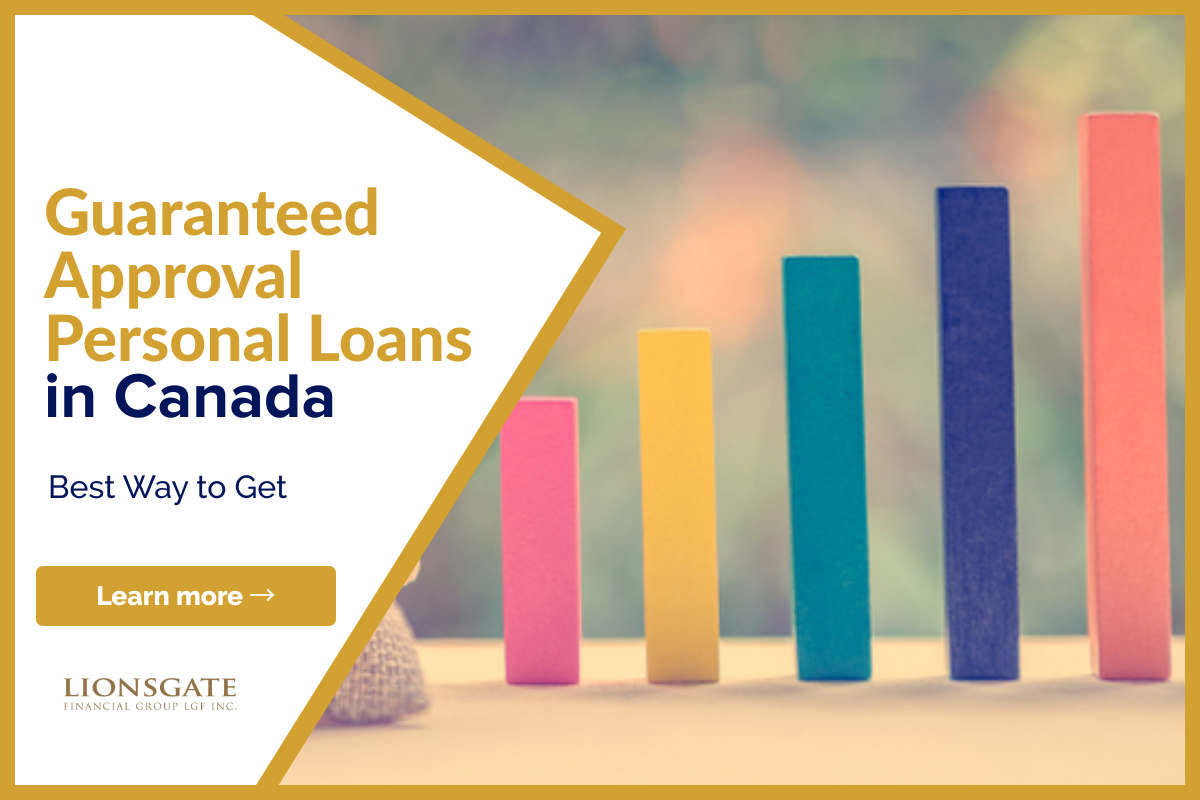 Guaranteed Approval Personal Loans Canada
Now you can listen to our blog post, "Get Guaranteed Approval For A Personal Loan" while on the go.
You might be in need of a loan and applied to several lending institutions or banks. In this period, you may be thinking are there any lending companies that offer guaranteed approval? Well, the answer is yes. To know about these companies, please continue reading. Let's first find out what Guaranteed approval is actually.
What is "Guaranteed Approval"?
Guaranteed Approval may sound pretty simple to you, but it is as difficult and complicated. Everyone thinks that in guaranteed approval loans, the lender offers guaranteed approval. No check of your credit or financial strength, just a 100% guarantee of loans.
However, that's not the case. If you had the same thinking before, change it now because that does not happen in Canada. For instance, Mogo will never provide you with the guarantee of a loan or even advertise guaranteed approval. In fact, there is no way to get guaranteed approval of loans in any case but proper steps that you can take to qualify for it.
Why Do Consumers Want Guaranteed Approval?
When it comes to loans, the consumers are always in hurry. As obvious the case, the borrower is in need of the cash and he wants it as quick as possible. However, there are a few reasons why the borrower needs only guaranteed approval loans.
1. Poor Credit Score
With a bad or poor credit score, it is almost impossible for you to get through the loans unless you pay a hefty price in interest. However, there are some bad credit lenders that charge you a very high-interest rate and put hard conditions. These bad credit lenders may worsen the matter for you. So, in an ideal case, the borrowers look for guaranteed approval.
2. Don't Want Their Credit Checked
Some people have bad credit, while others prefer to avoid hard credit inquiries (which can hurt their credit ratings), and still, others have no credit history at all. Certain consumers may not want their credit reviewed for a variety of reasons. Multiple hard inquiry notices will appear on a consumer's credit record if they apply for multiple loans in a short period of time.
These notices will stay on their credit report for several years. These queries may cause other lenders to raise red lights in the future. As a result, if "assured" approval is granted, many people may take advantage of the opportunity.
Whatever the reason for you to get the guaranteed approval loans, be wary of the scammers. In truth, no loan can be guaranteed 100 per cent. This may be offered by certain purported lenders, but be wary! They could be con artists preying on people in need of money. Scammers are becoming increasingly inventive. They can be quite persuasive, so do your homework when comparing lenders in Canada.
What if a Lender Guarantees You Loan?
Remember that no legal lending institution will guarantee your acceptance 100 per cent of the time. If they do, they could be attempting to defraud you. Don't give them any information; instead, walk away and call the cops. Most Canadian police forces include a unit dedicated to investigating cases of fraud, identity theft, and other financial crimes. If you've already given up your personal or financial information, get in touch with the appropriate companies to have it changed.
Request new banking information and cancel your credit cards. If you can show that your SIN has been used fraudulently, you can get your number altered and protected by contacting the nearest Service Canada office. If you believe your credit record has been hacked, call both Equifax and TransUnion, Canada's credit reporting companies, and ask them to set a fraud alert on your account. You can also sign up for their credit monitoring service, which will keep you up to date and notify you if your account shows any unusual behaviour.
Get Approved for Loan with Poor Credit
While assured approval with no questions asked is fiction, there are steps you may do to get to a position where approval is practically instant. In essence, you must establish yourself as creditworthy as feasible. This can be accomplished in a variety of ways, including but not limited to:
Creating, Repairing, and Improving Your Credit Score
Again, this will take a lot of time and effort, but it will be well worth it in the end. Your credit score and rating, as well as your payment history, are two of the most important elements that your lender may consider. They use this to obtain a sense of how reliable you will be with your loan payments. While some respectable lenders do not check your credit, enhancing these components can help you get the faster approval and a lower interest rate. You can enhance your credit score by doing the following:
Paying off all of your outstanding credit items on schedule and in full
Reducing your debt-to-income ratio to a maximum of 30-40%
Keeping your credit utilisation below 30-35 per cent of your total credit limit
Examining your credit report at least once a year and disputing any inaccuracies that may be affecting your credit score
Reducing Your Debt Level
Not only can bad debt ruin your finances, but it can also get your personal loan application rejected. Despite the fact that some lenders don't check credit, the majority of them at least look at your financial profile, including your income and your debt history. For obvious reasons, no legitimate lender will grant approval if you already owe money all over town or have a record of defaulted loan payments.
Apply For A Guarantor Loan
Even if guaranteed approval is not really possible when you have bad credit or low financial strength, applying for a"guarantor loan" can drastically increase your chances of securing fast financing, rather than having to wait until your finances have improved. The process involves finding someone with good credit and financial strength to co-sign your loan application, thereby agreeing to take on the responsibility of your loan payments in the event that you can no longer afford them.
Make sure they're aware of this fact because if you end up defaulting, they will have to take on your debt which may cause severe damage to both of your financial profiles. That being said, guarantor loans can be beneficial when you're looking for near-instant loan approval, as your own credit and finances will not be an issue. Instead, your guarantor's financial aptitude becomes the deciding factor.
Need Access To Fast Cash?

Check 

out 

Bad 

Credit 

Lenders
Banks 
are 
unable 
to 
give 
loans 
to 
those 
with 
bad 
credit, 
so 
alternative 
lenders 
step 
in. 
There 
are 
several 
advantages 
to 
applying 
for 
a 
loan 
with 
a 
poor 
credit 
lender.
Variable 

Requirements: 

Unlike 

banks, 

which place significant

 

weight 

on 

credit 

scores, 

bad 

credit 

lenders 

examine 

an 

applicant's 

eligibility 

based 

on 

a 

range 

of 

factors. 

When 

considering 

whether 

or 

not 

to 

accept 

you, 

they 

will 

take 

into 

account 

your 

income, 

employment 

stability, 

and 

debt-to-income 

ratio.

Easy Application: Traditional banks demand a lot of unnecessary paperwork, which may make the loan

the 

loan 

application 

process 

a 

nightmare. 

On 

the 

other 

hand, 

bad 

credit 

lenders 

are 

designed 

to 

help 

you 

receive 

cash 

when 

you 

need 

it. 

Simple 

apps 

can 

take 

anywhere 

between 

5 

and 

20 

minutes 

to 

finish.

High 

Approval 

Rates: 

Bad 

credit 

lenders 

make 

their 

living 

by 

providing 

loans 

to 

people 

who 

have 

less-than-ideal 

credit. 

As 

a 

result, 

their 

approval 

rates 

are 

significantly 

higher 

than 

those 

of 

traditional 

banks.

Build 

Credit: 

When 

you 

have 

bad 

credit, 

it 

can 

be 

tough 

to 

rebuild 

credit 

because 

banks 

are 

hesitant 

to 

offer 

you 

any 

credit 

products. 

Bad 

credit 

lenders 

assist 

you 

in 

rebuilding 

your 

credit 

by 

offering 

a 

number 

of 

loan 

options.
The Bottom Line
At Lionsgate, we specialize in helping people get the extra cash they need, obtain funding for private mortgages, as well as for other real estate transactions. If you are looking to buy land in Canada, get a mortgage or apply for a loan, fill out the form below. Or, You can leave us a message and we will try to connect you with local lenders and sources that best meet your needs.
If you found this article helpful, please share it on your timeline and with someone you care about. Also, visit our blog to read similar helpful articles on finance, real estate, and getting mortgages.