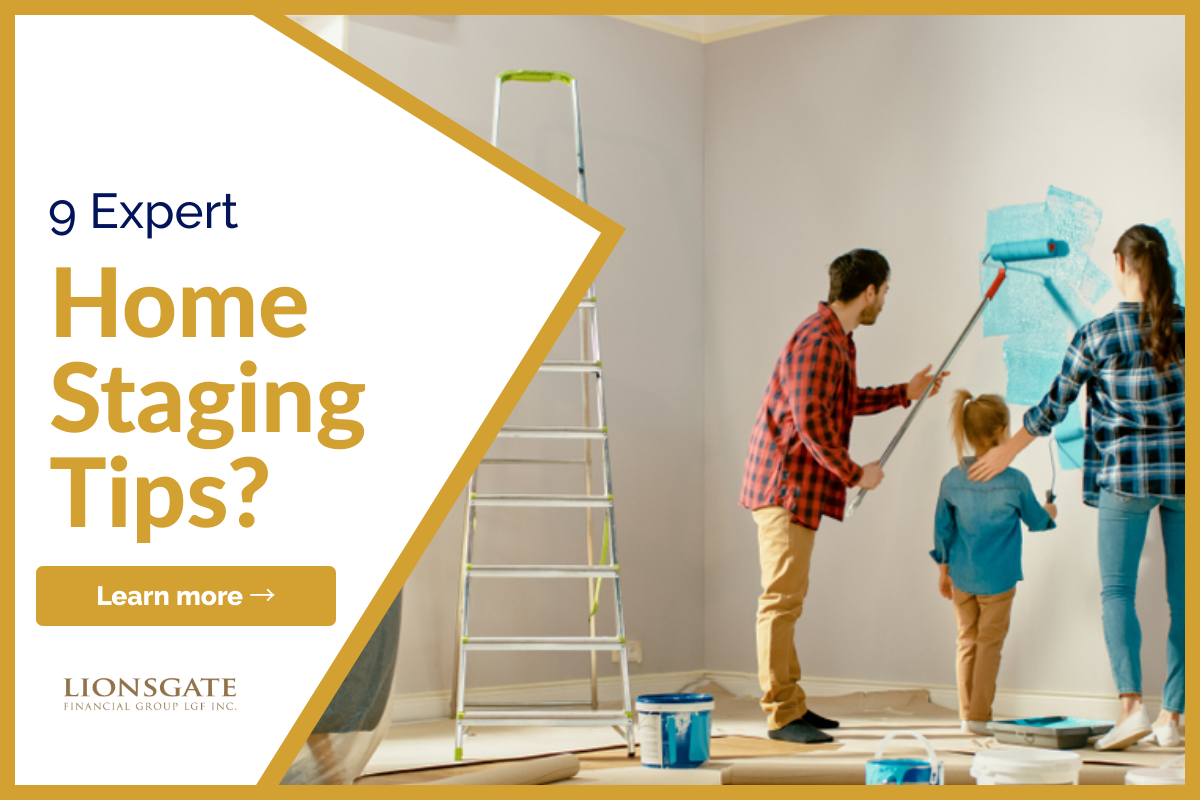 Home Staging: 9 Expert Tips
You can now listen to our blog, "9 Expert Home Staging Tips To Impress Buyers" while on the go.
Presentation and preparation can be the keys to boost your home's value before you put it on sale. In the wake of the fact that most home buyers buy their homes on the internet today, it is important to make home's web appeal more than curb appeal. To sell a home fast, you need to attract a lot of buyers to your listing first; so, for this, you need expert home staging tips.
For this, you can start with featuring high-quality, staged listing photos and videos to stage your home for virtual appeal and help it stand out in the competition.
It is important to mention here that home staging is not always an expensive and time-consuming process. You can do this by simply decluttering and removing personal items from the scene to make it more appealing.
You May Also Like: Right Time to Refinance Your Mortgage
If you are looking for some more advanced tips which can boost your house value and make it buyer-likable, these home staging tips are for you. Continue reading if you are ready to implement one or even all of these tried and tested home staging tips to sell your home quickly.
Home Staging Tips to Sell Your Home
Boost Curb Appeal
This is the most common that you might already have heard multiple times. But know that, this is the most important one and needs to be done effectively. Without it, your chances of selling your house quickly get low as touring your home will reveal it immediately. This is also important because many people decide whether they want to buy this house or not on the spot, once they complete the visit of the house. For some quick-to-do tips, here is what you can do.
Wash siding and walkways
Plant flowers and fresh greenery
Wash front windows
Repaint or stain the porch floor as needed
Add fresh sod as needed
Get Your Home Power Clean
Floors, windows, counters, and grout need more attention than anything while cleaning your home. This is the cheapest way to help your home show its best side to potential buyers. If you do not consider yourself adept at it, hire some professionals to do the job for you. But make sure the cleaning is done like real. If you have a very large home, taking professional help might be your only idea. Whatever you do, make sure the most visible parts of your house are well cleaned.
Style Your Dining Room Table
The dining room of a house is often a blind spot in decorating the home. A large dining table looks bare and uninviting, to say the least, so style it up with keeping the culture and visitors in your mind. Do not make it oversize nor too small, but a combination that it looks live-by. You can also try lining up a series of smaller vessels down the center of the table too.
Rearrange the Furniture
Adjusting furniture can make or break the deal for you. Try to make symmetrical arrangements especially in your living rooms. Also, do not use oversize furniture that occupies a lot of space; rather, use the one which looks smart but has enough space for family sitting. This will make your home look more spacious. Pull your furniture off the walls and use pairs to make it exciting for family conversations.
Choose Sophisticated Natural Colors
Once you have everything arranged, now is the time to experiment with colors to make it more enchanting. Many people make the mistake of going all white, which looks a bit boring and less appealing. Go with the natural colors and make a color combination that you like and fits well. For instance, use colors like mocha and greige to create a sophisticated backdrop that makes everything look more pulled together. So, make sure you add few colors to make your house more appealing for the buyers unless you live in a white house.
Add Mirrors
A mirror is not only the best option to add some styling to your house, but is also good for making a room brighter and seem less cramped. If you are the type of person that knows nothing about art, a simple sizeable mirror can do wonders for you at your home. It makes even a tiny home look more spacious and feels more curated and design.
Upgrade Rugs
Buy rugs that actually fit your rooms and your furniture too. For a living room rug, try to avoid the one that is too small. Make sure at least the front legs of your couch or chairs are touching the rug. A rug, if bought right, can make space look larger and more pulled together for the buyers to like. You can buy some of the best rugs for your home through various online platforms as well.
Read Now: Debt Settlement In Canada: How To
If you are trying to sell your house real quick, making it de-personalize might be your fastest way to do it. It is understandable that you made a lot of effort while decorating your home the way you want it, but now when you are selling it, it is the right time you get rid of anything which is not useful. Start with taking off your personal photographs and everyone's clutter. You will have to make every effort for the potential buyer to envision himself in the house.
Make Essential Repairs
The sales and profits will only be good if your house looks damage-free. Anyone point of damage can make a bad impression on your buyer and also significantly reduce the price. Thus, before making any move of selling your house, make sure you make essential repairs. These repairs can include caulking gaps between tiles, replacing fused bulbs, repainting cracked walls, fixing broken windows, and replacing jammed locks.
The Bottom Line
Only with home staging, you can make your house look more appealing and likable to potential buyers. This is the best way to showcase your home the right way and create a winning impression. In this guide, we discussed the home staging tips for you to create a lasting impact on the minds of buyers. If applied right, these tips can make the home selling process quick and profitable.
If you need any help regarding selling your current house or buying a new one, you can always reach out to us. We are a licensed organization based in Canada who deal in real estate. Don't hesitate and ping us today for an expert helping hand right into your inbox.